This post may contain affiliate links which means I may receive a commission for purchases made through links.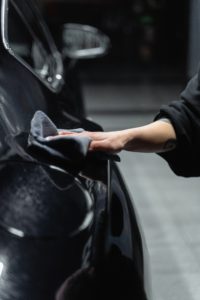 Proper car paint care offers several benefits down the road. For instance, a well-maintained car paint job prevents the car's surface from rust and protects its finish & appearance.
At the same time, it protects the paint job from bird droppings, scratches, debris, UV rays, acid rain, and other elements that can damage various layers of the car paint.
More importantly, it ensures that your car doesn't lose its shine and luster over the years, helping you command a higher resale value when it comes to selling the car. In this post, I'll show you some of the best ways to maintain car paint job to keep your ride looking new and shiny all year round! 
Best ways to care for your car's paint job 
1. Wash and dry the car regularly 
Washing your car regularly is perhaps the best and easiest way to protect its paint job. Besides, this helps to keep the paint job free of debris, gritty residue, and dirt that may accumulate over time, while reducing the harmful effects of the sun's UV rays. 
That said, wash your car every week using the right car cleaning solution and a foam sponge. However, don't use dishwashing detergent to clean your car since it may contain strong sodium concentrations and harsh chemicals that tend to harm most types of car paints.
Not to forget that dishwashing liquids can leave unwanted stains on the car or even cause the paint to chip, especially if you use them often to clean your car. In comparison, car shampoos are specifically designed to gently clean the car and leave a thin lubrication layer that protects the car paint. 
After finding the ideal car cleaning soap/ shampoo, make sure you use straight lines when applying it over the car's paint job instead of circular motions.
More importantly, remember to rinse the car with clean water and dry it thoroughly after washing. Letting the car air dry may leave behind minerals from the water, which may be harmful to the paint job.
Therefore, it's essential to properly dry the car with a microfiber towel after a wash. Avoid using paper towels, rags, and bathroom towels to dry the car as they tend to leave behind small scratches that may cause the paint to corrode over time. 
2. Auto Detailing 
Most of the time, basic car washing doesn't remove smaller substances and particles that might stick to the paint job. Luckily, auto detailing allows you to get the car sparkling clean after washing and drying it completely by getting rid of these particles.
For instance, auto detailing clay is a great way to remove the rough stuff like bugs and bird poop from your car. 
There are several auto detailing methods you can use to clean your car's surface. So, after drying your car, the first step is to select the method you want to use to detail it.
Some of the items you can use to detail your car's exterior include; a clay bar, glaze, polish, detailing compound, and microfiber towel/ mitt. 
3. Car Waxing to maintain the paint job
In addition to keeping your car looking new and improving the clear coating's luster, car wax acts as a protective layer against UV rays, bug splatters, and bird droppings.
At the same time, it reduces the drag force applied to the car, thus increasing its fuel efficiency due to less drag. 
Car waxes are available in various forms, including liquid and solid paste formulations. Some of the products give the car a great finish, while others polish, protect, and clean the car in one go. 
However, the most interesting thing about car waxes is that they're easy to use, very affordable, and provide ample protection against heat. 
Unfortunately, car wax protection does not last long. For that reason, you have to reapply it every 2 – 3 months to protect your car paint and help it maintain that great-looking shine.
In addition, small debris and dirt particles can get trapped into the car wax and run the clear coat if they're left unattended. Other than that, car wax is a great way to protect your car paint from external elements like dust, UV rays, scratches, and contaminants.
4. Use synthetic coating (ceramic coating) or car paint sealant 
If you don't want to go with wax, you can either choose to apply a synthetic ceramic coating or paint sealant. 
Paint sealant is a car wax alternative that bonds and permeates to the pores of your car paint to create a protective seal. This synthetic technology was designed by chemists to cover the car paint's clear coat with a thin protective barrier.
Interestingly, this coating is more durable than synthetic liquid car wax as it can last for about 6 months before it needs to be reapplied. 
However, paint sealant requires a relatively heavy amount of preparation before it can be applied. On top of that, you have to remove the synthetic coat first if you need to reapply the product. 
Moving on, synthetic ceramic coating is more durable than both car wax and paint sealant as it can last for 2 – 5 years. In addition, it produces a brilliant shine and prevents the car paint from fading fir to constant exposure to UV rays.
At the same time, it protects the car paint against chemical stains caused by acidic contaminants and gives the car superior scratch resistance. 
The only downside of ceramic coating is that it's more costly, especially if you choose to have it installed by a professional. However, you can choose to do it yourself, provided you're ready to do the extensive preparation work and invest in a high-quality product. 
5. Use a good quality car cover 
Parking your car outside exposes it to various elements that may damage its paint job. For instance, Ultraviolet radiation from the sun can damage the car's paint job or cause it to fade, especially if you leave it outside all day long all the time.
Also, parking your car outside constantly exposes it to rocks, dirt, bird droppings, twigs, insects, tree residues, and other substances that will wear away at the paint job. 
To avoid these car paint problems, park your car in a shady spot, covered parking space, or garage if possible. However, if that's not possible because of where you live or work, it may be a good idea to invest in a high-quality car cover.
A car cover will protect the car from UV damage while preventing dust and other contaminants from accumulating on the paint job.  
Final Word 
Considering how much it costs to paint a car, it's a great idea to maintain the car paint job with the methods we've listed above. Plus, this will help you to avoid common car paint problems like fading, cracking, etc.
After all, prevention is always better than cure! Not to mention that regular car protection will keep the car paint fresh and clear, giving other benefits like higher resale value and lower maintenance costs!