This post may contain affiliate links which means I may receive a commission for purchases made through links.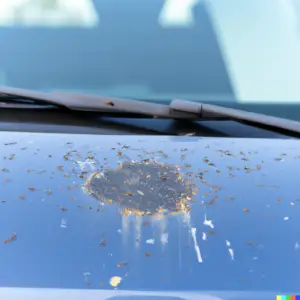 Bird poop (bird droppings) is one of the most common causes of car paint damage around the world. Even worse, it's almost impossible to always keep your car away from these droppings, especially if you regularly park it outside. Not to forget that your car could get hit with a splatter when you're stuck in traffic while heading to work. 
While some car owners think that it's just a minor annoyance, bird droppings can be unsightly and even damage your car's paint job if not taken care of quickly. This will force you to repaint the car sooner than expected, which can prove to be costly. 
But how exactly does bird poop damage car paint? Let's find out in this article, including the best way to clean bird poop off your car! First, let's look at the different types of car paint damage caused by bird droppings. 
Different types of bird poop car paint damage
Bird droppings can cause various types of car paint damage. It's important to tell these droppings apart since each type has a different way of removing them from the car. At the same time, this will help you give the car clean and nice paint.
With that in mind, here are the some of them: 
Fresh droppings 
Fresh dropping is the easiest type of bird poop to clean. However, it's important to act fast and get rid of these droppings before it causes any damage to your car's paintwork. 
Topical stain etching 
Topical stain etching bird droppings appear faded and are easy to clean. For instance, you can easily get rid of the stain by applying gentle pressure on a dry cloth to clean the affected area or using a clean coat-safe polish/ compound.
Better yet, this can either be done by machine or hand, but doing it manually is more efficient. However, the difficulty of removing the stains may vary depending on the depth of the etching.
Therefore, it's important to look for the best way to remove these marks without causing further damage to the paintwork. Alternatively, take the car to a bodywork pro, especially in extreme cases. 
Fractured/wrinkled etching 
Wrinkle etching occurs when the bird droppings settle on the car's exterior and start to damage the paintwork. Even worse, heat from the sun bakes the bird poop onto the roof/ hood of your car. As a result, this type of bird dropping is very stubborn to remove as it causes the paint to fracture. For that, you should be very careful when removing wrinkled etching bird droppings from your car since trying to remove it can damage the clear paint and expose the car's base coat. More importantly, once you recognize that you're dealing with this type of bird poop, don't try to remove or clean it by force. 
Why do bird droppings damage car paint? 
Bird droppings have a PH level of 3/4 as they contain a high amount of uric acid, which can cause lasting damage to your car's paintwork. For that, it's important to wipe off the droppings quicker since this damage starts immediately when fresh bird poop lands on your car.
As a result, bird poop will slowly start eating your car since uric acid is corrosive. At the same time, the acid will quickly corrode the paint sealant/ wax sealant and cut through the paint, thus diminishing the aesthetic appeal of your car over time. 
To protect your car from bird droppings, it's a good idea to clean off fresh droppings as soon as possible with a rag and hose or take it to the car wash. Ignoring the poop allows the acid to attach to the paint, damaging it in the process.
Moreover, birds usually swallow gravel to aid their digestion. Unfortunately, when these gravels combine with the bird droppings, their abrasive nature might leave visible scratch marks on your car. 
Another factor that causes bird poop to damage the car paint is the sun. Specifically, the heat from the sun hardens the bird droppings and expands the car paint. And when the car cools, the paint shrinks around the hardened droppings. This makes them tougher to remove and increases their chances of marring the surface. 
How to safely remove bird droppings off your car paint 
Due to their corrosive and abrasive nature, bird poop can severely damage your car's paintwork. For that reason, it's important to carefully wipe off the mess fast if you don't want it to cause permanent damage to your ride. 
In this section, we'll look at 6 simple ways that you can use to safely remove bird poop from your car! However, make sure you're using the appropriate PPE (mask, goggles, gloves) since any type of animal excrement may contain nasty bacteria. 
1. WD-40 Method 
WD-40 is a powerful, multi-purpose spray-on lubricant that can be used for various tasks such as removing caked-on droppings from your car paintwork. Moreover, the formula is relatively easy to use. Specifically, you only need to spray the WD-40 onto the affected area, leave it for a minute and wipe it with a wet sponge/ cloth. 
One thing you need to note though is that WD-40 does not react well with sunlight/ heat. So, if you're going to use this method, it's recommended that you get the job done on a cool day or in the winter.
In addition, make sure you thoroughly wash the formula off once you are done with a PH-balanced automotive shampoo. Car shampoo contains ingredients that protect the car paint and provide an extra layer of protection to prevent paint damage from any future bird poop-related damage. 
Buy WD-40 non-aerosol trigger spray, on Amazon.
2. Hot water and baking soda 
A well-known traditional method for removing bird poop from car paint is to use a mixture of hot water and soluble bicarbonate baking soda. 
To use this method, fill a clean spray bottle with a liter of hot water. Then add 4 tablespoons of bicarbonate soda into the bottle and shake well. Next, spray the baking soda solution onto the affected area of your car and let it soak for about 10 minutes. 
Once the solution dissolves the bird droppings, spray it down with fresh water using a hosepipe. Avoid wiping off the bird poop with a cloth as it may scratch the car because of the abrasive nature of baking soda. 
3. Commercial Spray-on bird-dropping remover 
As the name suggests, spray-on removes are specifically intended for conveniently getting rid of animal droppings. Plus, they're generally safe and quick ways to remove bird droppings without causing any damage and are readily available at online/ home stores.
Although robust, non-corrosive products are commonly used to clean out a birdcage within the pet industry, they work well at removing droppings from a car's surface without damaging the clear coat. 
To apply, simply spray the dropping remove onto the bird poop and let it sit for about 10 minutes to soften the dried poop. Afterward, wash down the automotive surface with a hose and let the car dry naturally. 
4. Bird poop car wipes 
Bird-dropping car wipe is another effective product that is specifically designed for removing bird poop without damaging the car paintwork. Moreover, these soft bamboo fiber towels conveniently break down hardened bird droppings without changing the composition of the paint underneath.
Not to forget that they're easy to use and highly effective at neutralizing the acidic content contained in the bird poop. Plus, these car wipes are biodegradable, making them easy to dispose of once you are done! 
5. Clay decontamination products 
Most automotive detailers use clay decontamination products to get rid of all types of unsightly stains, including bird poop from the car's surface. Interestingly, these potent products do not contain actual clay.
Instead, they contain a mix of absorbent materials such as polymer rubber and synthetic resins. This results in an elastic product that easily squeezes into tight crevices, making it the best method for removing bird droppings in hard-to-reach places. 
6. Paint matching 
If you have let bird poop bond with your car's bodywork for too long, its corrosive compounds harden and fuse onto the surface. This results in nasty topical/ fractured paint stains and unsightly scars that cannot be removed with a simple cleaning.
In that case, the best way to get rid of the bird droppings from your car's paintwork is to involve a reputable auto body repairer.
The professional will then use a high-tech camera to determine the exact color code of your car's paint through a process known as paint matching. Thereafter, the technician will blend in a suitable substitute with the rest of your car's panel to achieve a perfect finish! 
Other ways to protect your car paint from bird poop 
As you know, it's almost impossible to protect your car from bird dropping, unless you regularly park under a carport or in a garage. However, there are various tips that will reduce the risk of bird poop damage. This includes: 
Washing your car regularly. Make sure you wash your car at least twice a month to get rid of bird poop before they cause any severe damage to the paintwork. Plus, this helps to get rid of dead bugs and tree sap. 

Waxing your car. Wax helps to protect the car's paint and clear coat against bird droppings and rock salt between seasons. Therefore, it's important to wax your car at least 2 – 3 times a year. Also, make sure you have a spray bottle of detailer in your garage for any touch-ups. Also, waxing your car's paint after removing bird droppings restores the paint's luster and provides extra protection from future droppings incidents. 

Car Covers. The use of car covers is another excellent solution for protecting your car from bird poop, debris, and dust buildup. Car covers are available in all types of shapes & sizes to fit most car models. In addition, most covers are fitted with an elastic hem that anchors the covers in place when it is windy, while some even have straps for extra-firm fitting. 
Conclusion 
Apart from being highly annoying, bird poop can stain and even cause permanent damage to your car's paintwork if you don't remove it as soon as possible. In essence, you should remove bird droppings as soon as you see them on your car.
If the poop hasn't yet dried out, it's relatively easy to remove, but if they've dried, it can potentially damage your car's paint. Luckily, the methods I've mentioned above will help you get rid of the dropping without damaging the car's paint.