This post may contain affiliate links which means I may receive a commission for purchases made through links.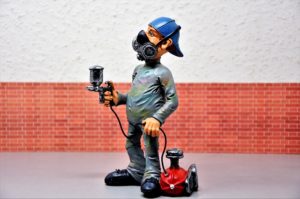 After giving your car a fresh coat of paint, it's important to ensure that it's completely dry before you take it for a ride. Otherwise, you may end up ruining the entire paintwork. So, whether you're a customer, shop manager, or technician, you have to ask yourself; how long does car paint dry? 
While some experts claim that car paint takes about 24 hours to dry, various factors influence car paint drying times. Some of these factors include; the type of coating being used, the setup of the paint booth, and the size of the surface being painted. Besides, some car paints dry up within a few minutes, while others need at least overnight for the same results. 
Whichever the case, it's never a good idea to use the car before the fresh paint coat has completely dried up. In this article, we've included some of the factors you should consider when determining how long your car paint will take to dry! 
Factors that influence how long car paint takes to dry 
Type of car paint
One of the most important factors that influence how long car paint takes to dry is the type of auto paint you're using. As you know, there are different types of car paints in the market. These include:
Acrylic urethane 
Acrylic urethane has the fastest drying time among all the car paint options, thanks to its water-based formula. The paint takes about 60 minutes to dry fully, yet it's durable without frequent retouching. 
Urethane
Urethane car paint has some incredible features such as; quick-drying time (4-6 hours), durability, and resistance to fading. The only issue with this car paint is that you'll need protective gear like respirators when applying it. 
Acrylic lacquer
Most owners prefer acrylic lacquer due to its aesthetic as it has a glossy finish. Plus, it's easy to apply and has a quick drying time of about an hour. However, applying an extra coat of paint may be necessary to make the car as glossy as you wish, which might increase the drying time. On the downside, this type of car paint chips easily and is not very durable. 
Acrylic enamel
Acrylic enamel is another popular type of car paint among car owners, thanks to its durability and appealing look. Not to forget that it forms a tough coating over the car's bodywork after application. 
However, the most unique feature of this car paint is that it's available in 2 options; single-stage and two-stage acrylic enamel. Single-stage acrylic enamel paints take about 1 -6 hours to dry fully, while 2-stage car paints require about 48 hours to dry completely after application. 
Weather
The best weather for car paintwork is fair, dry weather. This will allow you to finish the car painting job on time, unlike rainy weather which delays the drying time. 
In addition, the environment should have adequate ventilation and be well-protected. While room temperature is the perfect temperature for a fast drying time. As for the humidity, the ideal humidity for car painting is around 40 – 60% of the surrounding air. 
Car size 
A smaller car takes a shorter time to dry fully compared to a larger one, which normally takes longer. 
Materials used 
The use of proper materials, when preparing or painting the cars such as safety glasses, masks, and 1200/ 2000-grit sandpapers allows the paintwork to be done as soon as possible, leading to a quick drying time. 
How to speed up the car paint drying process 
In general, different types of car paint have varying drying times. However, there are various techniques you can use to speed up the drying process, regardless of the type of car paint you're working with. For instance, you can;
Apply a thin layer of car paint 
Applying a thin coat of paint takes less time to cure and dry. So, when giving a touchup to your car, try applying thin layers of auto paint. Unfortunately, most car paints are available in a thick consistency.
To solve this issue, mix a recommended solvent or similar product to improve the paint's consistency without affecting its durability or quality. 
Reduce the air humidity 
As mentioned earlier, the amount of humidity/ moisture affects the drying time of car paint. For instance, the paint takes longer to dry if there is more humidity in the room/ outside.
At the same time, this keeps the paint moist, causing it to take several hours to dry. Not to forget that the water can condense and drip on the car surface to mix with the paint, leaving streaks in the paintwork. 
On the other hand, lowering the air humidity using a dehumidifier increases the evaporation and reaction rate of solvents from the paint. As a result, this will increase the rate of evaporation, thus increasing the car paint drying time. 
Ensure good ventilation 
Ensuring there is constant airflow around the case helps the paint to dry faster. For that reason, it's important to ensure there is adequate ventilation around a recently painted car if you want it to dry faster. You can accomplish this by parking the car in an area with sufficient windows or installing fans around the car. 
Increase the room temperature 
Increasing the temperature around the car is another great way to speed up the drying process without affecting its quality. However, too much heat can hurt the paint.
For instance, if the temperature is too hot during the painting process, the coating can dry and cause defects.
On the other hand, cold temperature slows down the drying time and makes it difficult for the paint to adhere to the car's surface. With that in mind, the ideal temperature for applying auto paint is between 78 and 90 degrees F. 
Use a handheld dryer 
Lastly, if you're only painting a small part of your car, you can use a handheld dryer to speed up the drying process of the car paint. This technique is recommended for minor bumper repairs or motorcycles. However, this method is not ideal for use on solvent-based auto paints. 
Conclusion
Knowing how long car paint takes to dry is as important as ensuring you apply the paint properly if you want to get the best car paint results. Hopefully, after reading this post, you now have a basic understanding of how long the car paint will take to dry. In addition, you'll need at least 24 hours before you drive the car to ensure the paint has dried perfectly! 
Read Next: 4 simple ways to remove overspray from your car.