This post may contain affiliate links which means I may receive a commission for purchases made through links.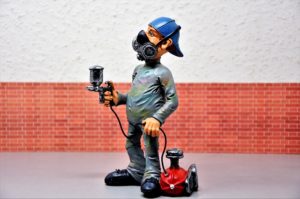 Car paint adds visual appeal to your ride while protecting the steel underneath from corrosion, rust, and deterioration. However, the paint tends to fade over time, making it necessary to refresh the original colors and hide blemishes/ scratches by repainting or painting the car. 
Unfortunately, car paint jobs are not cheap. While painting your car is a wise investment, it can be a costly endeavor. But, how much would it cost to paint my car?
Well, read on to find out! In addition, I'll show you some of the factors that might influence how much money you'll spend on a fresh paint job. 
First, let's look at some of the reasons that might make you consider painting your car! 
When should you consider painting your car? 
Although there is no clear stand on when you should paint your car, most car owners repaint their vehicle once every few years. This is a good idea if you use your car more for personal enjoyment or recreation than just commuting to work. 
However, as already mentioned, paint gives the car a distinctive look and protects it from corrosive damage and wear & tear. For that reason, you should consider painting it at least every 5 years.
Alternatively, you can get a partial paint job if the auto paint gets damaged or scratched from a minor accident or weather elements. 
In addition, other indications will help you determine whether it's time to repaint your car. Some of these signs include:
Faded finish
Your car paint will eventually start to fade regardless of how careful you are with it. While you can cover the vehicle with the best car covers when not in use, UV rays can damage the car paint when you're on the road.
Luckily, a fresh coat of premium UV-resistant paint can help to keep the finish looking bold & fresh. 
Noticeable scratches 
You'll also notice that scratches start to appear throughout the life of your vehicle. These scratches can either be caused by scraping or small impacts from the shrubs or branches. Over time, these scratches add up, giving your car an old, damaged look. 
On the bright side, you can get rid of the small scratches with detailing, However, a new paint job is the best option as it removes them thoroughly. 
The clear coat is peeling 
An old clear coat on a car tends to peel over time, which can be fairly unsightly. This usually occurs when the car bodywork is subjected to heat, which melts and damages the clear coat.
For instance, the paintwork on the hood usually peels due to the excessive heat generated in that area. To prevent this issue, paint your car with a heat-resistant clear coat, especially if you live in a hot area. 
Different color 
Lastly, you can simply repaint your car if you want a different color. Interestingly, the color of a car affects both its appearance and value. However, the most popular colors like silver, black and white are not likely to influence the price of a car.
So, if you're planning to paint the car just to increase its resale value, it may not be profitable because of the repainting cost. 
How much does it cost to paint a car? 
The price of painting a car ranges from $300 to $2000 for the most basic car paint jobs. High-quality paint jobs can cost you anywhere from a few hundred dollars to about $10,000. 
More importantly, the price will vary based on whether you're painting the car yourself or hiring a professional to do the task. If you're painting the car yourself, the average car paint job cost will be around $100 – $1000.
This will be influenced by various factors such as the type of auto paint you intend to use and the number of materials you need to buy beforehand. For instance, if you don't have a paint sprayer, you'll need to buy the best one available on the market. 
Overall, you'll need the following supplies if you want to paint the car yourself: an HVLP paint sprayer, drop cloths, paint masker/ film/ masking tape, and protective gear.
Drop cloths are used to cover up the floor and other cars parked next to the one you're painting, while the pant mask covers up undesirable surfaces to speed up the painting process. 
On the other hand, if you hire a professional, the average cost of painting your entire car with minimal bodywork costs between $2000 and $4000. 
Other factors that affect the cost of painting a car 
Like most car add-ons, several factors influence the total cost of painting a car. The most important ones to consider when determining how much it costs to paint a car are:
Car size 
The size of the vehicle is one of the biggest factors that influence the cost of painting a car due to the labor involved, preparation time, and the amount of paint used.
For instance, if you've got a small car, it will end up being much less costly to paint compared to a full-size truck/ SUV since the job can be done much faster. 
Quality & color of the selected paint 
Standard car paint colors like white, black, and gray are much cheaper than specialized colors. Similarly, you will have to pay more if you select rare colors that are commonly used by premium car manufacturers. 
In terms of quality, higher-quality & durable car paints are more costly than regular paints. Nonetheless, they're certainly worth the price since you will have to paint your vehicle far less often. 
Types of finishes 
Paint finish refers to the amount of shine that the car paint has. For instance, car paint can have a gloss, semi-gloss or matte finish. Different types of car paint finishes have varying prices.
In addition, some services offer to add a wax finish to the car after the paint job, thus increasing the cost of painting the car.
Alternatively, you can opt for other finishes like ceramic coating to provide longer-lasting protection for the car's paint, but this will cost more than a wax finish.
Needed Repairs
Cars with several surface imperfections such as deep scratches, rust, or dents usually cost more to paint than they normally would. Although some paint services offer to repair any imperfections without charging extra fees, they'll have to paint around the scratches or cover them up. 
Conclusion:
Overall, painting a car can cost you between $100 and $10000 depending on the factors we've listed above. For instance, if you have a sedan-sized car, a basic paint job that doesn't include additional features like high-quality wax or racing stripes will cost you about $500.
However, if the paint job includes basic wax and multiple coats of paint, the same cost can cost you up to $1000. On the other hand, painting a truck with high-quality, manufacturer-exclusive paint can reach up to $5000, especially if you finish it with a ceramic coating.