This post may contain affiliate links which means I may receive a commission for purchases made through links.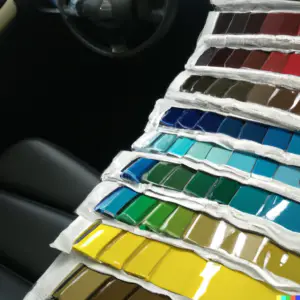 There are various aspects that you must consider when buying a new car like engine performance, safety technology, or exterior and interior features. However, perhaps the most interesting part of the entire process is deciding what color you would like your car to be. 
Unfortunately, choosing the best car paint color isn't as easy as many people think. Especially considering that car paint may have a significant impact on the vehicle such as increasing/decreasing its resale value.
Also, some car paint colors are easier to maintain than others. Similarly, some car paint colors are more effective at hiding imperfections like dents, dirt, and scratches than others. 
In short, there are several factors you need to consider when trying to find the best car paint color for your new ride. Lucky for you, we'll discuss some of those factors in this article to help you determine the best and worst car paint colors available! 
Things to look out for when choosing a car paint color 
1. Ability to hide scratches & dents 
Most car owners want their cars to look new for as long as possible, which is quite understandable considering that vehicles are a big investment. Unfortunately, keeping your car looking new is easier said than done, especially if you'll be driving it on wet or dirty roads.
Not to forget that parking car in public places like garages and lots expose them to scratches and dents from shopping carts and other cars. For these reasons, it's important to consider how car color could affect how these minor imperfections show up.
Specifically, you have to familiarize yourself with the best and worst colors for hiding dents, dirt, and scratches. 
According to Kirmac, white is considered the best car paint color for hiding scratches and dents. Its brightness helps to reduce the appearance of flaws and other imperfections, especially on bright days when the sun is out.
Alternatively, you can consider using other light colors like gray and silver to hide surface scratches and dirt. This is because light colors help scratches and dents blend in with the car paint, thus preventing them from being as noticeable as they would be on other car paint colors. 
As you would expect, if white is the best car paint color for hiding scratches, then black is the worst car paint option for accomplishing that goal. That's because black maximizes the appearance of dents and scratches, especially in sunlight.
The same case applies to other dark colors like navy blue and dark gray, making them a poor color option if you want the best color for hiding dents and scratches. 
2. Maintenance 
Maintenance is another important factor you should consider when choosing the best color paint for your car. Besides, we all have different feelings about washing our cars.
Although most car owners want a clean car, not everyone is willing to put in the effort to make that happen. Less motivated car owners are more likely to take their ride to an automatic car wash once a month. 
If you don't plan to be washing, detailing, or waxing your car every weekend, you should look for the best car paint to hide dirt or the easiest to maintain. According to experts, white car paint is the easiest color to maintain. However, other color options like gray and silver are also easy to maintain since they hide dirt and dust fairly well. 
On the other hand, dark color options like blue, green, and black are the most difficult car paint colors to maintain. This is because automated car wash swirls and water spots are easy to see on black car paint. Similarly, grime, stains, and dirt show more on black than on other colors.
Not to forget that black colors are more susceptible to damage from bird droppings, bug splatters, and road debris than other colors, making them more costly to repair.
 So, if you heavily depend on automatic car washes to clean your car, consider a white, silver, or gray color instead of black. However, if you regularly polish your car, black car paint is one of the most dazzling options out there. 
3. Weather Impacts 
Black and white are the most preferred car paint color options around the world. However, this tends to vary from one place to another across the United States depending on the local weather conditions.
For instance, according to a study conducted on iSeeCars, most NorthEast states prefer black, while hot weather climate states such as Arizona, Texas, Hawaii, Florida, New Mexico, and California prefer white cars. 
Here's why! 
As you know, black paint absorbs heat from the sun, while white paint reflects sunlight and its associated heat. Specifically, black paint molecules absorb 95 percent of the light reflected from the car's surface, thus warming your car's interior.
In comparison, a white car keeps the interior of the car cooler in sunny weather. Moreover, if you live in a hot climate, your car will look new for longer if you choose white or other car paint colors like yellow or red instead of black. 
4. Resale Value 
In general, all cars lose 15 percent of their value in the first 3 years after buying. Nonetheless, it's important to think about your car's resale value when you're buying it. 
That said, car paint is the last thing car owners think about when it comes to resale value. Yet, according to certain research conducted on iSeeCars.com, the color of your car paint can either increase or decrease its resale value. 
Specifically, the study analyzed more than 9 million 1- to 5- year old used cars. The report of this study showed that white is the most popular car paint color in the United States, with a 0.7 percent margin over black colors.
In addition, neutral colors like silver, gray and black account for about 77% of vehicles on the road, while blue and red cars account for 9% and 10% respectively of all cars sold in 2019.
Other colors like green, orange, yellow, gold, purple, beige, and brown only constitute 3.5% of the remaining car paint colors, making them financially riskier color options. 
Overall, popular color options like black, white, silver, and gray are less likely to lose their value over time. So, although these colors will not help the car maintain its value, they will not affect its resale value.
However, the same cannot be said about other color options like brown, which are known to lose their value the most (17.5%). 
5. Safety 
While car color is not the most important indicator of your road safety, some car paint colors are generally safer than others. So, next time you're buying a new car, it's important to carefully consider the color you choose as it determines your chances of getting involved in a car accident. 
 A recent study conducted by the Monash University Accident Research Center (MUARC) claims that the safety car colors are the ones the stand out on the road, in all weather conditions.
The MUARC study suggests that white color is the safest color since the car has a higher visibility rate in all types of lighting and weather, especially at night and in bad weather conditions.
Moreover, several studies have shown that white vehicles are 12 percent less likely to be involved in a car accident than black cars. 
Other studies claim that yellow cars are safer than white cars, which is why they're the preferred color option for taxi drivers. Orange is also considered to be a safe color due to its uniqueness, making it stand out and easy to see while on the road. Other car paint colors that are safe are: beige, off-white, cream, and gold. 
Bright colors
Overall, bright colors have a statistically lower crash risk and are safer than dark colors. This is because bright light colors are more visible to drivers, triggering faster reaction times to hit the brakes and avoid a collision.
On the downside, cars with bright colors get ticketed the most in the United States. According to American Auto Insurance reports, the car paint colors that receive the most tickets are; white, red, gray, and silver. However, since white is the most popular color option, it's understandable why it's one of the most ticketed car colors. 
On the contrary, the risk of getting into a collision is higher if you're driving a dark-colored car, making dark colors the least safe car paint colors. According to the MUARC research, black is the most dangerous car paint since it has the highest crash risk.
That's because black cars are more challenging to see in dark & poor weather conditions than bright, light-colored cars. In addition, black cars blend in well with their surroundings during light conditions, creating a split-second hesitance from other drivers which can lead to a car accident. 
Gray and Silver
Gray and Silver are also ranked among the most dangerous car paint colors, despite being some of the most popular paint options available. Specifically, silver cars have a 10% higher risk of getting into accidents than light-colored vehicles. 
Blue
Similar to black cars, blue blends well into the surroundings during daylight hours and into nighttime colors. More notably, blue vehicles can blend in with the sky's color, making them extremely difficult to see from a distance. As you would expect, this increases their chances of getting into a car accident. 
Green
Green is another color that has a high risk of getting into a crash. This is because they blend into the environment, including bushes & trees, and several traffic elements. 
Red
Although red is a bold and arguably the most visible color, it has an increased risk of getting into a crash. Like green cars, red vehicles blend in with several traffic elements such as road signs, brake lights, sirens, traffic lights, etc. 
Conclusion 
Determining the best and worst car paint color will have both long- and short-term effects on your life. Grayscale car paint colors offer the best long-term ROI (Return On Investment) and are the most popular color options on the road.
However, before you choose the white or black end of the grayscale spectrum, it's important to consider the climate of your local area and how you intend to maintain the car.
For instance, a black paint job is ideal for cold climates since it absorbs heat, but it requires regular car washing and waxing to maintain its shine. On the other hand, white cars are easier to clean and are recommended for hot climates.