This post may contain affiliate links which means I may receive a commission for purchases made through links.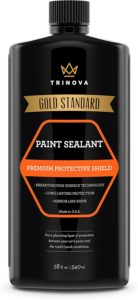 As a car owner, it's important to look after and preserve your car's exterior to extend the longevity of its paintwork. While there are various methods you can use to accomplish this, car paint sealants are becoming increasingly popular among car owners. Thanks to their ability to maintain the value of cars at an affordable price.
Plus, they're relatively easier to apply than other methods like ceramic coating, yet they provide excellent protection against harsh elements, including grime, UV rays, and other contaminants.
Better still, car paint sealants have a longer lifespan as they can last up to 6 months. As a result, your car will always look shiny and new, even with constant use.
But, what exactly is a paint car sealant? Here's an extensive guide that has everything you need to know about car paint sealants!
What's a car paint sealant?
As the name suggests, car paint sealant is a synthetic product that is specifically designed to create a barrier between the auto paint and any contaminant that comes into contact with the car.
They are commonly used on cars, trucks, boats, recreation vehicles (RVs), and smaller personal aircraft to protect the finish from weather, sub, and several other hazards.
In addition, this protective layer makes the car's surface look shiny. For that, car paint sealant is often considered to be the same as car wax. However, there are some notable differences between car wax and paint sealant you should know about when trying to choose the best product for your car's exterior.
One notable benefit of car paint sealant though is that it lasts longer than wax, partly because it has a higher melting point. Therefore, it requires it to be applied less often, about every 6 months, compared to every month for regular car waxing.
In addition, paint sealant creates a hard barrier around the vehicle, while car wax penetrates the paint, but more on that later in this Car wax Vs paint sealant blog post!
There are various types of car paint sealants available on the market. Most of these sealants are usually made of polymers, while others include a combination of resins, acrylics, and polymers.
Whichever the case, almost all types of paint sealant are synthetic, instead of being made from naturally occurring materials like traditional wax. The extensive use of polymers in paint sealants increases the product's performance for use in car detailing.
Types of car paint sealants
Paint sealants can be broadly classified into 2 types: cleaning sealers (AIOs/ All-in-Ones) and pure paint sealers.
Cleaning sealants contain abrasives and solvents to remove fine scratches and mild oxidation for an all-in-one experience. However, these types of sealants aren't recommended for use on gel coats, paints, or clear coats that have already been polished and compounded.
So, make sure you carefully inspect the description or label of the sealant to avoid buying a product you don't need.
On the other hand, non-cleaning/ pure paint sealants can be further classified into 2 categories: Wipe On Walk Away (WOWA) and Wipe On Wipe Off (WOWO). Wipe On Wipe Off sealants are affordable and easy to work with since they're a lot like wax.
Specifically, you only need to squeeze some sealant out onto an applicator, wipe it on your car, then wipe it off with a microfiber towel. In contrast, WOWA sealants are buffed or applied onto the car's surface and left on.
How car paint sealants are made
Paint sealants are usually made by combining polymers that are held in suspension by solvents, water, emulsifiers, or wax and amino-functional silicone fluids.
Also, you may see paint sealants labeled with ingredients like Teflon, silicone, resins, and polymer resins. However, some of these ingredients might not have any significant impact on the end product.
How car paint sealants work
Most types of car paint sealants work by bonding with the finish they're applied to. And when you wipe them on, they go through the curing process where their polymer strands cross-link to create a tough, hard shell.
In addition, some sealants come with an accelerator to speed up the curing times and the cross-linking process.
Benefits of car paint sealants
Although protecting your car with a paint sealant is somewhat less complete compared to a ceramic coating, sealants are more durable than wax coating and provide excellent value for your money.
More importantly, sealants provide an extra layer of protection against harsh elements, extend the lifetime of your car's paintwork, and eliminate the need for new paint jobs. At the same time, car paint sealants offer a wide range of other benefits such as:
Increased resale value
Car paint sealants are quality synthetic products that help to preserve cars by keeping them in good shape. As a result, cars with paint sealants are easier to sell and their trade-in value is relatively high compared to other vehicles.
Longer protection
Unlike other forms of car protection, car paint sealants provide protection for months or even a year as they maintain their efficiency for longer. Although this is less than the protection by ceramic coating, the affordability of paint sealants makes up for the difference.
Easy maintenance
Paint sealants prevent various pollutants from sticking to the car's surfaces, making it much easier to clean and dry the car. Even better, paint sealants have hydrophobic properties, which collect and absorb standing water.
Optimal resistance
The car's paintwork is exposed to several risks such as contaminated rain, bugs, bird droppings, dirt, and UV rays. Interestingly, paint sealant forms a thick protective layer that is very effective at protecting the car paint against these risks.
Provides a pristine finished look
In addition to protecting the car's exterior, car paint sealant does an excellent job of enhancing the car's natural sheen. This improves the car's appearance and ensures that the paint maintains a natural shine for an extended period.
Drawbacks of car paint sealant
The only issue with car paint sealant is that some people claim that it doesn't look quite as nice as carnauba wax. While there is some truth to that statement, especially on darker cars, it's difficult for an average person to spot the difference in a light-colored car.
However, if you're one of those who can easily tell the difference between car wax and paint sealant, I recommend that you use a sealant as the base protection layer, then top it with the best car wax for appearance.
How to apply car paint sealant
Much like car wax, paint sealant is relatively easy to apply as you can either do it by hand or by machine (dual-action random orbital polisher). Whichever the case, the key is to spread the paint sealant thin and evenly across the car's exterior to protect the surface and get a mirror shine.
With that in mind, here are the steps you need to follow to apply when applying paint sealant on your car's surface;
Prepare your car
Thoroughly wash your car with your preferred soap to get rid of any small particles, and dry it to avoid water spots. In addition, removing contaminants from the car's surface helps you avoid any swirl marks when applying the sealant.
Apply the sealant
As mentioned above, there are 2 ways to apply a paint sealant to your car;
1. Hand application
Put 2 – 3 small drops of the sealant in the center of a foam/ microfiber applicator pad.
Put the microfiber applicator on your car's paintwork with light pressure and thinly work the sealant on the car's surface. Here, you can use any motion including cross hatch and circular, provided the surface you're working on is free from contaminants to avoid scratching the paint.
Overlap each pass across the panel to ensure there is complete coverage.
Leave the thin layer of paint sealant on the car's surfaces for about 10 – 20 minutes.
2. Machine application
Install a finishing pad on your dual-action random orbital polishing machine.
Put 2 – 3 drops of the paint sealant on the pad.
Place the finishing pad against the car's paintwork and spread the sealant around the car's surface.
Turn on the machine to low speed (1) and uniformly spread the paint sealant across the panel.
Increase the speed of the polisher to 3 and slowly work the sealant across the bodywork overlapping each pass.
Repeat the above two steps to every panel on the car.
Turn off the machine while the pad is still against the paintwork to prevent slinging.
Let the sealant sit on the paintwork for the specified curing time.
Wipe off the excess sealant
If you're using a Wipe On Wipe Off sealant, use a clean microfiber towel to wipe off the excess sealant. Again, you can use your preferred motion to get complete coverage. Let the sealant cure before you apply another coat.
Buff
Once the sealant has dried, polish the car with a synthetic cloth. In addition, you can apply a carnauba finish to the top of the cured paint sealant to enhance its gloss, depth, and warmth, but that is optional.
Conclusion:
Paint sealants are increasingly becoming an important part of auto detailing in various parts of the world. Thanks to the wide range of benefits they offer, including extending the durability of your car's paintwork.
Luckily, these products are relatively easy to apply and there are many great car paint sealants on the market that you can use!
Read Next: Best car paint sealant.