This post may contain affiliate links which means I may receive a commission for purchases made through links.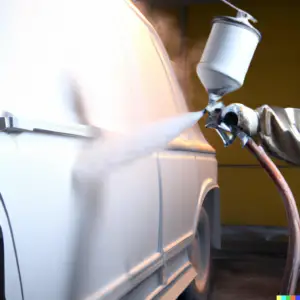 If you're planning to paint your car, it's important to know the various types of car paint available. This will help you make an informed decision and find the right type of car paint, depending on your needs. 
However, before you even get to the paint, you have to apply a car paint primer first. Otherwise, the paint may not adhere properly, causing your car to experience common car paint problems like peeling in no time. 
But, what exactly is a primer for car paint? 
Well, let's start from there as we go on to discuss why priming is an important part of the car painting process as well as the different types of primers you can choose from! 
What's a car paint primer? 
A car paint primer is a paint-like substance that's usually applied to the freshly sanded bare metal surface before the topcoat. It's simply the undercoat used when refinishing the car's bodywork to prepare it for painting.
All thanks to its ability to build up and level rough and feathered surfaces, creating a smooth surface for paint. More importantly, primer helps to prevent the topcoat from peeling, flaking, and slipping. 
In addition, the primer has many other characteristics that promote uniform paint application. For instance, they have exceptional adhesion capabilities. As a result, they form a strong bond between the old paint or sheet metal and the new coat of paint.
As for application, you can either use a brush or a spray gun to apply different types of cat paint primers. 
Secondly, primers prevent rust formation where they adhere to the metal surface. Plus they sand easily, meaning you can level and sand them smooth in no time. On the same note, primers have a fast drying speed.
For instance, you can sand a high-quality primer in as little as 30 minutes after application. Lastly, primers prevent the car paint from soaking into the metal surface, which may result in a dull finish. 
Why apply automotive paint primer? 
As already mentioned, primer acts as a bonding agent between the car paint and whatever is below it. New cars feature a beautiful welded patchwork of fresh steel parts and panels.
If painted without a primer, this bare metal surface would eventually reject the paint and quickly rust. This case applies to any bare metal surface, whether new or not. 
When you're working on your car's bodywork, you're likely to uncover bare metal, exposing it to weather elements. In most cases, you should sand down the repaired area to bare metal before you apply a primer.
This will help your repair work last much longer than simply slapping a patch over the damage. So, any time you sand away your car's paint and expose bare metal, it's important to always apply a primer before you paint. 
Here's why! 
First of all, primer acts as a bonding agent to help the car paint will help paint adhere better to bare metal. Without the primer, the metal; surface doesn't bond well with the paint, leading to flaking and peeling. This exposes the car's bodywork to rust, turning it into junk in no time.
 Interestingly, apart from providing better adhesion, primer adds extra protective layers that prevent moisture and rust to your car. In addition, the primer acts as a filler for grinding/ sanding marks and minor scratches on the car body, thus eliminating the need for a more prolonged repair job.
Not to forget that the formed coating is easy to sand and improves the smoothness of the car's bodywork without affecting the inner surface. 
Different types of car paint primer 
As much as applying a primer is an important part of the car painting process, using the wrong kind of primer can be detrimental to your paint job. For that reason, it's equally important to ensure that you're using the right type of car paint primer.
So, what type of car paint primer should you use? 
In general, there are 2 main types of automotive primers: etch primer and primer lacquer.
Etch primer 
The purpose of this type of automotive primer is to replicate the cataphoretic dip process used by car manufacturers to protect panels from corrosion.
More importantly, etch primers are usually 2-components products with an acid activator. This acid etches bare metal to form a very strong bond between the panel surface and the primer while providing exceptional corrosion resistance.
However, some paint manufacturers produce etch primers in a 'ready-to-use' aerosol can for repairs to small areas.  
It's also worth mentioning that you can use etch primers on bare metals. However, most types of etch primers are also ideal for use on other materials like fiberglass and plastic.
However, it's important to check the manufacturer's recommendations to determine if the product is ideal for use on non-metallic surfaces. Also, these primers can be used on top of existing primer or galvanized metal to cover any minor damage in the protective galvanized coating.
In fact, they're the only primers that can be applied directly on galvanized panels. 
Another interesting feature of etch primers is that they don't usually require sanding. Instead, they are usually applied over the top to prepare the panel to receive the color coat. 
Moreover, etch primers dry much more quickly than other types of car paint primer. So, if you want a primer that will speed up your auto body repair process, etch primer is an excellent option.
Plus, it eliminates the need for any metal conditioner, making it the best primer for applying directly over bare metals and then covering it with a secondary primer like urethane or epoxy. 
Primer Lacquer 
Usually available as a 'high-build' primer, primer lacquer has 3 main functions. 
One, it provides a relatively thick coating to fill any small imperfections such as sanding marks and minor scratches in the finish underneath. Secondly, it provides an element of stone chip resistance.
The elasticity of this primer allows it to absorb the impact of any stone that penetrates the top coat. Thus preventing it from penetrating through to the bare surface underneath.
Lastly, high-build primer provides a coating that sands quite well to give a smooth base onto which the color coat can be sprayed.  
This type of automotive primer is usually available in 2-pack products that are mixed from 3 elements (primer, thinner, and activator).
Most paint manufacturers use the term 'high-build' to refer to the primer that is used to prepare the surface for the application of the base coat (color coat).
On the downside, lacquer primers can lead to bubbling and cracking in the long term. For that reason, they're best used beneath a paint and corrosion prevention layer for small auto bodywork jobs. 
Other types of automotive primers 
Epoxy primer 
Epoxy primer is a water-resistant primer that creates a hard, chemically resistant coating to set the foundation of your base coat. For that, it's considered a good standard base in terms of promoting a quality paint finish and ensuring the car paint bonds to the metal surface.
Moreover, it's specifically designed to prevent corrosion, so it will not sand as well as other types of automotive primers such as urethane primers.
However, if you insist on sanding epoxy primer, you should use wet sandpaper since dry sandpaper tends to clog easily, 
Polyester primer 
Polyester primers have what is known as an excellent 'build' in the automotive world. This means that it fills small dings and scratches much like a filler or putty would.
Moreover, this automotive primer has the highest filling capability of any sprayable primer. For these reasons, it's a perfect option for filling auto body blemishes, while providing a good paint-bonding surface. 
The only issue with this type of primer is that it's a bit brittle and more prone to cracking than epoxy or urethane once dry. For that, it's a great primer for small filling and repair jobs, but not the best option for an entire car. 
Enamel car paint Primer 
Enamel primer is an extremely economical primer and provides a good base for car paint to adhere to. Plus, this type of primer has a fairly good level of corrosion resistance. 
Urethane primer 
Most automotive primers on the market today are urethane (2K) primers. These primers are great for filling as well as building layers you can sand down. A 2K urethane product simply means that it's catalyzed and only works with a hardener/ activator.
Also, you can use this primer as a sealer, but it's mostly used to spray over repaired and damaged areas to create a level & protected surface. 
There are various types of urethane primers including; urethane sealer, urethane primer surface, and moisture-cure urethane primer. 
Urethane sealer is suitable for use as a strong adhesive layer for paint to adhere to. Unfortunately, it doesn't have any filler capabilities. Nonetheless, it's a great primer when you're painting a car that is in good condition or when you need to seal off a significant amount of filler/ bodywork. 
Moving on, moisture-cure urethane primer is excellent for both rust protection and paint adhesion on difficult repair jobs. This makes it an excellent all-around primer option for completing 2 jobs at the same time.
In addition, it cures quickly when exposed to air moisture, which significantly reduces the curing time. 
Lastly, urethane primer surface is a 2-part primer that is commonly used in conjunction with any fillers/ putty you're using for repair jobs. However, it's usually applied over a secondary base primer since it doesn't offer the best corrosion resistance. 
What type of automotive primer should I use? 
If you want the best all-around primer that will allow maximum paint adherence and provide a little corrosion protection, here are the best types of primer to use; 
Epoxy primer
If you need to refinish or repaint a large area of your car's bodywork, epoxy primer is usually the best option. This 2-component primer is easy to mix and offers the optimum blend of corrosion resistance and paint adhesion.
In addition, you can apply epoxy primer on top of various surfaces including fiberglass, fillers as well and prepared steel/factory finishes.
Best of all, this primer has a quick drying time, making it a great option for auto body shops and home mechanics alike, especially for large paint jobs. 
Polyester primer surfacer
Polyester primer surface is perfect for small touch-ups and little auto body repair jobs that need some light filling/ putty. This is because it has a great 'build', allowing it to fill in minor scratches and nicks. In addition, it sands down well, thus eliminating the need for an extra filler or putty step. 
Moisture cure urethane primer 
Moisture cure urethane primer offers the best protection from further rust damage. Therefore, it's the best primer where rust is present and sanded out or where complete rust removal isn't an option.
Besides, this type of primer holds color well, sands easily, and dries quickly. 
Should you always use a primer when painting a car? 
Most car paint professionals say that a primer coat should always be applied before you spray the final paint coat. However, that doesn't always have to be the case. In this section, we'll look at instances where it may be necessary to apply a primer before the color and when you don't have to. 
First and foremost, if you're dealing with bare metal, old or new, you'll certainly need to apply a primer before covering it with any type of car paint. If you are making small body repairs, make sure you protect the surrounding area when sanding down or grinding out a blemish to prevent further damage. 
However, if you're not uncovering any bare metal, you won't need to use an automotive primer. For instance, if you are just lightly buffing away the top paint layer without uncovering the car's steel panels, you can forego the primer. The same case applies when you're dealing with plastic parts. 
Conclusion 
Choosing the best type of automotive primer for your project can be both confusing and overwhelming. However, that doesn't always have to be the case, especially if you start by determining the most important needs for your car repairing/repairing project.
Hopefully, now that you know what car paint primer is and the different types available, that decision will not be that hard!