This post may contain affiliate links which means I may receive a commission for purchases made through links.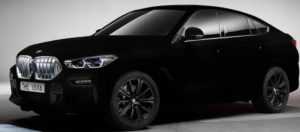 Choosing a car color is one of the most important factors when you're buying a new car. The most popular car colors in the world depending on the sales volume are gray, black, and white. 
Most people want a color that suits their tastes but doesn't constantly look dirty or draw too much attention. In that regard, black paint is considered a nice color option for most car owners. Thanks to its ability to hide designs that you may not like in an otherwise beautiful-looking car.
There are several shades of black paint including a dark charcoal gray and the 'blackest' black car paint. But seriously, what is the blackest black paint you can put on your car? 
Well, read on to learn more about it. Also, we'll look at whether it's legal to paint your car with the blackest black paint! 
Vantablack: The 'blackest' black car paint! 
That's right! Vantablack is considered the blackest black car paint as it has the highest light absorption of any other known material. It was developed by a UK-based industrial equipment supplier known as Surrey Nanosystems in 2014 from carbon nanotubes.
Therefore, Vantablack is not a car paint brand name. Instead, it refers to a man-made coating of carbon nanotubes. More importantly, it has several applications including in spaceships and military uses to hide or make their objects disappear.
What is Vantablack? 
Vantablack is a coating that is made from carbon nanotubes. In fact, Vanta is an acronym for Vertically Aligned Nanotube Array. Carbon nanotubes are tubes that are made from carbon that is so small that it is measured in nanometers. 
Surrey Nanosystems used a process known as CVD (Chemical Vapor Deposition) to make Vantablack. In essence, this process involves depositing layers of material on a solid surface/ substrate at a molecule-by-molecule or atom-by-atom level. 
Carbon nanotubes consist of cylindrical molecules of carbon that can be rolled into multi-layer sheets. Vertically aligned nanotube arrays create a forest-like environment on a micro-scale. When light (photons) enters this forest, it bounces along the tubes until it loses all its heat and energy. 
The Use of Vantablack Paint on BMW X6
The Vantablack paint was used on BMW's X6 Coupe in 2019, making it arguably the darkest car in the world. This paint is so dark that it's almost impossible to see the car's body lines unless you look very closely. 
Here's why! 
Human vision works by detecting or capturing light rays that bend or bounce off the objects around us. So, if the light goes through an object without bending or bouncing off, that object becomes invisible to our eyes. 
As mentioned earlier, Vantablack has the highest light absorption rate of any other man-made material. To be precise, the vantablack's carbon nanotubes absorb up to 99.965% of visible light, meaning only 0.035% is reflected.
As a result, anything covered in Vantablack will look devoid of any 3D structure. 
Properties of Vantablack 
Since its launch in 2014, Vantablack has been the darkest material in the world to date. It has the highest absorption rate. Specifically, it can absorb up to 99.965% of Ultraviolet, Infrared, and visible light, with a total hemispherical reflectance of just 0.2%. 
In addition, Vantablack material is made up of a forest of vertical tubes that are 'grown' on the substrates. The tubes are then chemically treated to form closed structures that resemble arrays of 6-sided cylinders with the vertices capped by half spheres.
Therefore, it is not a pigment or paint. Instead, it's a coating that can be applied over other materials. 
The original coating was based on 14nm wide carbon nanotubes. These tubes are grown on the substrate using a chemical vapor deposition process. Here, hydrocarbons react at extremely high temperatures to produce single-walled carbon nanotubes. 
Applications of vantablack 
Vantablack is used for a wide range of applications such as artistic purposes and coating space telescopes and photographic lenses. Here are other applications you might not be aware of: 
Automobile application 
Vantablack was showcased in the BMW's X6 Coupe at the Frankfurt Motor Show. This idea was conceived by creative agency Levitation 29 and Vantablack manufacturer Surrey Nanosystems to hide the body details of the 2020 X6 model ahead of its debut in Frankfurt. 
However, many companies from various industries have highly desired Vantablack since its inception in 2014. For instance, Vantablack is commonly used to coat optical instruments and cameras due to its ability to absorb over 99% of the light that hits the surface.
This allows the optical lenses to become much more clear by making any imperfections invisible from far away. 
Artistic purposes 
Vantablack is so dark that the human eye cannot even distinguish a physical form in its shape. This allows artists to paint incredible patterns and shape onto various surfaces without them appearing flat.
For instance, you can use the material to paint an entire canvas black to make the shapes pop out.
Unfortunately, Anish Kapoor owns the exclusive rights to the use of Vantablack paint in the artwork industry, even though the paint was created by Surrey Nanosystems.
This means that nobody else has the right to use it for artistic purposes, something that has made many artists quite unhappy.
For instance, a man named Stuart Semple created a color he referred to as 'the Pinkest Pink' and claimed that anyone could buy it except for Anish Kapoor, although he got it anyway. 
On the bright side, artists have found ways to create paints that act like Vantaback. Also, Stuart Semple has created several campaigns to paint darker than Vantablack but we're yet to see the results. 
Solar panels
Vantablack has several scientific and industrial applications like increasing the efficiency of solar panels. Specifically, the material is used to reduce the amount of light solar panels reflect back into the atmosphere.
At the same time, it increases the spectral absorption rate of photovoltaic cells in these solar energy harvesting devices. 
Military applications 
This material can be used for a wide range of military purposes. For instance, it can coat helicopter blades and the inside of telescopes of spaced-based military instruments.
This helps to make them invisible to spy satellites by ensuring they don't reflect any light. 
Space Exploration
Vantablack was originally developed for use in light-sensitive aerospace components. And made its debut in 2016 in the Kent Ridge 1 satellite-borne earth observation equipment.
The material made it easy to track the position of the equipment based on the nearby stars. At the same time, it reduces light interference, helping space explorers create more accurate systems.
More importantly, it enhances our ability to explore spaces beyond our reach.  
In addition, Vantablack has been used to minimize stray light in the Hubble telescope and for aerospace applications. It keeps sensitive optics free from stray reflections that could affect spectroscopy experiments being done on board spacecraft. 
Medical applications 
Also, you can use it to coat imaging devices in medical equipment and cameras to increase their accuracy and sensitivity. This will make MRI devices more accurate or help doctors see cancerous cells on a microscope slide with ease. 
Can you paint your car with Vantablack? 
As already mentioned, the first car to use it is the BMW's X6 Coupe. Therefore, you can use it paint on your car as well, although it's very expensive.
That said, the classic vantablack cannot be used as regular car paint for various reasons. 
First, Vantablack is produced through an electrophoresis chemical vapor technique. This process involves depositing carbon nano-tubes along the surface to which it is applied. In short, just applying it will need some training as well as careful execution. Not to mention that its adhesion to the surface isn't robust, and the structure bends easily. 
Secondly, while you can apply it on your car, it only looks good if the vehicle stays indoors and doesn't come into contact with dust and other environmental elements.
However, there are some stronger coatings that are less prone to wear. Unfortunately, the expense of achieving the desired effect can go up to $50k. 
Lastly, the Vantablack paint job is not nearly as durable as most types of car paint. Not to forget that it's relatively difficult to do. Therefore, the best way to get a durable black finish on your car is to apply a matte black wrap, cover it with a clear matte tint, and finally put a matte polymer finish.
This will give you a blacker and deeper black finish that is more durable and affordable than painting your car with Vantablack. 
Why is Vantablack paint so expensive? 
The average cost of coating a 100 sq cm surface with Vantablack paint can be thousands of dollars. This high cost is mainly attributed to how the paint is manufactured as well as the research and development costs involved in refining the production process. 
For instance, it takes about 100 hours to grow one layer of 1cm thick carbon nano-tube on a substrate like aluminum foil, which is very thin.
Therefore, there is no way to mass produce the carbon nanotube without increasing the cost of production as each layer requires time to grow. 
Is it legal to use Vantablack on your car? 
Just like changing the color of your car, there are no laws that prohibit the use of the blackest black car on your car. Therefore, painting your car with Vantablack will not get you into trouble with the law.
However, expect curious police officers to pull you over from time to time. 
Despite it being legal to use on cars, there are several reasons why you'll hardly see one on the road. 
First, as I mentioned earlier, the British sculptor Anish Kapoor owns the exclusive rights for the artistic use of the blackest black paint. So, while painting your car with Vantablack isn't purely artistic, you never know if you might end up getting into a lawsuit. 
Secondly, Surrey NanoSystems is not selling Vantablack to members of the public at the moment as it's mainly designed for aerospace and military applications.
And even if they did sell it to the public, you would need to ship your vehicle to the United Kingdom, where the company is based.
Not to forget the headache of shipping carbon nanotubes through customs once the car is painted with Vantablack. 
Accident Risk
More importantly, driving a Vantablack-painted car at night increases the risk of getting into a car accident as it basically makes the car invisible on a dark roadway.
Something that even BMW agrees with, which is why vantablack car paint will not go into production anytime soon. Not to mention that black cars are already more dangerous to drive than white cars due to the issue of visibility.
According to a study conducted by Monash University Accident Research Center in Australia, black cars have a higher crash risk than white cars. Therefore, driving a car painted with the blackest black car would be too dangerous for oncoming traffic even in broad daylight as it will not stand out enough to be seen by other motorists. 
Last but not least, painting a car with Vantablack paint will significantly cost more than regular paintwork. Specifically, painting your car with Vantablack S-VIS spray paint will cost you upward of $300K, which is way more than the cost of some supercars in the market! 
What is the main use of Vantablack then? 
Seeing that Vantablack has a wide range of applications, Surrey Nanosystems sells it to various industries, particularly the aerospace industry.
More notably, it's used to improve the performance of infrared cameras and prevent stray light from entering telescopes, thanks to its high light absorption rate. 
In the automotive industry, it's mainly used to protect sensors like LiDar, image processing, and radar sensors from stray light in autonomous/self-driving vehicles.
Are there alternatives to Vantablack; the blackest black car paint? 
Although Vantablack is still the blackest black car paint in the world, other paint manufacturers have tried to create their own version of true black paint.
One such manufacturer is a Japan-based company known as Koyo Orient which released a black paint called Musou black in September 2020. 
The Musou black paint is considered the blackest water-based acrylic paint in the world! And can absorb up to 99.4% of visible light and reflect the rest, devoiding the car of its creases and details to almost turn it into a shadow or 2-dimensional figure. 
Another notable feature of Musou black paint is that it's almost odorless and formulated in compliance with environmental regulations.
Unfortunately, it isn't possible to apply wax or any other protective coating over its coarse, powdery coat to maintain its peak black appearance. For that, it's highly susceptible to various weather elements, especially rain. 
Musou Vs Vantablack black paint: What is the difference? 
The most notable difference between Musou and Vantablack black paint is their light absorption rate. To be precise, Musou black paint absorbs about 99.4% of visible light, while Vantablack paint can absorb up to 99.965% of visible light rays.
However, that's not the only difference between these paints as they compete to be considered the blackest black paint in the world! 
While both paints are not specifically designed for cars, Musou black is a water-based acrylic paint, while it is technically not a paint as it doesn't use pigments.
Instead, it's made from randomly aligned carbon nanotubes that form a coating that absorbs heat and protects the integrity of camera lenses intended for capturing images in space. 
Lastly, Vantablack is not available for sale to private individuals as it's mainly intended for aerospace and military applications. In comparison, Musou black (BLACK 3.0) is readily available in the market in 150ml spray cans at a cost of about $28 per can.
Conclusion 
Overall, Vantablack is the blackest car paint in the world and was even used in the BMW's X6 model at the Frankfurt Motor Show, giving the car a super black, non-reflective appearance.
Unfortunately, the paint is not available for sale to private individuals as it wasn't originally designed for cars. Instead, it was initially designed for space travel and has many other applications including military uses.