This post may contain affiliate links which means I may receive a commission for purchases made through links.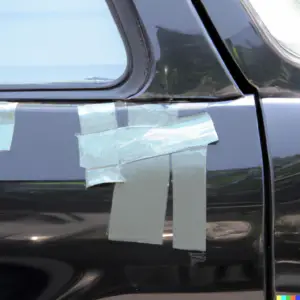 Duct tape is a multipurpose repair tool that is ideal for temporary fixes. Moreover, this versatility makes it an excellent tool for use in various tasks such as repairing different parts of your car's bodywork.
For instance, you can use it to hang a broken side-view mirror/headlight or even attach it to your car's body. 
Unfortunately, duct tape contains strong adhesives that may leave ugly and sticky residues on your car's surface. As a result, many car owners are hesitant to use duct tape on their cars, fearing that it might damage car paint. 
But, is this really true? Will duct tape damage car paint? 
Relax! Duct tape doesn't damage car paint, making it a perfectly safe product to use on your car's bodywork, provided it's not peeling off. And as for the sticky duct tape residues, this article will show how to safely remove them without damaging your car's paintwork! 
What is duct tape made of? 
Ducts are usually made up of 3 layers which include polythene (exposed top layer), fabric, and rubber-based adhesive. When making duct tape, the fabric is first coated in melted polyethylene, which acts as a barrier against moisture.
Moreover, the polythene covering is flexible, allowing the tape to adhere to rough and uneven surfaces. Not to forget that the adhesive is very durable, making it hard to clean off. 
Does duct tape damage car paint? 
As mentioned earlier, duct tape doesn't damage car paint. That's why many auto repair shops have been using it to keep various car parts together as they work on our vehicles. 
However, if the paintwork is already damaged or you use the wrong technique to remove the duct tape from the car surface, the paint may peel off or flake. More importantly, duct tape usually leaves behind a sticky residue that can be a bit challenging to remove. 
This residue requires careful removal to avoid causing further damage to the car paint. For instance, using items like sandpaper or metal scraper to get rid of this residue might leave scratches and marks on the car paint.
Interestingly, there are some incredible ways you can use to remove duct tape adhesive residues from the car without damaging the paintwork! 
How to safely remove duct tape glue residues without damaging the car paint 
Using rubbing alcohol or a solvent 
Before you head out to the store to buy a product that will help you remove duct tape glue residues, try using alcohol, which is an easy-to-get household item. Alcohol breaks down the glue on the duct tape, making it easy to remove.
However, with this method, you'll also need a clean soft piece of cloth that you can use to rub the plain old rubbing alcohol on the duct tape. Apply a few drops of rubbing alcohol to areas with sticky duct tape glue and let it soak for several minutes until the glue softens.
Spray some alcohol onto the clean rag and use it to rub over the area with the duct tape glue residues until you've removed as much of the residues as possible. Wash the area with soapy water to remove any traces of rubbing alcohol. 
Alternatively, you can use a cleaning solvent like Goo Gone, which is considered the most professional method for removing adhesive residues without damaging car paint.
However, you can use a cleaning solvent, provided it's designed for auto-body care. Similar to rubbing alcohol, solvents soften the duct tape adhesive without corroding the car bodywork, making it easy to remove. 
Warm water & a plastic scraper/expired credit card
The use of warm water is the safest method of removing duct tape glue residues without damaging the car's paint job. In addition, you'll need a plastic card/ scraper with a soft edge to remove the adhesive material without scratching the paint. 
That said, soak a soft rag in warm water and wring it out so that it's not dripping water. Put the damp rag over the area with the duct tape adhesive residues and leave for about 15 minutes to loosen the adhesive.
Next, remove the rag from the car surface and use a plastic scraper or old credit card to slowly and carefully scrape off the duct tape residues. After removing the residues, use a different rag to gently wipe the surface until it is clean & dry.
Hair dryer & plastic scraper/old credit card 
Although this method is time-consuming, it poses less risk to the car's paint job since it doesn't involve any liquid that may affect the color of the paint during the adhesive removal or soaking process.
Instead, it involves using a hair dryer on a low heat setting to loosen the adhesive residues that are difficult to remove with a solvent or commercial adhesive remover.
Also, you can use any other device that produces hot air like a heater to loosen the adhesive, making it easy to scrape them off with a plastic card/ scraper. 
To remove duct tape adhesive with a hair dryer, turn on the device and hold it about 6" away from the surface. Move it around the area with the duct tape you want to remove until the residue is soft.
Now, use an old credit card or plastic scraper to slowly and carefully get rid of the adhesive residues. Lastly, wash the area with soapy water and wipe off the surface with a clean rag to remove any traces of duct tape adhesive. 
WD-40 pen 
Over the years, WD-40 has become a very popular product for stopping various household annoyances like squeaky hinges. Surprisingly, you can also use it to remove duct tape glue residues from your car's bodywork, thanks to its new pen form.
Moreover, the WD-40 pen is relatively easy to use. You only need to remove the cap on the pen and rub the felt tip over the duct tape residue until it comes off. Afterward, use a dry soft cloth to polish the area to get rid of any residue left by the WD-40 pen. 
Read Next: Can you use WD-40 on your car's paint?
Final Word 
To sum up, duct tape is safe to use on your car's bodywork since it doesn't cause any damage to the paint job. However, when you pull off the duct tape, it may leave behind a thin layer of sticky residue, which can be unappealing.
Luckily, you can easily remove these residues using various methods such as alcohol, adhesive removers, warm water, or the new WD-40 pen. 
At the same time, there is a wide range of materials and products you should avoid using when removing duct tape residue from car paint. This includes items like; razors, dirty/ old towels, abrasive sponges/scouring pads, and acetone.
Razors and dull knives may scratch the paintwork, while acetone starts to eat away at the paint. Check out this article to learn more about how acetone will damage car paint!