This post may contain affiliate links which means I may receive a commission for purchases made through links.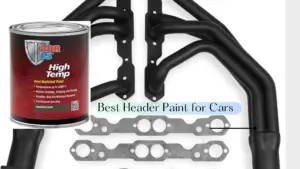 Several years ago when I was a young, dumb Marine stationed in Eastern NC on a little base called Camp Lejeune, I made some seriously stupid decisions.
The first decision was to buy a 1993 Camaro Z28 for way too much money and go into debt doing it. The next bad decision was to immediately put a pair of headers and full exhaust on it.
At first, it was great. I got looks everywhere I went, which was exactly what I wanted. I had the loudest car on base. The issue is that my headers got so hot that they began to melt the wires under the hood, including the spark plug wires.
This led to the dumbest decision, which was trying several times to fix it by replacing the wires, wrapping the headers with heat resistant material that kept falling off (because I had no clue what I was doing), and eventually blowing the engine up because it misfired for so long.
I made payments on a broken car until I got back from overseas and then found out that my parents junked the car on me when I wasn't looking, even though I had a fresh LT1 motor sitting in the garage.
Sigh…
If I only knew then what I know now, which is that high-heat paint, along with some other steps, can help keep the under-hood temps down.
For those who don't know, in addition to not melting wires, cooler under-hood temps help the car run better and faster when it matters.
One of the easiest ways to reduce under-hood temps, and subsequently not melt anything in the process, is to paint your headers with high-temperature paint that can reduce how hot they get.
At the same time, the paint will increase the header's lifespan by protecting it from corrosion and discoloration. 
With that in mind, where exactly do you get the best header paint? Well, continue reading this guide to discover some of the best paints for exhaust manifolds in the market at the moment. 
But first, let's look at how header paints work.
How do header/exhaust manifold paints work? 
First of all, headers/exhaust manifolds are metal or steel components that help to transfer the exhaust gases from various engine cylinders into the exhaust pipe.
As you would expect though, these components can reach up to thousands of degrees due to the amount of heat produced by engines during operation. This is where high-temperature exhaust header paint comes in. 
Header paint is a high-temperature ceramic paint that is specifically designed for metal headers to protect their surface from rust and cool down their temperature.
More importantly, the header paint has adhesive bonding properties that allow it to adhere to the exhaust manifold even at excessive temperatures. 
Factory-installed exhaust manifolds come with a ceramic coating over the stainless steel surface. Unfortunately, they start to lose it over time as they're continuously exposed to excessive heat from the engine. 
In comparison, a good quality exhaust header paint is designed to withstand high temperatures up to thousands of degrees Celsius. As a result, the best header paint will not chip or peel easily.
Best of all, they're relatively affordable and easy to apply, especially seeing that most models come in convenient spray cans. 
It's important to look at each listing below very carefully because some of these are meant to work in conjunction with a header wrap, while others are meant to work on bare metal.
Benefits of using a header paint 
Before you go ahead and buy the best header paint for your car's exhaust systems, it's important to understand why you should buy header paint in the first place.
Interestingly, using header paint on your exhaust systems instead of regular car paint offers several benefits. Some of these benefits include:
Increased heat tolerance
As you'd expect, exhaust gases leaving the engine cylinders during combustion can be very hot, thus subjecting the header to severe temperatures.
Luckily, header paint gives exhaust manifolds a thick coating that allows them to withstand very high temperatures. In short, painting exhaust manifolds with header paint improves their stability and heat tolerance. 
Prevents discoloration 
Most exhaust manifolds get discolored over time as they're usually made of steel. This increases their vulnerability to rust and corrosion, posing a great danger in the long run.
However, painting the header with the right exhaust manifold paint ensures that its surface remains unchanged when exposed to various elements. 
Increases visual appeal 
Apart from improving the header's heat resistance and preventing discoloration, header paints improve the physical appearance of the exhaust manifolds.
Specifically, the paint gives the header a polished and stylish look, making it look more professional. 
Prevents rust & corrosion 
Excessive heat generated by car engines exposes the exhaust manifolds to corrosion over time as they're usually made from steel. To avert this problem, it's always a good idea to coat the header with high-temperature paint.
That way, the paint will form a durable, rust-resistant coating over the header to insulate it against the excessive heat and exhaust gases that may corrode it.
Improves car engine efficiency & performance 
Ceramic header paint helps improve your car's efficiency by doing a couple of things. First up, a combustion engine runs better with cooler air. That's one of the reasons why you see high-performance cars trying to pull outside air directly into the cowl induction hood, as opposed to from within the engine compartment.
The painted headers can lower temperatures, sometimes by a lot. Lowering the under-hood temp is an easy and important way to get your car to run better, if it is a high-performance vehicle.
Second, the best header paints are designed to keep the exhaust heat in the exhaust gases instead of letting them seep out, thus increasing the speed at which the gases are expelled out of the exhaust pipe.
Consequently, the back pressure reduces, hence improving the overall efficiency of the car engine. At the same time, this helps to improve the horsepower as well as the overall performance of the car. 
7 Best Header Paint Reviews 
1. VHT Flameproof Coating 
If you're a long-time car enthusiast, chances are that you have come across or heard about VHT flameproof header paint. VHT stands for Very High Temperature.
To be precise, it can withstand extreme temperatures of around 1300 to 2000 degrees F, making it one of the most popular high-temperature car paints out there. Even better, this will give your exhaust manifolds a longer lifespan, eliminating the need to replace them regularly. 
At the same time, this high-temperature ceramic exhaust manifold paint offers exceptional adhesiveness with metal surfaces and cast iron, while removing dirt and small sticky gas particles. 
When it comes to application, this formula is available in an easy-to-use 11 oz spray can, making it easy to apply. Plus, it has a quick drying & curing time and gives your header an appealing visual aesthetic with its gorgeous matte finish once it dries.
And if you don't like the flat black color, this header is available in many other colors you can choose from. 
Benefits 
Affordable 

Long lifespan 

Provides an appealing matte finish 

Incredible heat resistance (1300 – 2000 deg F/ 704 – 1093 deg C)

Easy preparation as it doesn't need any primer 

Ideal for various metal surfaces 

Fast drying time 

Available in different color options
Drawbacks 
Only suitable for internal components 

Cannot be used to paint grills or fire pits 
The VHT Flameproof Paint can conveniently be found on Amazon.
2. Thermo-Tec 12001 Black High Heat Coating 
Thermo-Tec high-temperature header paint gives your exhaust manifolds incredible protection against abrasion and spills. While effectively sealing the pores of the exhaust wrap to reduce the penetration of harmful liquids.
Plus, it works as an exhaust wrap coating to protect the header from excessive heat, dirt, grime, and water. More notably, this coating is designed to withstand extremely high temperatures of up to 2000 deg F when used with genuine Thermo-Tec exhaust insulation wraps. 
Another interesting feature of this header paint is that it lasts longer than regular paint. More importantly, its formula contains binders and extra resins that toughen the metal surface, helping it last longer even when subjected to friction. 
It's also worth mentioning that this exhaust manifold paint offers excellent results when sprayed directly on metal surfaces. Therefore, you don't have to primer your exhaust manifold before you apply this formula.
In addition, this high-heat coating is ideal for mufflers, exhaust manifolds, exhaust pipes, and other surfaces subjected to severe temperatures. 
The only issue with this header paint is that it's not fit to use in all types of vehicles. Therefore, you've to check whether it's ideal for use on your specific car model before you buy the product. 
Benefits 
Extends the longevity of exhaust wraps by protecting them from friction

Ideal for painting the entire exhaust 

Fills minor holes easily 

Can be applied directly on metal surfaces 

Withstands heat of up to 2000 deg F

Prevents the entry of harmful wraps into the exhaust wrap 
Drawbacks 
Not ideal for use on all types of vehicles

A bit pricey 
This header wrap high heat coating can be found on Amazon at a great price.
3. Design Engineering 010302 Hi-Temp Silicone Coating 
With this high-temp silicone coating from Design Engineering, you can rest assured that your header will get durable protection from dirt, oil, and road grime.
This is because it forms a long-lasting silicone coating that can withstand temperatures of up to 1500 deg F. As a result, this header paint stays unchanged after application even when exposed to such high temperatures, making it ideal for use on hot surfaces. 
According to the manufacturer, this silicone coating is intended for use with their exhaust wrap to provide lasting protection and seal the material. However, you can also use it on blocks, headers, starters as well as the grill at your home.
And seeing that its formula is Volatile Organic Compounds (VOC) compliant, it's safe to use in all 50 states across the country. 
In addition to protecting the exhaust manifold from high heat, this silicone coating prevents the build-up of dirt, oil, and exhaust gases on the header surface. 
On top of that, you'll find it relatively easy to apply as it comes in a user-friendly 12 oz spray can.
However, you should expose it to a temperature of around 4000 deg F for 2 hours after application to help it cure fully. Also, let the paint cool before you spray another coat if you're planning to apply 2 coats. 
Benefits 
Extends the exhaust manifold's lifespan 

Ideal for use on several objects 

VOC compliant in all 50 states 

Oil- and dirt-resistant 

Withstand temperatures of up to 1500 deg F 

Highly durable 
Drawbacks 
Needs at least three coats 

 
This high-temperature exhaust paint is conveniently found on Amazon.
4. Rust-Oleum High-Heat Spray Paint 
Rust-Oleum is one of the best manufacturers of paints and primers in the automotive industry and even holds the largest market share. Therefore, it should not come as a surprise that it has found its way to our list of the best header paint. 
Apart from coming from a reputable brand, this high-heat spray paint is specifically designed to protect the internal components of your car from high temperatures.
This is a great high-temperature paint that can be used directly on the headers themselves. It's a ceramic coating that is gas and oil-resistant.
Getting back to the issue of temperature resistance, this high-heat spray paint can withstand the heat of up to 2000 deg F (1093 deg C). So, once you use it on your header, expect the exhaust pipes to stay in good shape for several years to come.
Regarding the application, this header paint comes in a 12 oz spray can with an all-angle tip design. This makes it easy to apply it over your car's exhaust manifold at various angles.
On top of that, the spray nozzle is very soft to ensure you don't get fatigued while applying the paint on your car header. Plus, the 12 oz spray can contain enough paint to cover around 12 sq ft. 
Benefits 
Takes 30 minutes to dry to the touch 

Offers a smooth topcoat finish 

Withstands high temperatures 

Prevents rust & corrosion 

Easy application 

Ideal for use on various surfaces 

Suitable for internal and external components 

Extends the lifespan of exhaust pipes and headers 
Drawbacks 
Requires at least 2 coats

 
You can find this high-temperature Rust-Oleum paint on Amazon.
5. Eastwood High-Temperature Coating 
Eastwood is another popular car paint brand that has been around for over 40 years now. Its Eastwood matte silver finish coating is one of the best paints for exhaust manifolds and headers.
Interestingly, this high-temp header paint is available in an aerosol form and a can. However, in this guide, we'll be focusing on the aerosol (spray) header paint! 
For starters, this high-temperature exhaust manifold paint has a ceramic-based formula. This allows it to form a permanent bond with metal surfaces, even when exposed to severe temperatures.
At the same time, the ceramic coating means that you don't need to prime the surface when applying this header paint. 
In terms of heat resistance, this ceramic coating can withstand high heat of up to 1400 degrees F, making it a perfect choice for restoring the header's surfaces.
Also, this prevents the coating from chipping or peeling off when exposed to high temperatures, while giving the surface a durable protective layer. Plus, you can use it to either coat outer or internal components in your car's exhaust systems. 
As mentioned earlier, this header paint comes in an 11.75 oz spray can or 1-pint can. One spray can cover about 6 sq ft, while the 1-pint can cover up to 12 sq ft. So, if you're handling a large header painting project, you can either buy the 1-pint can or 2 spray cans. 
Benefits 
Scratch- & heat-resistant header paint 

Ideal for humid and high-heat environments

Forms a strong, long-lasting bond with metal surfaces 

It comes in 11.75 oz aerosol and 1-pint cans 

Doesn't chip or peel off even at severe temperatures

Provides a brilliant matte silver sheen 
Drawbacks 
May require a 2-layer coat to form a better finish on headers

Not ideal for use on fire pits and other high surfaces 
You can find this high temp paint, here on Amazon.
6. PJI Hi-Temp Header Spray Paint 
Although the PJI High-Temp spray paint was originally designed for NASA spacecraft, it's a great paint for car headers and exhaust manifolds for various reasons. 
First of all, its formula contains a blend of silica and ceramic. Ceramic gives the paint a flat, black matte finish, while silica allows it to bond to the surface of the exhaust manifold for a long time.
More importantly, the ceramic-silica blend allows it to move with the metal surfaces as it contracts (cools) and expands (heats). As a result, it will not crack or chip over time when used in high-heat areas, giving it unmatched durability
Secondly, this paint can withstand severe temperatures of up to 1500 degrees F, making it an excellent option for headers and other high-temp environments.
At the same time, it resists peeling and cracking even when subjected to humid conditions, while protecting the surface from rust and corrosion. 
Lastly, this header paint is relatively easy to apply, especially seeing that it comes in a 12 oz spray can with perfect nozzle selection. Not to forget that you don't have to prime the surface before you apply this paint.
Instead, you only need to prepare the surface, spray the primer onto the exhaust manifold, and leave it for 30 minutes to dry. However, you might need to apply up to 5 coats to give your car's header a flat black finish. 
Benefits 
Resists scratching, cracking, and chipping 

Superior durability 

Reasonable price 

Ideal for expansion chambers and headers

The silica-ceramic formula ensures longer life

Protects header surfaces from rust & corrosion 
Drawbacks
Not for use on radiators, crankcases, engines, or transmissions 

 
Find this high temperature paint conveniently on Amazon.
7. POR-15 High-Temp Heat Resistant Paint 
All the best header paints we've reviewed so far come in a spray, except the Eastwood paint which is available in both an aerosol and 1-pint can. However, that isn't the case with the POR-15 High-Temp paint as it is only available in a bucket.
For that reason, you'll either need a brush or the best spray gun for painting cars to apply it. 
On the bright side, the paint is available in various size options including 1 quart, 8 fl oz, 128 fl oz, and 1 gallon. This allows you to choose the best size option depending on the size of your header painting project. 
Moving on, this high-temperature paint has an oil-based formula that forms a strong bond of adhesive layer over the header surfaces.
For that, you can rest assured that it will not chip or peel off, even when subjected to severe temperatures. 
Talking of severe temperatures, this header paint can endure high heat of up to 1200 deg F, making it ideal for use on car's headers & exhaust manifolds. In addition, the paint takes 4 hours to cure, while the 2nd coat should be applied within 24 hours for excellent results.
More importantly, make sure you sand the header surface before you apply this paint to remove dirt or the old paint layer. 
Benefits 
Available in different color and size options 

Adheres well to headers and other metal objects

Can withstand high temperatures of up to 1200 deg F

Easy application 

Resists chipping & peeling 

Suitable for all-weather conditions
Drawbacks 
May peel off it if it's not properly baked 

 
Things to consider when buying the best header paint (Buying Guide)
Temperature Range/ Heat Resistance 
Heat resistance is the first thing you should consider when buying header paint. In essence, exhaust manifolds must withstand high temperatures at all times due to their proximity to the engine.
Besides, engines generate a lot of heat, which can reach over 1000 deg F. 
Unfortunately, many regular car paints are not designed to handle such high temperatures. As a result, they become too hot and suddenly change color or vanish when subjected to high temperatures. 
I remember one time I painted an engine of mine with regular paint after giving it a stroker kit and honing the cylinders out. By the time the next oil change came around the orange paint was completely gone.
On the bright side, the best header paints can withstand temperatures of over 1500 deg F, while others can even tolerate up to 2000 deg F. Header paints with high heat resistance last longer, allowing you to save money in the long run. 
Ease of application 
If you're planning to paint your exhaust manifolds yourself, it's good to look for a header paint that is relatively easy to use for a smooth and quick application. In this regard, header paints can either come in a spray can or a container. 
Containers are quite simple to use since you'll only need a paintbrush to apply them. Also, they allow it to coat heavily in one go and the consistency of the coating is very stable.
Unfortunately, this method can be time-consuming, which is why most painters prefer spray cans as they're faster & easier to use. 
Rust resistance 
Exhaust manifolds are constantly exposed to various harsh environmental elements, causing them to rust and corrode.
For that reason, you should choose a header paint that has excellent rust resistance to keep the exhaust manifolds in good condition for longer. Moreover, this will allow the exhaust systems to withstand hot oil & exhaust spills. 
Peeling and Chipping
Finally, look for a header paint that has outstanding peeling and chipping resistance properties. This will prevent the coating from cracking or peeling off when subjected to high temperatures. 
Conclusion 
Seeing that exhaust manifolds are an important component of your car's ability to run well, it's important to ensure that they're in pristine condition at all times.
One way to accomplish this is by painting them with the best header paint. Interestingly, this will extend the longevity of the exhaust manifolds and boost the overall performance of your car.