This post may contain affiliate links which means I may receive a commission for purchases made through links.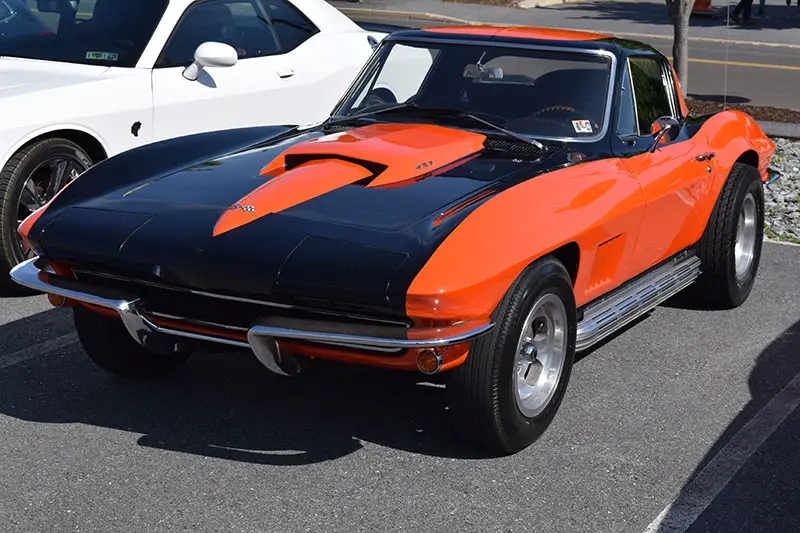 It should be no surprise that collecting antique cars is as popular as ever. I'm a big fan of old Corvettes, Camaros, other old Chevys and Mopars, and have a strong opinion on if cars should be repainted a different color or not.
Before you make any changes to your car's paint it's a good idea to do some soul searching, some research into the rarity of your car, and figure out what the purpose of your car will be once it's all done.
Let's take a look at each of these points before we cover some additional ideas about repainting a classic car a different color.
How rare is your car?
We have to start with the rarity of your car. The reason why, is that if you have an option list in a paint job where only a handful of survivors exist, then it's important to keep it as original as possible.
The value could diminish greatly if you do anything else with it. If it came from the factory "Burnished Brown" but you want to finish it in "Hugger Orange" because it's your favorite, you may want to rethink it.
The reason why is hopefully obvious, but in case it isn't, your ride may suffer from some serious devaluation. The above-pictured C2 Corvette is a great example because it's not the original color scheme.
It has the big block hood and appropriate badges so it could be worth a fortune if it was all-original Big Block 1967 Corvette in the original color. If everything else was right, but the color was off, it would be worth a lot less in this color scheme.
What is the purpose of your car?
When I ask "What is the purpose of your car?" I simply mean, is it meant to be stock? A restomod? A tribute car like the pictured blue 1963 Grand Sport Replica Corvette?
The reason why I ask this is because in some circumstances the value of the car actually increases with a paint job, along with a lot of other work.
This is true because more often than not the original cars are impossible to find, or way too expensive to buy. For example, the below Corvette has a total of five cars ever built.
You can imagine how much one of those original cars would cost. A well-done tribute or replica car is the only viable option for a true fan, and it's much better than trying to get one of the original cars.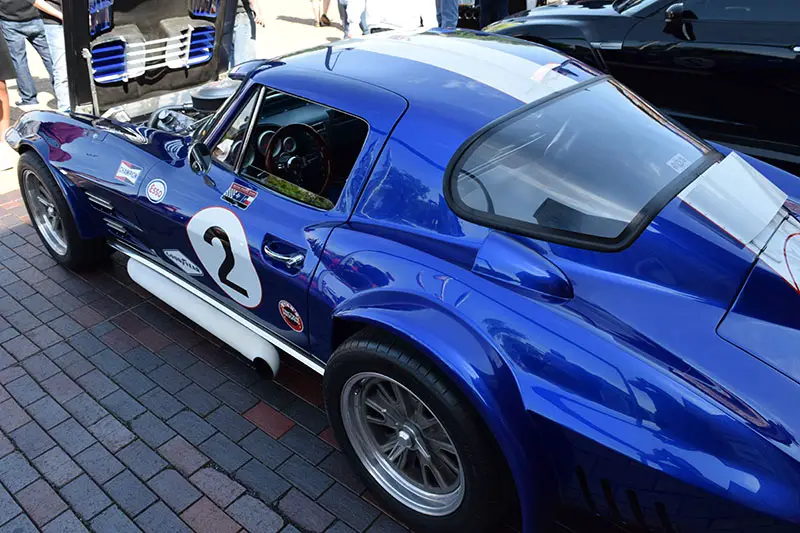 I do want to caution you, however, that this type of detail is not cheap. It may still be better to go the original route.
If it's a restomod that you're planning to build, which is simply an antique car with a lot of modern updates and creature comforts, and resale value isn't much of a concern for you for one reason or another, then have fun with your ride.
Do you plan to resell?
An original car will almost always be worth more than a restomod or a partially modified car. Because this is true, it may be a good idea to paint an original color, or not at all, if you plan to resell it at some point.
The main reason why this is true is because the car with original paint, or at least with a new paint job in the original color, will usually be more valuable.
When it doesn't matter what color your car is
There are plenty of times when it really doesn't matter what you paint your car.
Let's discuss those times, next.
Because you don't care
There is a lot to be said about what your desires are. After all, it's your car. So, if you want to paint it a different color, you're the one who has to be happy with it. Everyone else can go pound sand.
Rat Rod
I'm a big fan of rat rods. I had an old rat rod Chevy Pickup for several years a while back. It was 5 different colors, and rusty. I didn't really care what it looked like, because it had the rat rod vibe.
And, while it may not have looked great, it was really fast with a worked 350, 4:10 gears, exhaust headers, and straight pipes.
Some rats are meant to look nasty, others are not. Either way, it won't likely be the original color, at least not completely.
Tribute Cars
Finally, we have tribute cars. A tribute car, like the above-pictured Grand Sport Corvette, is another time when people choose to not go with the original color.
I've seen this hundreds of times. Usually, this happens when someone wants to have a real, numbers-matching car but cannot afford one. So, they get a similar car closer to the base model and then spice it up with the necessary ingredients.
Other considerations
There are a few other considerations regarding if painting your classic will lower its value or not. Most important is the quality of the paint and the paint job itself.
Quality of paint
Something else that goes under the radar in terms of value, is how good the paint job actually is. Hopefully, it goes without saying that a high-quality paint job retains value much better than one that was done quickly with poor body work under it.
I had a childhood friend who did a lot of work on his own cars. Well, we both did but he was much more talented than I was. He painted his 1976 Trans Am Canary Yellow, and it looked fantastic.
He also wanted a T-top car, so he bought an extra 1979 T/A, chopped the top off, and welded it to the '76. I remember the countless hours of wet sanding, that I was roped in to help with. The car was gorgeous by the time we were done, until he decided it was time for a change.
Unless you knew that he did it, you couldn't tell. I mention this story because it's important to have quality so that it looks brand new, regardless of what color it is. Unless, of course, your goal is a rat rod.
Paint Blemishes
I had another friend who had a 1969 Camaro RS/SS that was painted a metallic burgundy. It was a gorgeous 350 car. The main issue is after they had it painted, there were paint runs in several places.
Paint usually runs for a few different reasons, most commonly because there is too much paint accumulated in that area and it starts to form a drip. Gravity does its thing and pulls the extra paint that has nothing to stick to but other wet paint, downward.
The result is a drip-looking run. Needless to say, my friend was angry that their several thousand dollar paint job had blemishes after the shop had the car for half of a year.
The rest of the car looked fine, but there was touching up that needed to be done, and at that point, you can't help but wonder if they took any other shortcuts or had someone behind a sprayer who didn't fully understand what was going on.
Conclusion:
Knowing how to handle the upcoming paint job on your classic car is an important topic. You don't want to make a decision that could cost you money, or have to go back on it later like my friend did.
Hopefully, I've given you some things to think about before you start to paint.