This post may contain affiliate links which means I may receive a commission for purchases made through links.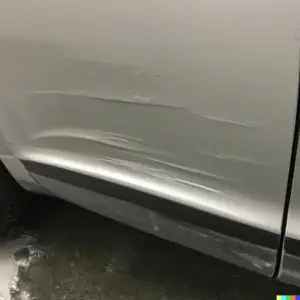 Car paint enthusiasts and DIYers around the world will agree that car painting is an art that requires expertise and skill to get perfect results. However, anyone can make mistakes when applying car paint, regardless of whether you're an expert or not. Also, some of these car paint problems occur due to other factors like surface texture, work environment, composition, type of car paint, and so on. 
Whatever the cause, common car paint problems are very frustrating since they make your car look unattractive. Plus, they reduce the car's resale value and lead to a waste of both time and money since you've to repaint the car to fix the problems. 
To avoid these problems in the future, it's important to understand the common car paint problems you may encounter. This will help you identify possible causes of the defects in the garage or workshop and find appropriate solutions. 
In this article, we've listed 8 common car paint problems you're likely to encounter during the course of any paint job and how you can prevent them! 
8 Common car paint problems 
1. Chipping Off 
Sometimes, small portions of car paint tend to chip off the car's surface, mainly because of a lack of adhesion. This occurs when the auto body isn't treated properly, when surface preparation is down properly, or when the paint components are improperly mixed.
Also, car paint can chip off the car's surface if you don't use a good sealer during the car painting process. 
To prevent the car paint from chipping off, make sure you use proper metal conditioners such as self-etching primer and degreaser to prepare the auto body surface before you apply the paint.
More importantly, Ensure you use compatible products as recommended by the paint's manufacturer and mix the paint components thoroughly. 
However, if the body paint has already chipped off, remove the paint finish from the affected area, sand it smooth, prepare the surface and refinish the area.
2. Lifting (swelling, Wrinkling, Shriveling, Raising)
Wrinkling/ lifting usually occurs when an existing layer of car paint shrivels as the new finish dries or when applying a new finish. This car paint problem occurs when the solvents in the new finish repel the old paint finish. 
In most cases, this issue is likely to happen if you exceed the maximum dry/ recoat time during the application. Or when recoating urethanes/ enamels that aren't fully cured. Also, lifting sometimes occurs when you apply a clear coat/ base coat finish on an old clear coat with an insufficient film build.
To inspect questionable finishes for wrinkling/ lifting, rub a small inconspicuous area with a soft microfiber towel saturated with lacquer thinner. Car finishes that are susceptible to wrinkling tend to shrivel or soften when lacquer thinner is applied. 
You can repair this car paint problem by stripping the wrinkled/ lifted paint and applying a new finish. Also, do not exceed the product's recoat time after or during the application or spray top/undercoats when they're excessively wet.
For instance, you should allow enamel or urethane to dry fully when recoating and avoid waiting beyond the maximum dry time during application. On the same note, avoid applying lacquer-based car paints over urethane or enamel auto paints. 
3. Peeling/ Blistering/ Delamination 
Delamination/ peeling refers to the loss of adhesion between the auto-body substrate (old finish, primer, or topcoat) and the paint film. Thus causing parts of the paint to separate from the car surface.
This problem is usually caused by poor surface preparation, especially inadequate cleaning or sanding. However, it can also occur due to other issues like using the wrong primer for the surface being painted on.
And exceeding the recommended recoat time of the paint product. Similarly, it can peel off because of using an incompatible clear coat or spraying the clear coat too dry. 
To prevent the car paint from peeling, use the correct primers (undercoats) for your substrate. And properly sand & clean the surface you're painting. Also, make sure the top coat is within the recommended flash (drying) time for the substrate you're working on. 
4. Fish eyes/ Craters 
Fish eyes/ craters are small, crater-like openings that appear on the paint shortly after laying down a fresh coat. This mainly occurs after spraying a primer/ paint over a surface that is contaminated by wax, silicone, oil, or grease. However, it can also happen because of using a reducer or thinner instead of a greaser & wax remover when preparing the surface for paint application. 
The easiest way to avoid the formation of fish eyes is to use a wax & grease remover before paint application. In addition, you can fix the problem by using a fish eye eliminator. In case of severe damage, sand down the affected area and apply a mist coat to refinish. 
5. Milkiness (Blushing)
Blushing/ milkiness is a common car paint problem when spraying paint in high humidity conditions. It occurs when the solvent and air from the spray gun evaporate, reducing the surface you're working on to below the dew point.
The Dew point refers to the temperature at which air becomes saturated with humidity, thus producing water. As a result, the paint layer condenses, causing the paint surface to have a milky, white-gray cloud during or shortly after paint application.  
Generally, blushing can be fixed by adding a slow-evaporating solvent (retarder) to the paint mixture before recoating or by allowing the finish to cure before you buff and compound the surface.
Also, you can correct blushing by using a superior quality reducer or thinner that is ideal for your environmental conditions. On top of that, you should add the recommended amount of retarder when painting your car in humid conditions or apply heat after paint application to get rid of the excess moisture.
6. Chalking/ Dulling (Weathering/ Fading/ Oxidation)
Various reasons can cause your paint job to lose its gloss after paint application. For instance, the dull appearance of the car paint can be caused by; contaminated hardener, uneven temperature, thin topcoats, or porous primer.
In addition, the paint job can fade if the solvents from the top coat attack the primer. At the same time, exposing your car to UV rays regularly can fade its finish, especially if you don't routinely wax or wash its surface 
To protect your car paint from dulling/ fading, make sure you seal solvent-sensitive primers such as lacquer, provide uniform baking temperatures, increase topcoat thickness and use fine sanding paper. Even better, you can easily fix this problem by buffing and polishing the surface. 
7. Orange peeling
As the name implies, an orange-peeled car paint surface resembles the peel of an orange. It's basically an uneven texture of the finished surface that is formed after painting the car.
This problem usually occurs because of not reducing the auto paint enough or using too low pressure. Also, it can occur if the environment is too hot while baking and painting. 
Luckily, this problem is relatively easy to fix, especially if it's not too severe. You only need to wet sand the surface with 1200-grit sandpaper until it's smooth, then re-spraying and buff the surface.
A mild polish is recommended for sanding and buffing the surface for an enamel coat, while a compound is recommended for buffing a lacquer coat.
More notably, you can prevent this problem in the first place by always thinning the auto paint according to the manufacturer's instructions. In addition, you should use the appropriate spray gun settings and schedule your painting sessions when the environment isn't too hot. 
8. Cracking 
This car paint problem causes cracks of various lengths to form in the finish of your car's exterior. While there are many factors that can cause the car paint to crack, this issue usually occurs when the film of your topcoat or undercoat is too thick.
However, it can also happen if you're using too much hardener or applying a paint coat over a cracked surface. 
Other factors that cause the car paint to crack are:
Insufficient surface preparation 

Improper choice of hardener or reducer 

Environmental conditions

Incorrect mixing ratio 
This article goes into further detail about why car paint cracks. In the meantime, the best way to fix cracked car paint is to strip the affected area and refinish it. Next, allow the paint film to cure fully, sand out any imperfections and reapply the car paint while avoiding the mistakes we've listed above. 
Final Word 
Car paint jobs can be a bit challenging, especially if proper expertise and conditions aren't available. However, mishaps are normal when painting a car, even for professionals.
Thankfully, each of the 8 common car paint problems has a solution that doesn't necessarily involve stripping the paint off the entire car. Plus, you can easily avoid some of these problems by following the manufacturer's instructions at all times.
In addition, you should always give the car paint layers enough time to cure and use high-quality paint products.