This post may contain affiliate links which means I may receive a commission for purchases made through links.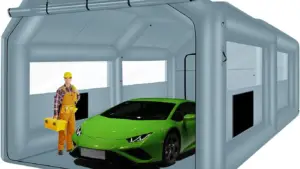 Painting your car is a great way to enhance its aesthetic appearance while helping it maintain its resale value. And like any other painting project, it's important to have a well-ventilated space before you paint your car.
Unfortunately, this is one of the most challenging things to accomplish if you don't have a dedicated painting space in your garage or workshop. 
On the bright side, the best portable spray painting booth for cars provides the ideal environment, allowing you to undertake the paint job conveniently.
Even better, this essential piece of equipment ensures that the painting space is free from dust, debris, and dirt, helping you achieve the desired outcome. 
In this guide, we've selected some of the best automotive paint booths in the market to help you find the ideal option for your car painting needs.
 First, let's look at how spray painting booths for cars work as well as the factors you need to consider before making your final decision! 
How Spray Painting booths for cars work! 
In general, a spray paint booth draws air and moves it through the working chamber, while the attached exhaust system captures any overspray from your car paint spray gun. At the same time, it removes any toxic fumes that are emitted during the car painting process. 
More importantly, there are various types of spray paint booths depending on their airflow systems. In that regard, there are 4 main options for ventilating the spray painting booths for cars. This includes; 
Cross Draft
This type of paint booth for cars draws air through an intake chamber in the front and pushes it horizontally along the floor. The air then leaves the paint booth after circulation through an exhaust system located at the back of the unit. 
Side Downdraft
In this paint booth model, the air is pulled into the equipment through an intake chamber or full-length ceiling fan and carried downwards over the car. The design of the exhaust air filter allows for uniform movement of air throughout the paint booth.
Once the air gets to the floor level of the paint booth, the exhaust system filters it from both sides of the equipment. 
Semi-downdraft
A semi-downdraft paint booth system has some aspects of the cross-draft and downdraft model. To be precise, the air is pulled into the work chamber through the ceiling.
Afterward, it's carried over the car and filtered via the exhaust system located at the back of the paint booth. 
Downdraft
Downdraft car paint booths are one of the most efficient models, especially when it comes to handling overspray and contamination. Moreover, the system keeps the airflow uniform throughout the entire booth. 
In this paint booth model, air comes into the unit through a ceiling intake chamber, where it's filtered and moves down over the car. Finally, the air is taken into the exhaust system located on the floor of the equipment. 
Important factors to consider when buying the best portable spray painting booth for cars 
Construction material
Construction is one of the most important factors you should consider when buying an inflatable paint booth as it affects its durability. Plus, this will give the unit exceptional resistance against sun, water as well as wear & tear. 
With that in mind, most portable spray painting booths for cars are made of Oxford cloth fabric of different colors and qualities. The most commonly used fabrics are iron-gray and silver oxford fabric.
Whichever material you choose, a paint booth made from low-quality fabric usually has a short service life, while high-quality fabric booths have a long service life. 
In addition to the fabric, you need to consider the thickness of the transparent PVC used to make the paint booth windows or roof.
This will allow natural light to enter the workspace for increased work efficiency while making the booth UV- and water-resistant. 
Size 
A portable paint booth for cars is a great addition to your garage, thanks to its portability and lightweight design, making it easy to move around.
Nonetheless, it's important to consider the size of the paint booth you intend to buy as they're available in various sizes. 
For instance, if you intend to use it for bigger cars, you'll need an equally large paint booth. However, if you'll be using it to paint small household goods and personal cars, a smaller paint booth will get the job done. 
That said, make sure you check the details of each paint booth, including its dimensions to ensure its size will fit your car model. 
Blowers 
An inflammable paint booth needs a set of 2 blowers. One blower inflates the fabric, while the other maintains ventilation inside the booth. Most inflammable paint booth manufacturers include 2 blowers within the price of the equipment.
However, some paint booths don't come with a set of blowers, meaning you have to buy them separately. Make sure you buy a paint booth that comes with the blowers as it's more affordable. 
Filters 
Filtration is a crucial process when you're spray painting inside the paint booth as it ensures there is adequate air entering the unit. More importantly, filters ensure that air existing in the paint doesn't contain any toxic chemicals to ensure the health and safety of people inside and outside the booth.
On top of that, filters keep the indoor environment free of contaminants to maintain high-quality paintwork. 
One thing you need to note though is that these filters become less efficient and get contaminated over time. Luckily, most high-quality paint booths have changeable filters to provide better results in the long run.
Moreover, you should regularly change the filters, especially if you're regularly using the paint booth. 
4 Best Portable Spray Painting Booths for Cars 
1. GorillaPros Inflatable Paint Booth with Exhaust Fan 
Considered the best portable paint booth for cars overall, this inflatable unit from GorillasPro is an excellent option for your spray painting needs. Plus, it even comes with an upgraded eco-friendly filter system and a 1100W blower, meaning you'll get the necessary tools you need to get the job done.
Moreover, this paint booth is available in 8 different sizes at various prices to meet your car painting needs. 
Another notable feature of this car paint booth is that it comes with real multi-layer filters to absorb peculiar smells and overspray to the greatest extent. This plays an important role in ensuring that the emitted gas from the car paint doesn't pollute the environment.
Alternatively, you can buy GorillasPro EPA-registered filters and use them to replace the original filters for a better filtering effect. 
In terms of size, the external dimensions of this particular paint booth are 26 X 15 X 10 ft. But as I mentioned earlier, there are several size options to choose from to meet your painting needs. 
That aside, the rear and front of this unit have convenience doors that make it easy to enter and exit the booth. Better yet, it's made from high-quality Oxford cloth that provides a bright workspace, allowing you to see the details of your car's paint job with ease.
In addition, the unit has a metal pull ring, bottom thickening PVC, and double-seam sewing to extend its durability. 
Benefits 
The 1100W blow inflates the paint booth in minutes 

Bright workspace 

Eco-friendly filtration system

Crafted from high-quality Oxford cloth and toning PVC material 

Available in various sizes

Sewed with double-needle 
Drawbacks 
Only comes with one blower 

 
2. Sewinfla Portable Spray Painting Booth for Cars
In addition to coming from a popular manufacturer, this Sewinfla inflatable paint booth is an all-around utility that is equipped with several essential features. More importantly, it's a perfect option for those who have large vehicle models like pick-up vans.
Thanks to its large size, seeing that this model is 26 ft long, 15 ft long, and 10 ft high. Interestingly, it's also available in 12 other smaller and bigger sizes, giving you a wide range of options to choose from depending on the specific car size you want to paint. 
As if that's not enough, this paint booth model boasts exceptional resilience, and strength as well as water- and twist resistance, making it extremely easy to handle.
Better yet, it ensures minimal risks of occupational hazards while painting your car inside the booth since it's antistatic. Plus, it's made from very durable Oxford fabric and reinforced with double stitching to provide a lengthy service. 
You'll also note that this car paint booth comes with two blowers of 750W and 950W for inflating it. Not to forget that the unit has an isolation chamber that you can use for changing clothes and keeping your tools inside the booth. 
Getting back to the issue of safety, this unit is equipped with replaceable dual filters. The fiberglass filter helps to filter the paint, while the activated carbon filter removes harmful substances in the paint booth.
In addition, the improved front door design makes it easy for you and the car to enter the booth. 
Benefits 
Ample working space for painting 

Additional isolation chamber for storing equipment & changing clothes

Features a sturdy Oxford cloth double-stitched build 

An easily accessible front door design 

Comes with 2 blowers 

Eco-friendly double filter layer 

Water-, static & twist-resistant 

Lamp mounting hook
Drawbacks 
The blowers aren't that durable 
3. TKLoop Inflatable Spray Paint Booth 
At first glance, this TKLoop inflatable paint booth is crafted from premium quality PU-coated 210D Silver Oxford cloth, which is easy to fold and features a lightweight design.
In addition, its bottom is made from a thickened PVC material to increase its wear resistance and extend its durability. 
On the same note, the entire booth is double-stitched to prolong its service life further, while the included metal rings, sandbags, and ropes give it stability when in use.
Not to forget that the transparent part of this paint booth is made from 0.4mm thick waterproof and UV-resistant PVC material. 
Moving on, this unit is equipped with an advanced filtration system and a cotton filter window that brings fresh air into the booth to provide a well-ventilated working environment.
More notable, the booth has transparent windows and doors to allow natural light and increase brightness in the paint booth. 
In addition, this unit comes with 2 blowers (750W & 1100W), one for inflating the booth and the other for circulating air inside the workspace. On top of that, you'll get a repair material package, replaceable filter cotton, and other accessories.
Surprisingly, despite coming with all these items, this booth is relatively easy to set up and inflates fully in about 1 – 2 minutes! 
Benefits 
Easy to fold, use and carry around 

Eco-friendly & lightweight design 

Made from highly durable PU-coated 210D Oxford fabric

A perfect tool for ceramic coating, auto parts coloring, and window coloring

Features a fresh air ventilation system 

Available in 8 different size options 
Drawbacks 
Not ideal for use outdoors in bad weather as it's not rainproof 
4. Orionet Portable Paint Booth 
Measuring 33 X 16.5 X 13 FT, this unit from Orionet is one of the longest paint booths for cars on our list. This gives it an edge of versatility as it can fit vehicles of various sizes.
For instance, this makes it ideal for spray painting full-size cars, SUVs, trucks, boats, and so on. Even better, this makes this paint booth suitable for several applications like car polishing, exhibition, or even use as a retractable garage. 
In addition, this unit comes with 2 powerful blowers that are CE/UL-approved. The 1100W blower is commonly used for inflating the booth, while the 950W one supplies clear air to the inside to ensure adequate air circulation. 
As for filtration, this unit has oversized and replaceable SGS-certified filter cotton that absorbs paint odors and dust from the outside. As a result, this paint booth has a ventilation system that filters out the overspray and odor better than small double-layer cotton. 
Lastly, this utility is made from high-quality PU-coated 210D Oxford cloth that is very sturdy and durable. On top of that, the unit has a thick PVC bottom to increase its resistance to wear and tear.
All in all, it's relatively easy to carry before and after use, thanks to its lightweight design. Plus, it's easy to deflate and store after use as it will not take much of your space. 
Benefits 
Spacious interior workspace 

CE/ UL Approved blowers 

Comes with powerful blowers (1100W & 950W)

Made with PU-coated Oxford fabric for enhanced durability 

Large cotton filters 

Only takes 2 -4 mins to inflate 

Includes a storage bag 
Drawbacks 
Conclusion 
The best portable spray painting booth for cars is a great innovation in the automotive industry as it provides an enclosed space for your car painting project.
This prevents spray painting particles and the emitted fumes from escaping into the atmosphere while helping you achieve superb quality paintwork.
Best of all, inflatable paint booths are available in various sizes, making it easy to choose the perfect utility for large and small vehicles.