This post may contain affiliate links which means I may receive a commission for purchases made through links.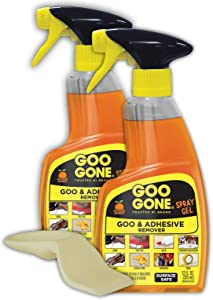 Some stains, grime, dirt, stickers, and decals can be very difficult to remove from your car, especially when using regular cleaning substances. As a result, most car owners look for adhesive removers like Goo Gone formulas to remove such stubborn stains. 
However, while Goo Gone is one of the best adhesive removers on the market, it's almost impossible to remove strong adhesives without damaging the car paint. For that, some car owners are skeptical that Goo Gone products could damage their car paint. 
If that's your concern too, worry not! In this post, we'll look at whether Goo Gone can be used on car paints! On top of that, I'll show you everything you need to know about Goo Gone, including how to apply it to your car paint and the best Goo Gone product for your project! 
Let's get into it! 
Does Goo Gone damage car paint? 
Goo Gone is a commercial oil-based solvent & cleaner that is specifically designed to clean up messes and stains. Plus, its formula contains citrus power, making it so effective in removing residues that don't belong on a particular surface.
 According to the manufacturer, Goo Gone can remove candle wax, gum, adhesives, sticker stain, and gum from various surfaces. So, if your car's surface is tainted with grease, decal residue, oil, or tar, Goo Gone will help you get rid of it while protecting the car's surface. 
Therefore, Goo Gone is safe for use on car paint since it doesn't damage the paint. Instead, the solvent is designed for removing stains and adhesives from painted surfaces without leaving any residue behind. However, if you leave the solvent on the car paint for too long or use too much, it can damage the car finish and strip away the top layer of the car paint. 
To prevent this, test the solvent on a small area first to see how it will react with car paint. After establishing that the product is safe, follow the instructions below to remove the adhesive residue/ sticker from the car paint. More importantly, wash the area with hot soapy water once you are done to enjoy a spotless surface! 
How to apply Goo Gone without damaging the car paint (Step-by-Step Guide)
Using Goo Gone to remove oil, grime, grease, and other stains from painted car surfaces is a relatively simple task. Anyone can easily perform the job by following these steps; 
1. Choose the best Goo Gone product for painted car surfaces 
There are various Goo Gone products on the market you can choose from. However, each formula has a different application method and is intended for a specific task. So, before you use Goo Gone on your car paint, make sure you're using the right cleaner for your needs. 
In this case, the original Goo Gone Automotive solvent will safely clean your car without damaging the painted surfaces. 
2. Test the solvent on a small surface
As mentioned earlier, adhesive removers can damage the car paint if the provided instructions aren't followed correctly. To be on the safe side, test Goo Gone cleaner on a small surface before you apply it to the desired location. After ensuring that it's safe for use on the car surface, go ahead and apply it on the stained area. 
3. Apply the Goo Gone product on the stained car surface  
Following the manufacturer's instructions, apply some of the Goo Gone solvents on the stained surface of your car. 
4. Leave the solvent for 4 -5 minutes 
After applying the Goo Gone solvent on the stained surface, let it stay on the spots for 4 – 5 minutes. This gives the solvent enough time to dissolve the stains effectively. 
5. Wipe off the stains with a dry, clean cloth
Once the solvent dissolves the stains, use a dry, clean fabric to wipe off the stains from the car's surface. If possible, use a white cloth to avoid leaving removable colors from the fabric on the car's surface. 
6. Wash the stained surface with soapy water and a sponge 
Now that you've thoroughly wiped stains off the car surface, drop some liquid dish soap into the water and stir the mixture to form bubblers. Also, put some clean water in a container that you'll use to rinser the car surface later on. 
In the meantime, dip a piece of soft sponge into the soapy water. Squeeze out the excess liquid from the sponge and use it to clean the surface where you had applied the Goo Gone solvent some minutes earlier. 
7. Rinse the surface with clean water 
Once you're satisfied with washing the car surface with soapy water, dip a clean microfiber cloth (white) into clean water and squeeze out excess water. Use the squeezed cloth to wipe off the lather on the car's surface.
Lastly, use a neat white cloth to dry the cleaned surface and let it dry! If done correctly, using Goo Gone to remove stains from your car exterior will leave you with a shiny and spotless surface. 
Can you use Goo Gone Automotive on the car's interior? 
Goo Gone products are not ideal for use on your car's interiors since they don't mix well with most surfaces inside the car. For instance, Goo Gone Original spray is not ideal for use on rubber, suede, faux stainless steel, or leather.
These materials are usually found on various parts of the car's interior, especially if you've leather upholstery. Similarly, Goo Gone Automotive spray gel should not be used on these surfaces of the car's interior.
What about windows? Can you use Goo Gone to clean car windows? 
Unlike leather surfaces, Goo Gone products are safe for use on car windows. However, you should always be careful when applying Goo Gone on car windows to avoid spilling it on surfaces in your car's interior! 
Are there alternatives to Goo Gone products? 
There are various Goo Gone alternatives you can use to remove residue from your car's exterior without damaging the car's paint. One such alternative is baking soda paste, which is a mixture of water and baking soda. Alternatively, you can use cooking spray to remove sticky messes or glue on car surfaces. 
Conclusion: Can Goo Gone be used on car paint? 
To sum up, Goo Gone products such as Automotive and Regular spray gels are safe to use on painted surfaces to remove hard-to-clean substances like gunk and adhesive residue.
However, there are various factors you need to consider when applying Goo Gone products on your car surface including what you're trying to remove and how long you leave it on.
Moreover, it's important to make a test application on your car surface before you use the product and ensure you've selected the right Goo Gone cleaner.
In that regard, Goo Gone Automotive spray gel is the recommended product for use on cars since it's safe to use on car paint and doesn't damage the finish. However, avoid using this product to remove adhesive residues and stickers from leather seats and other parts of your car's interior. 
Read Next: Can you use Simple Green on car paint?