This post may contain affiliate links which means I may receive a commission for purchases made through links.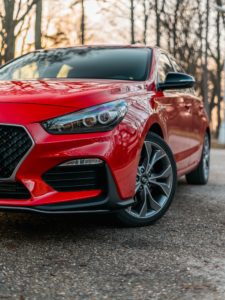 When painting a car, there is the primer, base coat (color coat), and clear coat. Cars that don't have a clear coat are exposed to oxidation due to the lack of a protective layer. For that reason, most car owners prefer the use of a clear coat to protect their car's base coat.
There are various ways to add additional layers of protection over the clear coat to extend the paint's durability. It protects your car's paint from UV rays, or daily contaminants like acid rain, bird poop or insects.
The most popular methods for protecting your car's clear coat are; paint sealants, car wax, and ceramic coating. But which of these methods is the best technique for protecting the finish of your car paint? Let's check out some notable features of each option to find out! 
Car Waxing 
Car waxing is one of the most common & economical ways to shine and improve car paint protection around the world. Every wax product contains some type of natural wax like montan from palm trees, carnauba, and paraffin waxes.
However, wax cannot be applied to the car paint as it is. For instance, you should not apply 100% carnauba wax to your car. Instead, it has various chemicals known as 'malleable solids' and waxes to make it ideal for use on car paints. 
On the downside, car wax is not very durable. This is because wax tends to evaporate when subjected to temperatures between 160 & 180 degrees F. Also, wax doesn't offer protection from bird droppings and acid rain.
Other than that, its application adds a rich & deep look to your car since it's derived from natural materials. 
Paint sealants 
A car paint sealant is a synthetic product that protects your car's surface, while giving it a mirror-like shine. More importantly, the sealant is chemically engineered to adhere to the surface, making it more durable than traditional wax.
At the same time, it offers protection against contaminants that may ruin the car's paint. 
On average, paint sealants can last for about 4 -6 months, while some can even last for a year. Another notable benefit of paint sealants is that they provide better water beading to the car paint than wax. Not to forget that they're relatively quicker and easier to apply, making them a great option for DIYers. 
Ceramic Coating 
Ceramic coatings manipulate molecules and atoms through nanotechnology to form a thin but durable layer of the protective coating that has particles. These thin layers then bond with your car's paintwork and are completely invisible to the human eye.
At the same time, the layer protects the car paint from harsh weather elements, heat, oxidation, and heat. 
Ceramic coating is one of the best last-stage protections you can give your car. However, it has its set of drawbacks, especially when compared to other car paint protectants. For instance, ceramic coating is very costly since its application requires a professional. 
All in all, ceramic coatings are much more durable and have better resistance against UV rays, harsh detergents, heat, and environmental contaminants than wax.
In addition, it has a high amount of soft silica, allowing it to give your car's surface a much longer appeal and glossy shine. 
Comparison: Car Wax Vs Paint sealant Vs Ceramic Coating
Application 
Wax is easier to apply than both paint sealants and ceramic coating. However, there are a few things you should keep in mind when waxing your car. First, avoid applying the wax under direct sunlight.
Dry the car with a microfiber cloth/towel, and use a soft foam applicator to softly wax the car's surface in a circular motion. Let the wax sit on the car for about 5 – 10 minutes, before polishing it with a variable speed buffer or soft microfiber cloth. 
Start by cleaning the car's exterior to get rid of all the contaminants including dirt, iron particles, tar, and grease. This step helps to ensure that there is an adequate bond between the paint and the sealant.
After cleaning and drying the car, apply a uniform coat of the paint sealant over the car paint. Leave it on the car's exterior for about 40 minutes then remove the excess sealant with a clean microfiber cloth. 
Unlike paint sealant and car wax, ceramic coating requires a lot more preparation and it's a bit difficult to install. Not to forget that ceramic coatings can only be removed with a cut & buff since they're considered 'permanent' or when they degrade over time. For that, it's important to ensure that your car is in perfect condition before you apply the ceramic coating. 
Longevity 
Overall, ceramic coating is more durable than wax and paint sealants, thus protecting your car for a much longer period. Although some companies claim that their car wax can last up to 6 months, most car waxes do not last for more than 3 months.
Therefore, car wax will not give your car an everlasting gloss unless you reapply it frequently and wash it regularly. 
In comparison, paint sealants can last up to 6 months or even a year, but the level of shine and protection will become less and less over time. On the other hand, ceramic coatings can maintain their hydrophobic qualities for 2 – 4 years since they don't degrade quickly. 
Level of protection 
Paint sealants add extra hydrophobic qualities to the car's surface that increase water beading while providing great protection against UV rays. Car wax, on the other hand, gives the car a deep gloss mirror-like surface that enhances the car's appearance and provides durable protection. 
Unfortunately, the protection from car wax and paint sealants is nowhere near the level of protection from ceramic coatings. For instance, some ceramic coatings provide 're-healing' properties.
This allows any minor scratches on the car's exterior to heal themselves using the sun.
In addition, ceramic coatings offer excellent UV protection as they contain UV blockers that protect the paint finish from fading and oxidation. At the same time, ceramic coatings have reduced pore sizes that prevent scarring and tiny swirls from forming on the paint surface. 
Which is better: Car Wax Vs Paint sealant Vs Ceramic Coating? 
Overall, the best protection for your car will depend on the needs you want to meet. For instance, if you want to give your car paint durable protection against the elements, paint sealant, and ceramic coating are the go-to option.
But if you just want to give your car a mirror-like finish for a short period, you can just stick to car waxing. Also, ceramic coating is usually recommended for expensive cars as it helps to maintain the car's value and makes it much easier to wash. 
Whichever paint protectant you choose, applying a ceramic coating, paint sealant or car wax offers a protective layer that will shield the clear coat and factory paint coat from harsh elements.
This will save you a lot of potential problems down the road while ensuring your car looks sharp for several years to come.