This post may contain affiliate links which means I may receive a commission for purchases made through links.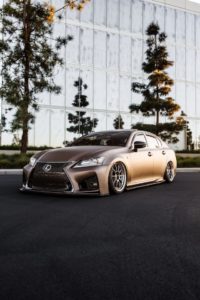 In recent years, vinyl wrapping has become a very popular way to customize the car's exterior. Thanks to its ability to completely change the car's appearance, while acting as a protective layer to the vehicle's paintwork.
That way, a vinyl wrap can help prevent blemishes and chips that usually occur with daily driving as well as exposure to environmental elements. However, like any car customization, the cost will play a significant role when you're considering this type of upgrade.
So 'how much does it cost to vinyl wrap a car?'
Well, read on to determine how much you're likely to spend if you decide to vinyl wrap your car! More importantly, we'll look at some of the factors that will influence the cost of vinyl wrapping a car!
What's the average cost of wrapping a car?
Similar to other automotive upgrade projects, the cost of vinyl wrapping a car depends on several factors. Generally speaking, the average cost of wrapping a car can be as low as $2000 for a small, 2-door vehicle.
While the average cost of wrapping a larger, more complex car can be as high as $10,000.
However, in most cases, the cost of wrapping a car ranges from $2500 to $5000. Considering that the best car vinyl wraps can last for about 7 – 10 years, this is certainly a great investment, especially if you're using the vinyl wrap to advertise your business.
In terms of cost per square foot, the price range of wrapping a car can be about $5 – $15 per sq ft. However, this doesn't include the installation cost, which can be about $3 -$4, depending on the condition and type of your car as well as the parts you want to be wrapped.
Therefore, this cost can increase up to $19 per sq ft, but it can also decrease accordingly based on the factors I've mentioned.
Surprisingly, the majority of the vinyl wrapping cost goes into labor/ installation, not automotive vinyl. Therefore, learning how to install a car vinyl wrap and investing in the necessary tools will help you reduce the cost of wrapping your car.
Factors that influence how much it costs to vinyl wrap a car
Although vinyl wrapping a car may seem like a relatively straightforward process, it requires patience and expertise to ensure correct installation. To learn more, check out this article on how to vinyl wrap a car.
In the meantime, there are a few vital factors that the car owner or professional vinyl wrap installer must consider when estimating how much it will cost to vinyl wrap a car. Some of these factors are:
 Make & model of the car
As already mentioned, most costs incurred from a professionally wrapped car result from the complex and labor-intensive nature of the process. As a result, the actual cost of wrapping various car models will vary accordingly.
More notably, the complexity of the car's design will directly affect the time needed to wrap the vehicle.
For instance, despite being relatively new to the automotive market, Tesla is one of the easiest cars to wrap. This is because it has a smooth, flat, and simple exterior design that significantly reduces the time needed to wrap the car.
However, if you start to include upgrades like custom designs, wheel wrapping, and specialty vinyl, the price will increase.
As for the other car models; the average cost of vinyl wrapping a compact car or coupe can range from $2000 – $3000, depending on its size.
A family sedan costs about $3000, while the initial cost of wrapping most compact crossover vehicles can start around $3500. On the other hand, a full-size SUV starts at around $4000, while a 2- or 4-door Jeep costs around $3000 – $4500.
Moreover, the average cost of wrapping a truck is between $2000 and $5000 due to its size, while full wrapping a commercial vehicle like a van is around $3000 – $5000.
Lastly, vinyl wrapping a luxury sports car starts at about $5000, with some reaching as high as $10,000. For instance, experts claim that wrapping a Lamborghini can cost about $4000 – $5000, while an Audi and a Ferrari can cost the car owners around $6500 and $7000 respectively.
In comparison, a Rolls-Royce can cost up to $10,000 due to the complexity of its body panels.
Full –body Vs. partial vinyl wrap
A full-body car wrap consists of several huge vinyl wraps that are applied to every panel of the vehicle. That way, the vinyl wrap covers every square inch of the car's body including the hood, deck lid, fenders, doors, roof, and bumper covers.
More notably, the vinyl wrap acts like a paint job since none of the car's original color will be visible on the outside.
As you would expect, the cost of wrapping the entire car will be higher than a partial wrap/decal. Specifically, the average cost of a partial car wrap ranges from $1000 to $2000, with decals costing even less.
This makes vehicle decals or partial wraps a great way to advertise your business while on the road if you're on a budget since they're more affordable. However, you need to be strategic about the placement of the partial wrap or decals to make sure you get as many views as possible.
Color & Finish of the Vinyl Wrap
Similar to car paint, vinyl wraps are available in different colors and finishes. For instance, there are matte and gloss finishes as well as metallic and chrome color options.
In addition, vinyl wraps provide a wider array of possibilities than can paint. This allows you to choose from a seemingly infinite number of designs and graphics to give your ride a distinct style since they're designed using a computer program.
As a result, you can easily apply unique paint colors or graphics that would have been otherwise difficult to create with car paint.
Even better, you can easily and quickly remove the vinyl wrap from the car since you only need to peel it off with the help of a heat gun.
That aside, the total cost of wrapping your car will depend on the color of the vinyl wrap that you intend to use. The vinyl wrap can either be monotone, which is slightly less costly, or multi-colored.
Also, the vinyl can have different finishes such as metallic, glossy, chrome, matte, glittery, and satin.
Here's how different types of finishes will affect the cost of wrapping your car:
Gloss
A gloss finish is the most common and sought-after vinyl wrap finish as it resembles the typical manufacturer's paint job. More notably, it adds a slight sheen to the car with its reflective shine.
As for the cost, vinyl wraps with a gloss finish are relatively less costly than other types of finishes as it starts from $3.4 per sq ft. Therefore, you can expect to pay up to $60 for a standard 5 X 5 ft (25 sq ft) vinyl wrap.
Metallic
This finish features an extra reflective shine and is available in bright colors. The cost of installing a vinyl wrap ranges from $12 for a 5 X 1 ft sheet all the way up to about $190 for a full car wrap roll measuring 50 X 5 ft.
Carbon
A carbon vinyl wrap has a textured finish of carbon layers and its price from $12 for a 5 X 1.5 ft sheet. However, the cost of a full wrap roll (50 x 5 ft) can go all the way up to $250.
Satin
The most unique feature of the satin finish is that it combines the reflective shine of a matte and gloss finish. It costs about $18 for a 5 sq ft sheet (5 x 1 ft), while a 5 X 25 ft (125 sq ft) roll can cost up to $450.
Matte
Unlike the finishes we've mentioned above, a matte finish gives off a little reflective shine as it absorbs light. Moreover, it keeps things simple, while giving any car a classy and sophisticated look.
Installing a matte finish will cost about $10 for a 5 X 1 ft sheet and about $300 for a full car wrap roll (50 X 5 ft). Therefore, it will cost you significantly less to wrap the car with a matte finish than to paint it to achieve the same look.
Chrome
Chrome is the most expensive vinyl wrap and the most difficult to install. In most cases, a chrome wrap usually starts around $6000 and may increase depending on the complexity and size of the car.
Conclusion
Whether you intend to take the DIY approach or employ a professional vinyl wrap installer, car wrapping is a time-consuming process. More notably, the cost of wrapping a car will cost you at least $2000 if you employ a professional's services.
However, the DIY approach is much more cost-effective as it can cost about $500 – $700 but comes with its limitations and potential complications.
Either way, I hope this article has given you some general insight to help you estimate how much it will cost to vinyl wrap your car!