This post may contain affiliate links which means I may receive a commission for purchases made through links.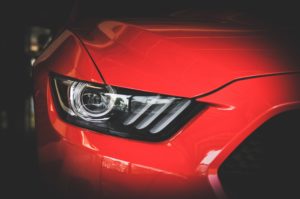 If you're planning to fix an existing paint job or add a new paint finish to your car, there are several types of car paint finishes you can consider. In most cases, car manufacturers offer car owners standard solid paint finishes.
However, there are many other car paint finish options on the market if you're looking to add some personality to your car. More notably, choosing the right type of car paint finish for your vehicle will help it stand out positively once you hit the road.
But, where do you even start when looking for the type of car paint finish for your vehicle? To help you make that decision, we've compiled a list of the various types of car paint finishes you'll come across on the market!
Different types of car paint finishes
1. Solid Car paint finish 
Most cars come with a solid paint finish straight out of the factory. As a result, solid paint is the most common & basic type of car paint finish in the market. On the bright side, it's relatively inexpensive and easier to repair since its color is simple to match and hides the scratches.
Talking of colors, solid paint finish is available in various colors such as blue, black, red, and white. These car paints undergo a single application of the desired color, followed by solvent-borne paints (lacquer clear coat) to provide an additional protective layer to the car.
For instance, a clear coat protects the solid paint finish from scratches, chips as well as poor weather conditions.
However, most manufacturers use 2-pack paint, where the acrylic paint is mixed with a hardening agent containing isocyanate. This forms a superglue-type consistency and eliminates the need for a separate clear coat when applying a solid paint finish.
The only issue with solid paint finishes is that they're not the most interesting type of car paint finish due to their limited color options. Other than that, they're cheaper to produce and apply to a vehicle when it's being manufactured.
Best of all, cars with solid finishes are easier to repair compared to cars with other paint finish options like pearlescent or metallic finish!
Benefits 
Easy to repair scratches, chips & dents
Easy to maintain & apply
Inexpensive
Readily available
Drawbacks 
Limited color options (red, black, blue, white)
2. Pearlescent paint finish 
The pearlescent paint finish is similar to metallic paint, except that it contains ceramic (mica) crystals instead of aluminum powder. Better yet, these crystals reflect and refract light, making them appear to be any color of the rainbow. At the same time, the ceramic crystals give the color a depth that is unmatched by metallic paint finishes.
For instance, lighter shades become iridescent when under bright light, making them appear to be different colors from various angles. So, if you want your car to have a dazzling, colorful paint finish that looks different from every angle, pearlescent paint is the right finish for your car.
On the downside, the color of the pearlescent paint finish is hard to match, making it hard to repair. On top of that, this type of paint finish is significantly more costly than its solid paint counterpart and is more susceptible to marks.
Therefore, you should take special care when washing a car with a pearlescent paint finish since they're relatively vulnerable to damage from small bits of grit on car-washing sponges.
All in all, a pearlescent paint finish can look good and stay intact for years with proper care, and potentially increase your car's value upon resale.
Benefits 
Does not fade as much
Helps to increase your car's value if you were to sell it in future
Ideal for hiding minor damages and scuffs to the bodywork
Gives your car a more premium, unique look
Drawbacks 
More costly to repair if there is any damage
Higher initial cost than metallic/ solid paints
Fewer color options to choose from
3. Metallic paint 
A metallic paint finish is commonly used on sports cars to give them an extremely glossy look. In basic form, it involves applying a color followed by an extra layer of lacquer ( clear coat).
More importantly, a small quantity of powdered metal (aluminum powder) is added to the paint layer to create a more appealing shine than standard solid paint. As a result, the metal particles reflect more incident light compared to solid colors, leading to a better paint output.
In addition to giving your car a unique shiny finish, metallic paint finish hides minor surface blemishes because of how reflective it is. Plus, it allows you to sell your car at a high resale value since it's considered to be a high-end paint finish. As for the color options, metallic car paints are available in a greater color selection than standard solid paints.
Like any other paint finish though, metallic paint finish has its set of drawbacks. For instance, the finish is more susceptible to showing off dirt buildup, so you have to clean the painted surfaces more often. Moreover, this type of car paint finish is expensive to repair, in case of scratches or other damages.
Benefits 
It Hides minor damages from afar more effectively than solid paints
Hold up better than solid paints
Increases the car's resale value
Looks great
Drawbacks 
High initial cost
More mostly to repair if there is any damage
Much harder to find the exact metallic color when damaged
4. Matte Paint Finish 
Matte is the most uncommon type of car paint finish, but it's becoming increasingly popular in premium vehicles like BMW and Mercedes Benz. It is only available in black, silver, and gray colors, giving a premium, high-end look to any car.
Better yet, the finish prevents the paint coat from reflecting light, giving the car a hazy, flat quality instead of a glossy finish. Plus, this finish makes your car look great irrespective of the weather conditions.
On the downside, matte paints have a high level of maintenance and are a bit pricey. Although matter finishes contain protective layers, any dirt or stains should be cleaned as soon as possible to avoid compromising the finish.
For instance, bird droppings can damage the matte finish because of the acid dripping in the droppings which eat away the epoxy coat. Also, this finish needs specific car care products that are non-reactive and easier on the surface.
Not to forget that it's not great at hiding scratches like metallic or pearlescent paint finishes.
Benefits 
Prestigious and premium coating
The paint finish absorbs more light to produce an appealing dull shine
Stays cleaner for longer
Gives the car a completely flat appearance instead of a glossy finish
Available in shades of black, gray, and silver
Drawbacks 
Too costly to repair
Requires special care products for maintenance like specialized shampoos & polishes
Scratches are easily noticeable
Final Word 
The finishing touch on your car's exterior is just as important as what is on the dashboard or under the bonnet. And as you've seen, there are 4 different types of car paint finishes you can choose for your car. These finishes can enhance the appearance of your car, but they can also make it look shabby.
For that, it's important to ensure that you have the right type of car paint finish that suits your needs. In addition, you should ensure that the car's paint finish is protected if you want to ensure that the new-like shine is maintained. Alternatively, consider getting your car wrapped at the auto shop near you!