This post may contain affiliate links which means I may receive a commission for purchases made through links.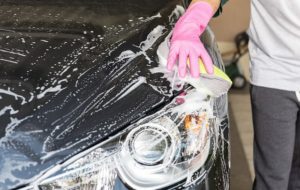 Since cars are usually outside, they're bound to get wet. Something that eventually forms unsightly blemishes and mineral deposits that can ruin the appearance of your car.
Moreover, these deposits lead to the formation of water spots (white-edged circles & splotches), ruining the appearance of an otherwise beautiful paint job. Therefore, it's important to know how to get rid of water spots when the situation arises. 
Interestingly, there are several simple cleaning methods you can use to get rid of dull water marks and mineral deposits on your car's surface. You probably even have some of the materials needed to accomplish this task in your home!
So, read on to discover these simple and quick cleaning methods you can use to remove water spots on your car to bring the paintwork back to life. In addition, I'll show you how to prevent your car from getting these unsightly watermarks in the first place! 
How to Identify water spots on car paint 
First of all, water spots are traces of mineral deposits, acids, salts, and other contaminants that were initially dissolved in water and deposited onto the car's surface as the water has dried or evaporated.
This may include; magnesium & calcium carbonates from the nearby rocks, acids from volcanic activity & industrial emissions, lead, CO2, and other metals. These substances remain dissolved in liquid water unless it evaporates or undergoes treatment to remove them.
In most cases, these contaminants end up on your car's surface through acidic rainfall, sprinklers, or when you wash it with hard water/ mineral-heavy tap water. 
When you leave your car to dry in the sun after washing it, off-white powdery spots appear after the water evaporates. If possible, act fast and remove these water spots immediately before they cause any significant damage to your car's paintwork. 
Different types of water spots 
There are 2 main types of water spots/ stains you're likely to encounter, depending on the components of your local water supply. That is; Chemical etching from acid rain and mineral deposits from hard water. Whichever the case, it's important to get rid of these water stains as they can harm your car's paintwork to varying levels. 
Chemical Etching (Acid Rain) 
Rainwater is usually acidic since it naturally dissolves CO2 (Carbon dioxide) from the atmosphere to form a weak carbonic acid with a pH level of about 5 – 5.5. Despite being weak, this acid will deteriorate your car paint if you park it outside for a long time. 
If you wash your car regularly, rainfall will not cause severe damage to your car paint. However, if you reside near an industrial area, the rain will become more acidic due to the level of nitrogen oxide and carbon dioxide emissions being released into the atmosphere.
Similarly, strong volcanic eruptions can emit high amounts of sulfur dioxide and other acidic contaminants into the atmosphere, causing acid rain. 
Whichever the case, rainfall brings a considerable amount of acid down to the surface.  This water falls on various items including any car parked in the street, especially if it's not covered with an outdoor car cover. 
Mineral Deposits (Hard water)
Water hardness measures the number/ amount of mineral deposits dissolved in the water. Generally, water is considered hard if its pH level exceeds that of pure distilled water, which is 7. 
If the rock in your area contains rich deposits of magnesium and calcium, rainfall naturally dissolves some of it as it penetrates into the underground water system. This hard water is then connected to the plumbing system.
Here, it deposits the minerals on any surface it comes into contact with, including your car surface after washing it with a garden hose. 
Regardless of the type of car you drive, washing it with hard water and leaving it to air dry will certainly cause water spots. This is because hard water leaves the mineral deposits behind as it evaporates.
These particles accumulate on the car surface and bond tightly into the clear coat to form a chalk-like off-white powder that is rough to the touch. 
Although these minerals aren't toxic, they shorten the lifespan of your car paint and any other surface they come into contact with.
For this reason, many water utility companies and industrial plants treat groundwater to reduce the number of mineral deposits in the water. However, this may not be enough to keep hard water at bay, depending on where you live. 
Do water spots damage car paint? 
Yes! Water spots will certainly damage your car paint if left to accumulate on the car surface for too long. Here's why! 
In the case of hard water spots, calcium carbonate, and other mineral deposits accumulate on the body panel. As a result, dirt, dust, and other contaminants from the road will adhere to it.
Over time, these contaminants stack up and slowly deteriorate the car paint. 
On the other hand, acids from rainwater are corrosive to car paint. If more acidic rain falls on your car's surface and you leave it to dry in the sun, the acid can etch small dimples to the clear coat.
This effect worsens over time as water polls into the cavities, eventually compromising the entire paint coat. 
The condition is even worse when hard water and acid rain combine. Since calcium carbonate is a base, it will react with acid rain to form salts that are more corrosive to the metal, paint, and anything else that makes up the car's surface.
So, if you ignore the water spots, they'll eventually ruin the car's paintwork in just a few years! 
How to Remove water spots from car paint 
1. Use a commercial water spot remover to remove water spots from car paint
The best water spot removers are ideal for removing water stains/ spots completely without damaging the car's paintwork or the underlying surface.
This is because they usually contain a stronger solvent than household products with pH levels lower than 3 or vinegar. Moreover, they're more powerful against calcium carbonate and other mineral deposits. 
To remove water spots from car paint with this method, put your preferred water spot remover onto an applicator pad or microfiber towel and rub it onto the car surface for 30 – 60 seconds.
Afterward, use a clean microfiber towel to wipe away the water spot remover and check the results. If you've successfully removed the water spots, thoroughly rinse the body panel with water to remove all the remaining residues. 
More importantly, make sure you dry the car with an appropriate car-drying microfiber towel instead of leaving it to dry under the sun. Also, it's important to wear gloves and other safety gear when applying commercial water spot removers as they may contain harsh chemicals. 
2. The Car Detailing Clay Bar method 
Auto detailing clay is another effective product for cleaning water spots off your car paint quickly and safely. Besides, it's one of the most commonly used methods by professional details to sand away blemishes and restore the car to a showroom shine. 
A clay bar helps you remove mineral deposits, stuck dirt, and grime on your car's surface. You only need to keep the car surface wet and soapy, then rub your clay in to reveal a fresh surface. At the same time, it will effectively pull the calcium carbonate deposits out of the high spots. 
Unfortunately, scrubbing the car surface with a clay bar doesn't remove the stains stuck in the pores. For that reason, it's ideal for car surfaces that already have ceramic spray, wax, sealant, or nano-ceramic coating. 
3. Remove water spots/ stains from car paint with vinegar 
Vinegar is one of the most commonly used household items for various tasks such as killing weeds, cleaning tiles, extending the life of cut flowers, and shampooing dogs.
 Interestingly, it's also one of the most effective cleaning solutions for removing mineral deposits, hard water stains as well as bird droppings on your car paint.
Thanks to its mildly acidic formula which makes it an effective product for dissolving alkaline mineral deposits. In addition, you can use a diluted vinegar solution to remove tough hard water spots from your car surface without damaging the car paint finish. 
For instance, white vinegar contains acetic acid that readily dissolves calcium carbonate and other mineral deposits. However, this solution can be too aggressive on the clear coat since it's fairly acidic with a pH of 2.5.
For that reason, it's recommended that you tone it down by mixing it with equal parts of distilled water in a spray bottle. 
To apply, gently shake the diluted vinegar solution and spray the compound on the car body or glass surface with water stains. Once the surface is saturated, pour the remaining solution into a bucket and immerse a microfiber towel.
Lay the wet microfiber towel over the area on the car paint with water spots and leave it for about 2 minutes. Afterward, use the same towel to scrub the water spots and then rinse the surface thoroughly with clean water from a hose.
Lastly, use another clean, dry microfiber towel to dry the car's surface. 
4. Buff the car with chamois/ microfiber towel
Some water stains on car paints are relatively easy to wipe away, provided you've got the right tools. For instance, you can use an appropriate microfiber towel/ chamois to buff away fresh water spots on your car paint/ windows without harming the paint. 
However, before you use this approach, make sure you test it out first on a small area. Also, gather everything you need for the task including a dry microfiber towel/ chamois, paper towels, and gloves. 
Next, use some dry & clean paper towels to soak up the excess water on your car's surface. Now, move a dry microfiber cloth in long back-and-forth motions while buffing away the water stains to avoid leaving swirl marks on the car's surface.
More importantly, only apply enough pressure to remove the water stains. If this approach doesn't work, look for a more robust cleaning solution instead of applying more pressure to avoid damaging the finish. 
How to Prevent the formation of water spots/ stains on your car surface 
Whichever method you use, removing water spots from your car's surface is an utterly exhausting task. While you can protect the car by covering it with a car cover or storing it in a garage, it's bound to get water stains someday. 
Luckily, there are various techniques you can use to safeguard your car from these spots in the future. The most effective methods include; 
Washing the car with distilled water 
One of the main causes of water spots, apart from acid rain, is tap water. So, if you use garden hose water to rinse your car after washing, the chances of getting water spots are quite high. As I mentioned earlier, tap water usually contains mineral deposits and other contaminants. 
To avoid this problem, it's recommended that you rinse your car with distilled water. That way, no mineral deposits will be left on the car's surface as the water evaporates or dries. 
In addition, avoid drying your car in direct sunlight after washing it. Instead, dry the car with an appropriate microfiber cloth immediately after washing it. 
Apply synthetic sealant to your car paint 
Clear-coat synthetic sealants are a great alternative to car wax and ceramic coatings. Thanks to their ability to form an impenetrable shield against water stains once they harden, keeping your car spot-free.
At the same time, they provide some protection against mineral deposits. Better yet, synthetic sealants are more durable than wax, meaning you don't have to reapply them as often as you would with car wax. 
Some of the items you'll need to apply a synthetic sealant are a wax applicator, microfiber cloth, and the best sealant for car paint. More notably, you need to ensure that the car is spotless and dry before you apply the synthetic sealant.
Next, use the foam applicator to spread the sealant across the painted surface in a thin even layer and leave it to dry. Afterward, buff the surface with a microfiber cloth to achieve a shiny finish. 
On the downside, most sealants are susceptible to chemical attacks. For that, they're not very effective against acid rain and other environmental contaminants. 
Apply a new coat of car wax/ceramic coating 
Car wax forms a protective barrier that safeguards the car paint against wear and damage. Moreover, it creates a slick and waterproof surface that prevents water spots from developing in the first place.
As a result, rainwater will bead off a wax job and run off your car. 
Alternatively, you can protect the car's surface with a ceramic coating. This is the most effective method for preventing water spots since it forms a low-friction surface that prevents hard water from sticking to the car paint.
Moreover, ceramic sprays and coatings are durable and offer incredible resistance against corrosive elements and acid rain. 
Avoid parking the car near sprinklers 
Parking your car near sprinklers is the easiest way to get hard water on your vehicle. More notable, sprinkler water usually comes from an untreated water source, meaning it's even harder than normal tap water.
This water then dries off the surface, leaving behind some mineral deposits that eventually form water spots on the car paint. 
Wash your car regularly and dry it thoroughly 
Lastly, make sure you regularly wash your car, especially after it rains. This will allow you to get rid of the contaminants and acids before they erode the clear coat. Also, this will restore the hydropic properties of the protective coating you've applied on your car's surface. 
Most importantly, always dry the car thoroughly with a microfiber towel/ cloth after washing it. This helps to remove acids, mineral deposits, and other pollutants while they're still dissolved in the water to prevent the deposits from building up on the car's surface. 
Conclusion 
Water spots on car paint make your car look shabby by making the paint finish appear dull. Luckily, as you've seen, there are several ways you can use to remove any water spots from car paint.
On top of that, make sure you give your car an extra protective layer to prevent these stains from developing in the future.