This post may contain affiliate links which means I may receive a commission for purchases made through links.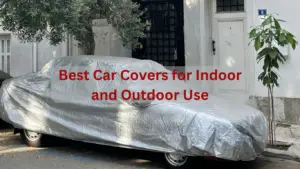 Every car owner loves to keep their ride in nice condition, especially after a fresh paint job or a new purchase. However, doing so can be difficult as several elements pose a risk to your car's conditions.
For instance, acid rain and UV rays tend to break down the car paint's clear coat over, exposing the paint underneath to various weather elements. Not to mention the harmful effects of tree sap, bird droppings, debris falling from trees, and other elements like snow and hailstorms.
As a result, the appearance of your vehicle will diminish over time, leaving the car paint dull and faded. 
On the bright side, you can easily protect your car against these elements by getting yourself one of the best car covers for indoor and outdoor use. That way, you can rest assured that your car will have adequate protection against damaging UV rays, bird droppings, and other elements when you're not using it. 
But with so many companies and options of car covers in the market, how do you know you're getting the best car cover for your ride? Relax! In this article, we've reviewed some of the best car covers available to make the task easier for you! 
5 Best Car Covers Reviews 
1. CoverCraft Custom Fit Weathershield HD Series Car Cover 
Seeing that CoverCraft has been manufacturing car covers since 1965, it's easy to understand why they're one of the most reputable brands in the industry. The company specializes in making all types of car covers, including this custom-fit indoor car cover model. 
One thing you need to note though is that this car cover model is specifically made for Mazda Miata. However, you can easily order a custom-fit cover for your car model on CoverCraft's website or through Amazon. 
In terms of construction, this car cover is crafted from polyester and features a velvety underside to keep your car's paint looking pristine.  
In addition, the cover is water-resistant, meaning water will not touch your car paint if someone spills something on it or if you've got a leaky garage.
Not to forget that the underside is soft and breathable to prevent the buildup of damp mildew and moisture as they can clog your vehicle's air filters. At the same time, this durable fabric offers the best protection against weather elements, UV rays, dust, and bird droppings. 
On the downside, this custom-fit car cover comes at a relatively steep price. However, this is usually because each cover is custom-fitted to your car, depending on the model, trim, make, and year.
As a result, the shipping turnaround can take a few weeks. For that, this cover may not be the best option if you're in a hurry. Other than that, this product is certainly worth the price as you'll even get a 6-year warranty.
Highlighted Features 
Custom-fit to specific car model 

Non-abrasive underside

Heat- & moisture resistant 

Sewn-in side mirror pockets

Bottom-edge elastic to hold the cover tight

Grommets for holding the cable lock
Benefits 
Backed by a 6-year warranty 

Custom-fit to ensure a snug application 

Velvety underside to protect the car paint 

Comes from a reputable manufacturer

Offers the best UV and weather protection 
Drawbacks 
Order turnaround time may take a few weeks 

Costly 
2. Kayme 6-Layer Car Cover 
Excessive sunlight can cause havoc on your vehicle in various ways. For instance, it can damage the interior, affect the tires or even cause the car's paint to fade. However, you can easily avoid all these problems by investing in this Kayme 6-layer car cover. 
Located in France, Kayme was established in 1998 and specializes in various accessories for the aerospace, nuclear and automotive industries. This Kayme waterproof car cover is one of their best-selling products! 
As the name implies, this car cover is made up of 6 layers, including 2 layers of highly reflective aluminum material to reflect heat and UV rays away from the car surface.
Underneath, the cover features a waterproof synthetic PE film to ensure 100% waterproof protection and 3 layers of soft cotton lining to avoid scratching the car paint. 
Another interesting feature of this product is that it's equipped with a zipper on the driver's door for easy access. Specifically, this zipper allows you to open the door on the driver's side without having to remove the entire car cover.
On top of that, it has elastic straps at the rear and the front to protect it from wind and other harsh weather conditions.
In terms of compatibility, this particular model is suitable for sedan cars that are up to 177" long. However, you can find the cover in other sizes since it's available in 13 different sizes and 2 color options.
Surprisingly, despite having all these great features, this car cover is quite affordable, explaining why it's one of the best-selling car covers on Amazon. Nonetheless, its quality is incredible and the material is both strong and durable. 
Highlighted Features 
6 layers of protection 

Mirror pockets

Reflective strips for easy visibility at night 

Comes with elastic straps and buckle 

Includes a compact storage bag 

Available in 2 colors and 13 different sizes 
Benefits 
Provides UV protection 

Windproof straps to protect it from strong winds 

Heat-resistant reflective surfaces 

Convenient zipper for easy access 

Side mirror protection 

Affordable 
Drawbacks 
Not the best option for extreme summers 
3. FAVOTO Hatchback 5-Layer Universal Fit Car Cover 
If you're looking for a car cover that will guarantee your peace of mind during cold winter seasons and windy days, then this model from FAVOTO is an excellent option for you.
Thanks to its incredible ability to protect your car from various weather elements including snow, dust, and acid rain. In addition, it offers exceptional car paint protection against dust, bird droppings, pollens, leaves, and other contaminants. 
The most interesting thing about this car cover is that it's equipped with several useful features. This includes side mirror compartments, one soft cotton layer, 4 layers of durable oxford cloth, and green reflective stripes for enhanced visibility at night. 
To be precise, the outside of this cover is made of 100% waterproof PE & Peva materials, while its interior is lined with super-soft cotton to avoid scratching the car paint.
In addition, it's equipped with an elastic band on the bottom to provide a better fit to your car and 4 windproof straps on the rear and front for extra security. Best of all, this 5-layer cover consists of high-quality, durable fabric that is nicely double-stitched, extending its longevity during use.
Lastly, this all-weather hatchback cover has a universal fit, making it ideal for use on hatchbacks that are about 145 to 157" long. Besides, it's available in 6 sizes to accommodate various car models, including small hatchbacks and big SUVs. One more thing!
This unit includes a matching storage bag that allows you to easily store the cover at the back of your car's trunk when you're not using it! 
Highlighted Features 
2 color options (black and silver)

Elastic and strap attachment 

Driver-side zipper for easy access

Double-seamed stitching 

Water-resistant 

Multi-layer oxford fabric 
Benefits 
Offers excellent protection against snow, acid rain, bird droppings, etc. 

Hatchback design for better fitment 

Waterproof and water-resistant construction 

Zipper design for easy access 

Includes a storage bag
Drawbacks 
The fabric tends to become stiff in frigid temperatures 

Not suitable for direct sunlight 
4. iCarcover All-Weather Car Cover 
The iCarCover 18-layer all-weather car cover is an excellent option if you're looking for a cover that guarantees maximum weather and UV protection. This breathable car cover is made of multiple layers of firmly compressed high-quality material fused to form one layer, making it the perfect solution for protecting your car indoors and outdoors. 
Better still, the cover has a soft inner lining to keep the car paint safe. Specifically, this paint-pampering later strip consists of a thick, non-abrasive, soft cotton lining to avoid scuffs and scratches on the car's surface.
In addition, this cover features 3 heavy-duty nylon straps with buckles to give your car ultimate protection, even on the windiest days. 
Another stand-out feature of this car cover is that it has durable reinforced stitching and an elastic hem to fit it snugly on vehicles that are up to 191" long. However, you can find this car cover model in various sizes ranging from 145 to 226" long to fit almost any car.
This makes it a great cover for various car models including sedans, coupes, convertibles, wagons, and pickup trucks. 
Lastly, this car covers comes with an impressive 7-year warranty, 2 antenna patches, and zippered storage, yet it's reasonably priced! The waterproof carrying bag allows for easy storage, while the antenna patches are equipped with buckles to offer extra security. 
Highlighted Features 
18 protective layers 

Comes with a carrying bag and removable nylon straps 

Bonded nylon straps 

Scratch-resistant professional grade dense weave microfiber inner lining 

Double-stitched hems 
Benefits 
Weatherproof construction 

Scratch-resistant grommets to prevent car paint damage c

Available in different size options

Windproof straps to protect the cover from theft 

Protects the cover from harmful UV rays 

Ideal for indoor and outdoor use 
Drawbacks 
5. Budge Lite Indoor Car Cover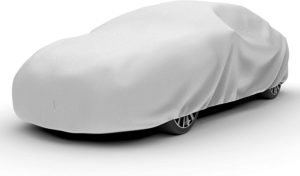 Cars need protection from elements like dirt and dust even when they are stored in the garage. However, you don't have to spend hundreds of dollars to protect your car paint if you've got a garage. Instead, you should look for an affordable car cover for indoor use like this one from Budge Lite. 
Considered an 'entry-level model', Budge Lite car cover is one of the cheapest covers in the market, yet it provides excellent protection against dust and mildew. 
The only issue with this cover is that, unlike the options we've reviewed above, it only offers a single layer of protection. Specifically, it's crafted from one layer of spun-bond polypropylene.
As a result, it's lightweight but strong enough to protect your car's surface from the elements of a garage. More importantly, the seams are double-stitched to extend the cover's durability, while the materials are non-abrasive to avoid damaging the car's paintwork
In addition, this indoor car cover is fully breathable to allow moisture to escape without causing mold and mildew build-up.
Even better, it has inbuilt grommets and an elasticized hem to ensure a snug fit in various vehicles and prevent the cover from flying off in the wind. Similarly, the sewn-in grommets provide extra reinforcement against the wind. 
Highlighted Features 
Elastic hem

Sewn-in grommets 

Double-stitched seams

Made from polyethylene material 
Benefits 
Affordable 

Breathable to prevent mold & mildew build-up 

Offers good indoor protection against dust and debris 

Available in 9 different sizes 

Easy to handle & store
Drawbacks 
Not ideal for outdoor use

The material isn't water-resistant 
Things to Consider when buying the best car cover (Buyer's Guide)
Before you settle on a specific car cover, there are a few basics you will want to nail down. Otherwise, you may end up buying a product that doesn't meet your needs. Some of these factors include; 
Fit & Size 
There are several types of car covers, including general purpose, custom, and semi-custom. Not to forget that these car covers are available in various sizes. 
However, there is no point in buying a cover that does not fit your vehicle. Instead, you should look for a cover that is specifically designed for your car model or a universal car cover. As the name suggests, 'universal' car covers are made to fit a wide range of larger or smaller car models. 
Generally, always choose a car cover that provides a snug fit without any gaps to ensure that wind, snow, and dirt aren't trapped inside. If possible, get a custom-fit car cover, although this option is usually too expensive. However, if you insist on going the cost-effective way, make sure you measure your vehicle before you select a car cover size. 
Material 
The type of material used to make a car cover is another important aspect to consider when buying the best cover for your ride. Here, you can consider factors like durability, elasticity, and tear-resistance of the fabric. 
In that regard, the best car covers for outdoor use should be crafted from heavy-duty multiple-layer or waterproof fabric. This will allow them to give the car ultimate protection against harsh elements like dust, snow, pollutants, and debris. In addition, most car covers are equipped with an inner layer of soft cotton to be gentle on the car paint. 
However, if you intend to use the cover to protect your car indoors, you can buy a car cover with only one layer of cotton/ synthetic fabric. Moreover, these covers are usually made of breathable fabric to avoid condensation and moisture buildup, thus preventing the car from rusting and oxidation.
A good example of this type of car cover is the Budge Lite model, which is considered the best car cover for short-term storage in a garage. 
Attachment 
Car covers are either attached to the car using elastic or string tie-down straps. The elastic option is more convenient for removal and application, but it's more likely to fall or slip off if left in extremely windy conditions.
Other than that, these attachments ensure a snug fit and help to deter criminals. In addition, if your car has an antenna that sticks out from the body, you may want to look for a car cover with a hole/ antenna patch to accommodate it. 
Ease of installation and access 
First of all, it's important to ensure that your car has been properly washed before you install a car cover. This is because any contaminants left on the car paint surface will become trapped underneath the cover, which can lead to scratches on the auto body when the fabric contacts the body panel. 
That aside, the best car cover should be relatively easy to install and remove from your car. This can be accomplished by choosing a car cover that has buckle-type straps since they're much easier and faster to handle compared to tie-down straps. 
In addition, choose a cover that is equipped with a zipper on the driver's side door. This will allow you to access the car and grab things you left behind like a charging cable or phone, without having to take off the entire cover. 
Different types of Heavy-Duty Car Covers 
As mentioned earlier, there are many different types of car covers to choose from, depending on your specific needs. Typically, the best car covers are available in 3 different sizing categories namely; custom-fit, ready-fit and universal. 
Universal-Fit 
Universal-fit car covers are usually available in small, medium & large sizes. That way, if you have a compact car, you can easily find a small universal-fit cover that is designed to fit your vehicle regardless of its make and model. 
Another interesting thing about universal car covers is that they're usually the most affordable option since they're simple to mass produce and import. Unfortunately, they can allow debris and dirt to slip underneath the cover due to their looser fit.
In addition, they can easily be blown off if it's windy outside. On top of that, they don't have special pockets to accommodate spoilers, splitters, and louvers on your car, which can cause stress on these exterior details. 
Ready-Fit 
Ready-fit car covers are designed to fit a specific type of car. As a result, this type of car cover has a better fit compared to its universal counterparts. For instance, if you have a sedan, you can purchase a ready-fit cover that is only designed to fit sedans. 
Another benefit of a ready-fit cover is that you'll receive it shortly after ordering since they're available in most retail stores. This is not the case with custom-fit covers as you may have to wait a couple of weeks to be manufactured and shipped to you. 
Custom-Fit 
A custom-fit car cover is considered the best option for those who don't mind spending a few extra dollars to protect their car. This is because custom,-fit covers are designed to fit the specific model and make of your car. 
For instance, if you own a Chrysler 300, a custom-fit cover will match the measurements of your vehicle as closely as possible. In addition, it will accommodate the antenna, side mirrors, splitters, and other exterior fixtures.
Best of all, it fits nicely on your car, meaning you don't have to worry about the cover being blown off when it's windy outside. 
Outdoor Vs Indoor Car Covers 
As the name suggests, outdoor car covers are designed to withstand harsh conditions you will not find indoors. On the other hand, an indoor cover is intended to protect cars that are stored in an auto shop, garage, and other covered parking spaces.
However, that's not the only difference between an indoor and outdoor car cover. Moreover, while an outdoor cover can be used to offer protection both indoors and outdoors, it's heavier and more difficult to store than a cover designed for indoor use only. 
So, how do you determine whether a car cover is designed for indoor or outdoor use? Here's what you need to know! 
Outdoor car covers 
Also known as all-weather/ waterproof car covers, outdoor covers are heavy-duty enough to withstand all types of severe outdoor conditions. As a result, they offer excellent protection against dirt, impact, and harmful UV rays.
Moreover, they're water-resistant and breathable to protect the car from rain, while allowing moisture to escape to avoid damaging the paintwork. 
Most outdoor car covers feature multiple layers to protect the car surface from dust and other debris. At the same time, they protect the car paint from tree sap, leaves, bird droppings, and other contaminants that may clothe the air intake and drain tubes.
In addition, the construction of these covers protects the car from heat and UV rays by reflecting the sun's rays. 
On the downside, outdoor covers usually weigh more and cost more than their indoor counterparts. Other than that, they protect your car's interior and exterior from harsh weather elements outside. 
Indoor Car Covers 
An indoor car cover is intended to protect the vehicle from various items that may be stored in the garage. At the same time, they protect the car from dust, while preventing mold- and mildew buildup underneath the cover. For that reason, indoor covers are usually crafted from breathable materials like woven & napped flannel and lightweight laminated cotton. 
The only issue with these covers is that they don't have any water-repellent or UV-resistance properties. For that, they should only be used for indoor use to protect the car from dust, pollen, and other airborne pollutants that enter the garage every time you open the door. 
Conclusion 
Protecting your car from weather elements when you're parking it outdoors or in the garage can be quite a task. Luckily, a high-quality car cover will help you protect it from dust, bird droppings, tree sap, and the damaging effects of UV rays and other harsh weather elements.
Hopefully, after going through our detailed reviews, you'll find the best car cover to meet your needs. However, make sure you consider the factors we've mentioned above, including the size, material, and additional features like sippers and antenna patches.