This post may contain affiliate links which means I may receive a commission for purchases made through links.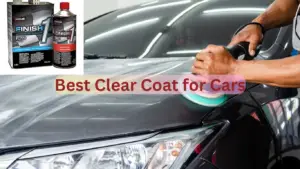 Almost 95% of all vehicles being manufactured today come with a clear coat to give the car's paintwork depth and a glossy, mirror-like finish. In addition, the clear coat provides a protective layer to prevent the sun's UV rays and other environmental elements from damaging the car paint. 
As you would expect though, this clear coat starts to fade away after years of ownership and miles on the road or even develop some scratches over time.
Whichever the case, you can easily reapply the clear coat and restore your car's luster and shine in no time. However, for that to happen, you need to get yourself the best clear coat for cars first. 
While there are many automotive clear coat products on the market, choosing the best one isn't always an easy task.
Don't worry though as this guide has some of the best and highest-quality car clear coats worth buying! 
Things to consider when buying the best clear coats for cars (Buying Guide)
Before you head out to buy the best clear coat for your car, there are various factors you need to consider. Although this step may seem unnecessary, it will affect the final appearance of your car as well as the clear coat application process.
That said, here are some of those aspects; 
Type of clear coat
With so many types of clear coats available, it's important to decide which is the best one for your needs before you settle on any product. The most popular options are; 
High Solids Clear Coat. 
As the name implies, High Solids clear coats have more solids and additives in their formula, resulting in a thicker film once the solvent evaporates. Best of all, they offer more UV protection with a deeper appearance than low-solid clear coats since they're thicker.
On the downside, they take longer to dry and are more expensive compared to other types of clear coats. 
To learn more about the classification of clear coats based on the solids content, check out this article.
Euro Clear coats
These types of clear coats usually need heat to speed up the drying time. 
Topcoat
These clear coats are intended to be the final coat that is applied to the color/ base coat to provide a glossy finish. More notably, this type of clear coat tends to dry quickly and is simple to polish.  
Glamour Clear coat. 
A glamour clear coat is the best option for those who want to protect their cars against moisture. Thanks to its ability to resist moisture, even though it takes longer to dry. In addition, this type of clear coat will allow you to perform more leveling to achieve a customized finish. 
Turbo Clearcoat. 
As the name 'turbo' suggests, this type of clear coat dries faster than any other type of clear coat. Also, it's a great option for hiding or fixing existing dents, scratches, and other damage. However, they require more polishing to achieve a glossy look, but that can be easily done in no time. 
Gloss level 
Although every automotive clear coat out there promises to deliver a high-gloss finish, they have different levels of glossy finishes. For that, it's important to consider the gloss-level number when buying a clear coat as it will help you determine how glossy its finish will be once it dries. 
The glossy-level number for clear coats ranges from 0 – 100, with higher glossy finishes having the highest numbers. For instance, if you want a product with an extra-glossy finish, choose a product with a rating of 90 or higher. 
Drying time 
Automotive clear coats have different drying times depending on the type of formula. In that regard, some can take a few hours, while others can take a few days to dry and cure fully. Either way, it's important to choose a product that suits your needs. 
For instance, if you want to get your ride on the road quickly, you can choose a fast-drying clear coat like a topcoat or turbo clear coat. But if you don't mind waiting a few days to polish the car, you'll be fine with a high-solid or glamour clear coat that takes 24 – 48 hours to dry and cure. 
Ease of application 
Clear coats for cars have various application methods. For instance, some coats come in aerosol spray cans with nozzles that spray widely or narrowly, while others are designed to be applied with a spray gun or airbrush. 
Whichever the case, applying the clear coat to your vehicle should not be difficult in any way. For that, you should look for a product that is relatively easy to apply.
In general, clear coats that come in aerosol cans are the easiest to apply since you only need to point, press, and apply.
If possible, look for a spray can that has a comfortable grip and an all-angle nozzle tip. However, if you're doing a full-body paint job, you can opt for a 1-gallon clear coat car paint can and buy the best spray paint gun for application. 
5 Best Clear Coats for Cars 
1. Sherwin Williams Finish 1 FC720 Clear Coat 
Sherwin William is a household brand in the automotive paint industry that provides many incredible products. And as you would expect, its FC720 Finish 1 clear coat is no different.
So, if you're looking for the best clear coat for multi-panel and spot repairs, it's a perfect option.
More notably, this clear coat exhibits excellent buffing and blending properties and leaves a stellar glossy finish on your car. 
In terms of packaging, this kit includes a 1-gallon (3.78 L) can of ultimate overall clear coat and a 32 fl oz bottle of universal hardener for added protection. This combination gives you everything you need to give your car a great high-gloss finish.
More importantly, this means that its chemical mixture consists of 4 parts clear coat & 1 part hardener.  
Moreover, this clear coat features an acrylic urethane-based formula that contains 4.29 VOC high-solids content. This helps the clear coat exhibit a durable shine and gloss. 
On the downside, this formula can take up to 24 – 48 hours to cure fully. Not to forget that you may need to apply multiple coats to achieve a better finish. 
Other than that, it's fairly easy to apply, which makes it an excellent option for DIYers. Plus, it works in most climates since it's a medium activator. 
Key Features
Simple mixing ratio 

Weathering & chemical resistance 

High Solids Urethane clear coat 

UV -resistant

Includes a clear coat & hardener 
Benefits 
Easy to apply & polish

Effective when applied in different climates 

Provides a high-gloss finish 

Ideal for multi-panel and spot repairs 

Delivers a long-lasting shine and gloss
Drawbacks 
Requires multiple coats for excellent results 

Can take 24 – 48 hours to cure fully 

 
2. KBS Coating 8304 Diamond Finish Clear Coat 
Unlike the Sherwin Williams clear coat we've reviewed above, the KBS 8304 coating is a single-part formula. Yet it's tougher than most 2-part clear coats on the market, making it another excellent option for your car. 
For instance, it can withstand temperatures of up to 300 deg F and corrosion from harsh chemicals to extend its longevity. At the same time, it offers exceptional resistance from UV rays and chipping, meaning it will not yellow, crack or peel even when subjected to the toughest environments.
Its moisture-cured urethane formula is made with advanced coating technology that provides permanent high solids of over 60%. 
Another feature that makes this formula stand out from the rest is that it's ideal for a wide range of applications. Especially seeing that it's specifically designed for industrial use.
So, apart from using it to cover your vehicle's base coat, it's ideal for use in marine machinery and domestic applications. 
Surprisingly, even with its versatility, this product is relatively easy to use as you can either apply it with a roller brush or a spray gun. Plus, you can apply it directly on metal and existing paintwork, without little to no surface preparation.
Best of all, this clear coat is available in various sizes, including pint, gallon, and quart options. This allows you to buy exactly what you need, bearing in mind that 1 pint of the clear coat can cover 50 sq ft with single coat coverage. 
Key Features 
Heat-, chip-, UV- & chemical resistance

Non-toxic 

No hardener or additive required 

Faster curing time 

Direct-to-metal application

Self-leveling, single-part formula
Benefits 
Heat & corrosion resistant 

Various application methods (spray gun, paintbrush, or roller )

High-gloss, water-clear finish 

Versatile applications

Withstands harsh chemicals 

Requires minimal surface preparation 

Environmentally friendly 
Drawbacks 
3. Speedokote SMR130 Clear Coat 
With its ability to provide an incredible level of protection, this 2K acrylic urethane clear coat from Speedokote will do a great job of protecting your car from UV rays.
It dries into a rock-hart armored shell that offers protection against almost every element your car will encounter while on the road. For instance, it offers exceptional protection against impact, harmful UV rays, dirt, and chemicals. 
In short, this clear coat is specifically designed for car repairs, and even allows easy buffing of your vehicle's paint job. To be precise, the formula of this clear coat is made from a blend of urethane and acrylic with added UV protection.
More notably, it has a high-gloss finish with a high DOI (distinction of image). 
Another benefit of this clear coat is that it lays down easily to form a flat finish, provided you get the clear coat and activator medium right. In this regard, the kit comes with 128 oz (1 gallon) of clear coat and 32 oz of activator that should be mixed in a ratio of 4:1. 
After application, this mixture provides a quick finish in about 4 – 6 hours. However, you must ensure that the temperature is between 65 and 80 deg F during the application, as it may thicken and clump under lower temperatures. 
The other drawback of this SMR-130 formula is that it's not available in some states like Maryland, California, and Delaware. Luckily, you can order the SS-132 clear coat instead if you live in any of these states. 
Key Features 
Cure in4 – 6 hours

Superior chemical & UV resistance 

Specifically formulated for car repair 

Acrylic urethane-based formula 

 High gloss finish 
Benefits 
Provides a beautiful, high-gloss finish 

Outstanding protection against UV, chemicals, and other elements 

Easy to apply

Fast curing and drying time 

Long shelf life 

Ideal for a full-body coating job 
Drawbacks 
Not available for sale in California, Maryland & Delaware

 
4. USC Spray Max 2K High-Gloss Clear Coat 
Despite being relatively affordable, the USC Spray Max 2K acrylic clear coat provides a professional quality clear coat that is safe to use on almost all base coats.
So, if you're looking for a budget-friendly clear coat for your car, it's one of the best clear coats for cars you'll ever come across.
Better yet, it's relatively easy to apply as it flows smoothly and comes in a 2-component aerosol spray can, making it a suitable choice for beginners. On the same note, it's a perfect clear coat option for quick touch-ups and small repair jobs. 
Interestingly, while this clear coat has a 2-component formulation, you don't need to mix it with an activator before application. Instead, you only need to shake the 11.8 oz aerosol can to activate the 2 acrylic components and spray it on the base coat.
The spray can is equipped with a unique nozzle tip that performs just like an automotive spray can and promotes smooth flow. 
Once applied, this clear coat formula offers a long-lasting and high-gloss finish. At the same time, it provides top-notch resistance against all-weather elements, abrasions, scratches, and chemicals. 
As for the drying time, this formula can take up to 24 hours to harden. For that, you should wait up to 24 hours before you polish or perform any type of exterior detailing to get excellent results. 
Key Features 
Comes in a pack of two 11.8 oz aerosol cans 

2-component acrylic-based formula 

Chip- and weather-resistant

High-gloss finish

Unique spray-gun style nozzle design 

Works on all types of base coats 
Benefits 
Easy application 

Budget-friendly 

Suitable for quick touch-ups 

Long-lasting finish 

Resistant to chemicals and all-weather elements 
Drawbacks 
You must use the entire can within 48 hours after opening 

Not a great option for full bodywork 

 
5. Dupli-Color Perfect Match Clear Coat 
Having been in the market for over 60 years now, Dupli-Color certainly deserves a spot in our list of the best clear coats for cars. After all, you only need 3 standard layers of this clear coat to give your basecoat sufficient protection. 
More importantly, those layers dry to form a tough and hard-wearing glossy shell that is resistant to all the harsh elements you can think of. It will protect your car's paintwork from salt, oil, scratches, dings, UV rays, and other weather elements. 
In addition, this clear coat is specifically designed to match the existing paintwork of your vehicle. It works with all standard OEM car paint finishes, helping your car look like it has just been rolled off the assembly line.
Another stand-out feature of this acrylic lacquer-based clear coat is that it's quite easy to apply. It comes in a convenient 8 oz spray can with an EZ Touch 360-deg nozzle tip that is specifically designed to deliver smooth & uniform coats with its wide spray pattern.
This ensures that you don't miss any spot, making this Dupli-Color clear coat the 'perfect match' for painting vehicle accessories and large touch-ups. 
Lastly, this clear coat has a fast drying time, seeing that it takes as little as 30 minutes to dry to the touch, and can be polished one hour after application. More importantly, it delivers a strong, professional-quality clear shine.
However, you might need to apply several coats to achieve the desired glossy look. 
Key Features 
Acrylic lacquer formula 

Fast drying 

Ideal to use over any 2-stage car paint 

EZ Touch 360-deg nozzle with a wide spray pattern 

Available in OEM exact-match colors 

Takes 30 minutes to dry to touch 
Benefits 
Affordable price 

Professional-quality clear coat 

Covers wide angles and provides uniform coats 

Unique nozzle design 

Easy to apply 

Suitable for quick touch-ups 
Drawbacks 
Requires several coats to get the desired glossy finish 
Final Word 
Applying a clear coat is one of the best ways to protect your car paint from various weather elements and give it a shiny and smooth finish.
And as you've seen, there are many great clear coat products you can choose from and apply over your car's paintwork right in your garage. So, feel free to check them out again and choose the best clear coat for cars based on the needs of your project!