This post may contain affiliate links which means I may receive a commission for purchases made through links.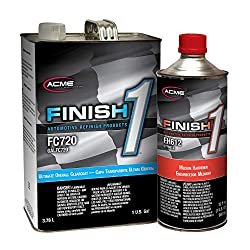 Nowadays, auto manufacturers use a 2-stage paint system, which involves a base coat and a clear coat. 
The base coat, which is the 1st layer, gives the car visual properties like color, while the clear coat (2nd layer) deepens the color of the car paint and gives it a nice glossy look. In addition, the clear coat protects the base coat from damage and oxidation.
Surprisingly, while many car owners have heard the term clear coat, very few know what it really is and why they should be concerned with it. If you're in the former category, worry not!
In this post, I'll tell you everything you need to know about the clear coat for cars. That way, you'll get a basic understanding of what it does and doesn't do for your car paint!
What is a clear coat for cars?
Car clear coat refers to the final transparent layer of paint that is applied over the car's color/ base coat. Thus helping to protect the primer coat and color/base coat from oxidation, UV rays, and damage from other harmful contaminants like road tar, road salt, acid rain, and even bird poop.
In addition, a high-gloss clear coat adds some glossiness to your car paint. Without a clear coat layer, your car paint will have a matte or dull finish to it.
Benefits of the clear coat
Applying lacquer or coat over your car's base coat is important for a few different reasons. Some of the most notable benefits of the clear coat layer are;
Protection
The main purpose of applying the clear coat is to offer a protective layer over the color coat to minimize the risk of scratching the car's color paint. For instance, if you get a knick or mark on your car's exterior, the clear coat will prevent it from getting into the base coat.
In addition, the clear coat offers protection against mechanical agents like automatic car washers, environmental agents like UV rays, and chemical products like oils, fuels, or detergents.
In short, the clear coat plays an important role in extending the longevity of the base coat over time. For that, it's essential to ensure that the applied clear coat provides adequate hardness and resistance to the car's exterior.
At the same time, it must be protective of the base coat by sealing it correctly against external elements. Plus, most clear coats contain UV blockers to prevent the car's colored coat from dulling or fading due to the sun's UV rays.
Moreover, it's important to regularly wax your car and buff out minor scratches that have not reached the base coat to restore the clear coat.
Improved aesthetic appearance
A clear coat gives your vehicle a shiny, glossy look that makes it appear clean and polished. At the same time, it makes the color coat look deeper, giving your car that showroom shine that will help it maintain or even increase its resale value.
Interestingly, you can achieve different types of finish paint, depending on the kind of clear you use to improve your car's appearance. For instance, you can get a glossy finish, matte finish, or even a more satin finish.
Environment friendly
Over the years, car manufacturers have been using solvent-based paints to apply the car's base coat. However, according to recent studies, these paints emit harmful Volatile Organic Compounds (VOCs) into the air as they dry.
While the long-term effects of VOCs are known, the Environmental Protection Agency (EPA) claims that some may contain carcinogens. As a result, most car manufacturers are now shifting towards more safer and eco-friendly water-based paints.
Unfortunately, water-based paints are usually less durable than their solvent-based counterparts. For that reason, they must be covered with a clear coat to keep them protected and extend their durability.
Drawbacks of clear coat car paint
Although clear coats are harder and more resistant to oxidation, they're more sensitive to scratches. For that, you should avoid using abrasive polishing or rubbing compounds on them.
In addition, like other car paint layers, the clear coat can start to chip and fail if it's not properly waxed and washed. This will lead to clear coat peeling, thus exposing the color coat to environmental elements.
Moving on, the clear coat cannot lose its brightness or fade as it has no color. However, it can become dull, depending on the environmental condition to which the vehicle is exposed.
On the bright side, you can easily avoid most clear-coat car paint problems by regular washing and waxing with high-quality car wax or paint protectant.
Specifically, this will protect it from surface contaminants like rain, dust, bird droppings, bug splatter, acid rain, and airborne pollutants that may accumulate on the car's surface and cause it to look faded.
In addition, parking the car in a garage or covering it with the best car cover for the outdoors to protect it from the sun's UV radiation will prevent it from becoming dull.
Different types of Clear Coats
Clear coats for cars can be classified into various types, depending on their Solids content and the type of work they're designed for.
1. Solids Content
Generally speaking, the solid content in the clear coat determines the thickness of the topcoat once the paint dries. Therefore, you should apply a few layers of clear coat if the formula has a higher amount of solids content to get the desired dry thickness.
One thing you need to note though is that car paints classified according to their solid content follow the standard European market criteria, which may be different from those used in other regions.
That said, here are the different types of clear-coat car paints you're likely to encounter depending on their solids content:
UHS Clearcoat
This type of clear coat usually has a high level of solids content, meaning you'll need fewer layers to achieve the desired dry thickness. Better yet, they provide an excellent finish and a significant drying time reduction.
Moreover, UHS clear coat car paints are compliant with the European environmental legislation on the emission of VOCs into the air.
 HS Clearcoat
HS clear coats contain fewer solids in their formulas than their UHS counterparts. Therefore, you'll need more layers to achieve the same dry thickness as UHS clear coats.
Other than that, they're also compliant with the environmental regulations on VOC emissions.
 MS Clearcoat
Lastly, MS clear coat car paints have the lowest content of solids in their formula. Consequently, you'll need many layers to offer sufficient coat thickness for protecting the car paint finish.
2. Type of work
Over the years, various types of clear coats have evolved according to the specific purpose and the type of finish they're intended for.
As you would expect though, various factors affect the clear coat application during the repair process. Some of these factors include humidity levels, room temperature, and the temperature of the surface you're applying the clear coat.
As a result, some clear coats can be combined with various solvents and hardeners to allow them to adapt to the desired drying time and type of repair you're undertaking.
With that in mind, here are common types of clear coat car pains according to the type of repair/ work they're intended for;
High-Performance clear coat
First of all, these types of clear coats have a higher solid content. This means you need to apply fewer layers to get the desired coat thickness, giving you a better performance in the repainting process.
On top of that, they offer extra sharpness, hardness, and gloss to the finished paint, as well as good performance in terms of application and drying speed.
Anti-scratch clear coats
This type of clear coat has greater hardness and resistance to scratches and dents. In addition, they're easy to apply and perform well outdoors.
Fast-drying clear coats
As the name suggests, a fast-drying clear coat is designed to reduce the paint's drying time, without the need for significant heat energy consumption.
They're generally used for spot repairs and partial repairs as they significantly increase productivity in the painting process.
Satin/ Matte finish clear coat
In the past, these clear coats have been used to repaint plastic parts like bumpers or moldings. However, they're currently being used on high-end cars that are completely painted in a matte finish.
Thanks to their ability to provide a complete matte finish or different gloss levels when mixed with gloss clear coats in certain proportions.
Spray Clear coats
Some car clear coats come as a 1-component spray (1K) paint. Such clear coats dry when the solvent evaporates into the atmosphere and is relatively easy to apply. Moreover, they can offer the desired gloss and resistance depending on the type of repair they're designed for.
In comparison, 2-component (2K) spray lacquers come with a clear coat (product A) and a hardener (Product B). These products are ideal for small repairs and are separated into 2 containers as they dry by chemical reaction.
Nonetheless, they offer the same characteristics as other types of bodywork clear coats in terms of resistance, gloss, and finish.
Water-based clear coats
Water-based clear coats have a lower level of VOC than their solvent-based counterparts, making them more environmentally friendly.
Conclusion
Overall, applying a clear coat over your car's base coat will seal and protect the car's exterior from harsh environmental elements. At the same time, it will restore a beautiful, mirror shine to the paint job, making your car look new at all times.
However, as I mentioned earlier, the clear coat is susceptible to various issues like scratches and dulling. For that, it's important to wash it regularly, wax it, and keep it out of the sun to help maintain its appearance.
Read Next: How to remove clear coat from your car's paint.