This post may contain affiliate links which means I may receive a commission for purchases made through links.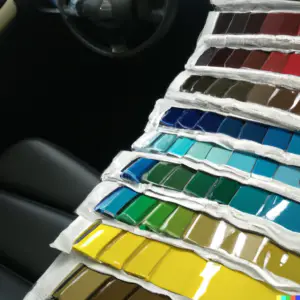 Car paint has undergone dramatic changes since the late 1800s. As a result, there are several different types of car paints in the market to choose from. So, before you decide on the color you want to paint your car, it's important to understand the different types available. And that's exactly what I'll be showing you in this post. Best of all, I'll show you the pros and cons of each type of car paint to help you make the right decision. 
That said, let's get right into it! 
Types of car paints available 
There are 4 basic types of car paints available on the market. That is; water-based, acrylic urethane, acrylic enamel, and acrylic lacquer. 
Acrylic lacquer/ lacquer-based car paint 
Acrylic lacquer was the very first auto paint and was particularly popular for cars manufactured between the mid-1920s & 1960s. Surprisingly, it's still available in the market today, although it has become illegal in some areas. 
One notable feature of this type of car paint is that it's affordable and extremely easy to apply. For that, it's a great option for inexperienced paints. Moreover, it has a high gloss, making it an excellent option for restoring an older car. 
As for the packaging, lacquer-based auto paints come in aerosol spray cans. However, you can also apply them with spray guns, but it's not generally recommended. 
On the downside, this type of car paint isn't that durable since it fades quickly., making it a short-lived paint job. At the same time, it can get chipped when exposed to the sun's UV rays. So, despite being easy to apply, lacquer-based paints require a lot of maintenance.
And as I mentioned earlier, this car paint is now illegal in several states because of its environmental impact. 
Another drawback with this car paint is that it requires 6 – 8 coats, thus taking more time to complete the project. Not to forget that you have to let the paint sit for a few weeks before polishing it. 
Other than that, lacquer remains one of the best auto paints if you want to achieve a good shine on your car. Moreover, it's known to dry much faster than other auto paints and can be applied in temperatures of up to 65 degrees F. 
Acrylic Enamel Car Paint 
Acrylic enamel car paints last longer than their lacquer counterparts since they create a strong, hard shell over the entire car when they dry. In most cases, professional shops bake enamel paints in heated bays. However, this type of car paint can also come in aerosol cans or be used with spray guns. 
It's also worth mentioning that enamel paint can be classified into 2 groups; single-stage & two-stage. In essence, single-stage acrylic enamel car paints have a clear coat and base coat mixed together. That way, you only need to apply a single layer of auto paint, as the name suggests. However, with 2-stage enamel paints, you have to apply the clear coat and base coat separately. 
Enamel paints can be broken down further into 2 additional categories; Acrylic enamel and synthetic enamel. 
Synthetic enamel
Synthetic enamel can be considered a utility-grade paint since it is only available in basic premixed colors. It's commonly used in situations where the paint will not be exposed to a hard life or doesn't need to last long. More notably, it doesn't need any hardener to be added during application since it's a single-stage paint. 
Acrylic enamel
In comparison, acrylic enamel paints are usually used with a hardener to reduce their drying time and increase their longevity. However, they either come as a 2-stage or single-stage paint. Plus, they have to be baked onto the car to create a hard, long-lasting finish. As for the color, acrylic enamel paints usually come in premixed color options, but you can get it mixed to match your car's color. 
The only issue with enamel car paint is that it doesn't lay down as easily as lacquer-based paints. As a result, it's not recommended for DIY painting projects since it's a bit trickier to apply it yourself and requires more finishing work. Moreover, you need the equipment to 'bake' the enamel paint onto your car to make it last longer. 
Urethane Car Paint 
Urethane auto paint is the most durable and most popular type of car paint used by both manufacturers and professionals. Plus, it can resist fading for more than 10 years, is highly resistant to chipping, and is suitable for use over any paint job. Even better, urethane car paint dries quickly as it contains chemical hardeners and does not run like other types of car paint like enamel. Not to forget that you can also use it on engine components that tend to get hot. 
As you would expect though, urethane is more costly than its enamel counterpart, mainly because of its higher quality. For that, it's a good alternative to lacquer-based paint. However, before you decide to replace your lacquer paint with urethane, you should note that lacquer cannot be painted over urethane paint. 
Another issue with this car paint is that it's a bit trickier to handle due to the quick drying time, making it difficult to apply yourself. So, if you're planning to paint your car with urethane, consider hiring a professional instead to undertake the task for you. In addition, some urethane auto paints contain chemicals like aliphatic polyurethane, which are illegal in certain states. 
Still, on the drawback, urethane paints contain toxic harmful chemicals that may be harmful to your lungs. For that, it's important to wear the proper protective equipment such as goggles, and a respirator mask when applying it. 
Water-based car paints 
Water-based paints are the most versatile and newest type of car paint in the automotive industry. For instance, you can apply them to metal surfaces, primer, or even an existing paint job. As a result, they are particularly popular in adding graphics to a motorcycle or vehicle, although they can also be used to paint the entire car. 
Another unique feature displayed by this type of car paint is that it's non-toxic. Therefore, it's the perfect option for DIYers to use in their home garages. However, it requires a top coat of clear urethane paint to protect the coat. All in all, if you want to change your car's color or add graphics to its body, water-based car paint is an excellent option for you. 
Conclusion 
Now that you know the different types of car paints available, you can easily choose the perfect option for your car. Luckily, there is a paint type for everyone, just like there is a car type for everyone. So, if you're planning to paint your car, consider the above options while making your selection. However, I'd highly recommend that you familiarize yourself with the different types of car paint finishes first! Besides, the look and finish of your cars say a lot about your individuality and personality.