This post may contain affiliate links which means I may receive a commission for purchases made through links.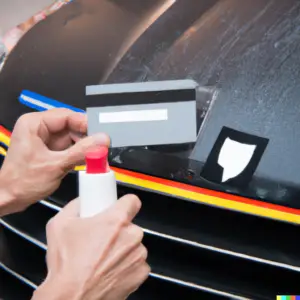 Many car owners apply decals or stickers to their cars to express their personalities or decorate their rides. However, after years of sun exposure and other forms of wear & tear, the images and text on these stickers become difficult to read and see, forcing you to remove them from your car.
Unfortunately, if you're not careful, you may end up damaging your car paint when removing these stickers as they contain adhesive residues. 
Don't worry though! In this article, I'll show you how to safely remove adhesive from car paint. Hopefully, this will help you remove the duct tape, decals, old bumper stickers, and other adhesive residues from your car surface without ruining the paintwork! 
Step-by-step guide on how to remove adhesive residue without damaging car paint 
Clean the car with soapy water
Dirt and debris around the adhesive residue can scratch car paint when you start rubbing it off. For that, it's important to thoroughly clean the car beforehand with soapy water and a microfiber cloth or sponge. Alternatively, run the car through a car wash if you're planning to remove the adhesive residue from car paint. 
Heat up the decal 
Once the car is clean, use a hair blow dryer to heat up the decal or a car sticker to loosen the adhesive. Avoid using a heat gun as it may be too powerful, which could damage your car's paintwork.
Instead, look for a heavy-duty extension cord that you can use to connect to a hair blow dryer and set it to the highest setting. More importantly, make sure you distribute the heat uniformly throughout the sticker, including the edges for about 2 minutes. 
As an alternative, you can loosen the adhesive by pouring boiling water over the decal. Although this can be a bit messy and time-consuming, it will get the job done if you don't have a hair blow dryer. 
Peel off the adhesive residue 
Now that the adhesive residue has been loosened, peel it off immediately after heating it up. You can do this using a plastic card like an old credit/ debit card or rewards card.
However, you should avoid using sharp items such as razor blades or knives as they can easily scratch the car paint. Luckily, plastic cards are strong enough to remove the decal from the paint if you have heated it up adequately. Afterward, you can easily peel off the adhesive residues using your hand. 
Apply vinegar or a glue removal product 
While the above step will help to remove the decal or sticker of the car, you will still have some glue residues on the paintwork. Interestingly, there are some incredible products available you can use to remove these residues without ruining the car paint.
A good example of an adhesive remover is vinegar.
So, if you've got some white distilled vinegar in your home, apply it to a clean microfiber cloth and use it to rub off the glue residue.
 Alternatively, you can use a commercial adhesive remover product such as Goo Gone or Goof Off, which are just as effective as their homemade alternatives.
However, with this approach, make sure you let the substance sit over the adhesive residues for a couple of minutes. Afterward, remove the adhesive residues with a scraper before wiping the area clean with some soapy water. 
Wash and dry the surface 
Once you're done wiping off the adhesive residue with an appropriate adhesive remover product, wash the area with some soapy water to get rid of any remaining residue. At the same, this ensures that the surface is ready to be waxed.
However, before you apply the car wax, you should ensure that the surface is completely dry.
Wax the car 
After removing sticky glue residue from your car, it requires extra care to restore its lustrous shine. Sometimes, you can easily accomplish this by giving your car a thorough cleaning & drying.
However, if you've got an adhesive remover that contains any harsh elements, you have to apply a new layer of car wax to replace the one you've peeled off in the adhesive removal process. 
As you know, car wax helps to protect car paint from harsh elements like acid rain and other contaminants. There are several car waxes on the makers, some of which require the use of a buffer, while others are easy to apply by hand.
Either way, applying car wax after removing glue from car paint will provide an added level of protection. 
Final Word 
Hopefully, after reading this post, you know exactly how to remove adhesive residue from your car without harming the paintwork. Generally, choosing the right method for your adhesive removal process will depend on various factors such as the kind of glue you're trying to remove and where the residue is located.
On the bright side, the ingredients we've mentioned in this article will get the job done in almost all situations. Moreover, you can choose to either use conventional household ingredients like vinegar or commercial adhesive removers like Goo Gone.