This post may contain affiliate links which means I may receive a commission for purchases made through links.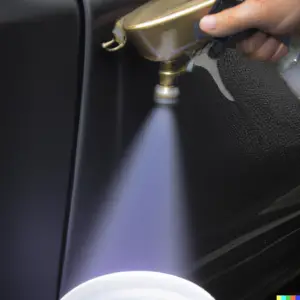 Getting overspray on your car paint can be very frustrating, especially if you don't know how to deal with it. For instance, it makes your car surface feel like it has a rough texture when you slide your hand over it. Not to forget that it reduces the overall value and quality of your car paint job. 
Overspray usually occurs when any form of stain, paint, or varnish is unintentionally sprayed on your car. Probably due to incorrect air pressure, wind, or even improper use of paint. 
Whatever the cause, overspray can damage your car paint job and make it look unappealing. On the bright side, there are some incredible techniques you can use to get rid of these particles without damaging your car's paintwork. 
So, if you're wondering how to safely remove overspray from car paint, you're certainly in the right place. 
What is overspray? 
Generally speaking, overspray refers to unwanted particles attached to the car surface and usually appear as little specs, which can either be felt or seen. To determine if your car surface has overspray, slide your hand across any part of the vehicle.
Overspray feels like small particles of dirt are stuck on the car's surface.
In most cases, these tine specs are a by-product of paint that was being sprayed near your vehicle. These small particles are then blown by wind current when they're released into the air and settle on anything they come in contact with including your car.
Once the wet paint mist settles onto the car paint, it dries to form a rough textured surface. Also, it can settle on plastic rims, tires, Wheels, rubber moldings, glass, and any other surface it comes in contact with. 
Different types of paint 
The first step you need to take before you try to safely remove overspray on your car paint is to identify the type of paint you are dealing with.
This will help you choose the right lubricant or method needed to remove overspray without damaging the car's paint work. 
With that in mind, there are 2 main types of car paint you're likely to encounter; acrylic-based and oil-based paint. 
Acrylic-based paints are commonly used in projects that need quick drying time. More importantly, they're water-based formulas as they require water solvents to break down. 
On the other hand, oil-based paints are common in projects that need a long lifespan or resistance to damage and scratches. As the name suggests, their formula contains oil-based ingredients and therefore needs special ingredients to break down. 
Standard car paints are usually acrylic-based, but some lacquers (clear coat) can be oil-based. Whichever the case, knowing the type of paint will help pick the right lubricant for removing the overspray.
For instance, you may only need to use soapy water to remove lighter, acrylic paints. However, for lacquer and tougher paint, you might have to consider a degreaser like WD40 or a paint thinner. 
Different ways to remove overspray from Car Paint 
1. Using Clay bar to remove overspray from car paint
Using a clay bar is the most versatile and effective method of removing overspray from your car paint. A clay bar is an elastic resin putty that is used to remove contaminants from the car surface.
Plus, you can also use it to remove dead insects and grease from your car's bodywork and windows. 
However, before you remove the overspray from your car paint with a clay bar, you need to lubricate the surface first. You can easily accomplish this by spraying the area with soapy water or an auto body cleaner.
Once you've done that, move the clay bar in a back-and-forth motion to scrub the overspray off the car's paintwork. Lastly, use a microfiber cloth and an auto body cleaner to wipe the area clean to remove any remaining debris and give the car a shiny, smooth finish. 
2. Using Rubbing alcohol to safely remove overspray from car paint
Rubbing alcohol is another product you can use to remove overspray on your car's paint job. Take a small amount of alcohol and rub it onto the over-sprayed area until it's well saturated and let it sit for a few minutes.
The time you need to wait will vary depending on the strength of the rubbing alcohol you use.
Once the rubbing alcohol dissolves the overspray, use a microfiber cloth to wipe away the spots. Then wash the area with soapy water to get rid of any traces of alcohol to avoid damaging the clear coat.
3. Oil/solvent soak 
Lastly, you can try removing overspray on your car paint with solvents or oils. However, this method is recommended when the paint is fresh. 
To remove overspray with this technique, apply wax or petroleum to the area you want to fix and allow them to soak. Next, wipe the area with a microfiber cloth to get rid of the cloth caused by overspray. 
Conclusion 
Overspray can be unsightly and hard to remove from your car surface depending on the size of the affected surface and the type of paint you're dealing with.
Luckily, the above methods will help you to safely remove overspray without damaging your car's paintwork. Alternatively, you can consult a professional auto detailing service about the overspray removal process.