This post may contain affiliate links which means I may receive a commission for purchases made through links.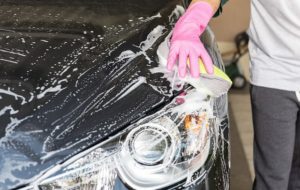 Vinyl wraps have become a popular option for customizing vehicles for daily drivers and show cars. In addition to making cars look great, the best vinyl wraps are cost-effective, easy to maintain, and provide protection from environmental elements.
However, debris and dirt accumulate on the vinyl wrap surface over time, making it look worn or dull. With paintwork, you can easily fix this problem by polishing the car's surface.
But, can the same be done with the vinyl wrap? Can you polish the car vinyl wrap to restore its shine? Or will you end up damaging it further?
Let's find out, including some notable benefits and drawbacks of vinyl polishing!
What's vinyl polishing?
As the name suggests, vinyl polishing refers to the use of various polishing compounds and techniques to give your car's vinyl wrap a glossy finish. While vinyl wrapping refers to the process of applying a thin PVC (Polyvinyl Chloride) film to the car's surface.
More notably, the vinyl film can be printed with any design, including photographs, graphics, and logos.
Can I polish my car Vinyl Wrap?
Yes, you can polish your car vinyl wrap with specific polishing compounds and techniques to restore its shine. However, vinyl polishing is a bit more challenging than polishing car paint.
For that, it's important to practice on a small area before trying to polish the entire vinyl wrap and have some patience.
Most importantly, you should only use polishing compounds that are specifically designed for vinyl wraps as some polishes can damage the vinyl, especially if they're too harsh.
So, if you're planning to polish your car's vinyl wrap, make sure you choose a polishing compound that's designed for use on vinyl wraps.
Secondly, make sure you clean the area you intend to polish to remove any dust or dirt using a soft applicator or cloth to avoid scratching the vinyl. And when polishing the vinyl wrap, work in circular motions without applying too much pressure
Finally, apply a layer of car wax after polishing to protect the vinyl and give it an extra shine. Also, let the wax and polish dry completely before you drive the car.
Benefits of polishing your car vinyl wrap
Improves the vinyl wrap's overall protection
Polishing a dull-looking vinyl wrap will improve its overall appearance by making it look new again. At the same time, it will give it a shiny look, making it stand out from other cars.
Even better, polishing vinyl wraps can help to get rid of any scuffs or scratches that may be on the car's surface. Moreover, this will extend the life of the vinyl wrap and help it maintain its new look for longer.
Protects the vinyl wrap from UV damage
Over time, the sun's UV rays can cause the vinyl wrap to become brittle and fade. However, polishing the vinyl can help to protect it from this UV damage.
Specifically, polishing the vinyl wrap regularly creates a protective barrier that protects it from the sun's harmful rays.
Makes the vinyl wrap easier to clean
Vinyl polishing results in a smooth, glossy surface that is less likely to accumulate grime and dirt, thus making the wrap easier to clean.
So, if you drive your vehicle on dirt roads or live in a dusty area, polishing the vinyl wrap regularly will make the car easier to clean.
Drawbacks of polishing your car vinyl wrap
You may damage the vinyl wrap
Polishing can easily damage the vinyl wrap, especially if you're not careful. Similarly, if you use polishing compounds that are too harsh, you will end up damaging the vinyl or stripping the car paint.
Moreover, failing to polish the wrap properly leaves a lot of streaks & smears on the car surface.
Polishing compounds & tools can be a bit pricey
Overall, the cost of polishing your car's vinyl wrap can be a bit costly. This is because you need to invest in some new tools for the project as well as a good quality polish for the car vinyl wrap.
Vinyl Wraps require regular maintenance
You also need to bear in mind that vinyl polishing isn't a one-time job. Instead, you need to polish it regularly to keep the wrap looking good, which can be time-consuming.
All in all, if you're willing to put in the time & effort, vinyl polishing is a great way to keep your ride looking new.
How to polish your car's vinyl wrap
Although polishing vinyl wrap may seem like a daunting task, it's quite simple if you follow these steps:
First, gather all the supplies you'll need for the task including a soft brush, clean rag, and vinyl polish.

Next, wash your car's vinyl wrap to remove any debris or dirt from the car's surface.

Apply the polishing compound to the vinyl wrap by spraying it onto the vinyl or dabbing it on with a clean rag.

After applying the vinyl wrap polish, use a clean rag or a soft brush to spread it uniformly over the surface.

Let the applied polish dry before buffing it off with a soft brush or a clean rag.
How often should you polish your car's vinyl wrap?
How often you polish your car's vinyl wrap will depend on various factors such as the environmental elements it's exposed to and the type of vinyl wrap on your vehicle.
For instance, if the car is regularly exposed to harsh weather elements like rain, sun, mud, and dirt, you should polish it at least twice a month to keep it in optimal condition.
Can you put wax, ceramic coating, or clear coat on the car's vinyl wrap?
Experts don't recommend the use of car wax or similar coatings to protect the car's graphics. Similarly, 3M doesn't recommend the use of wax on its vinyl wraps.
Nonetheless, it's safe to apply a ceramic coating on the car's vinyl wrap. The ceramic coating will act as a protective layer by protecting the vinyl from environmental damage and UV rays while making it easier to clean.
Also, you can apply a clear coat over the vinyl wrap, provided the wrap has been installed properly. Clear coats are commonly used with vinyl wraps to create a more durable finish and add protection.
Moreover, this helps to create a glossy, showroom finish that will enhance the overall look of your car. However, the used clear coat must be compatible with the vinyl wrap material to prevent any peeling or bubbling.
Conclusion
To sum up, it's safe to polish your cart's vinyl wrap, provided you've got the right polishing products and techniques.
More importantly, you should choose a polish that is specifically designed for the vinyl wrap to avoid damaging or scratching it. In addition, this will keep your vinyl wrap looking shiny and new for several years to come.
Read next: How to remove vinyl wrap.