This post may contain affiliate links which means I may receive a commission for purchases made through links.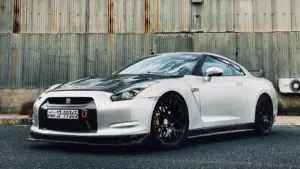 Most professionals recommend painting a car in a downdraft paint booth using a spray gun that is connected to a multi-cylinder air gallon to achieve a perfect car paint finish.
While this high-end equipment and ideal weather conditions help, they're not essential for obtaining a high-quality car paint finish on your ride.
You don't even need a lot of car painting experience to give your old truck, car, or motorcycle a new exterior finish as they're some incredible car paint alternatives you can try. 
If you're aware of how much it costs to paint a car, you know that some paint jobs can cost about $100 – $10000, even for the basic colors. However, if you can't afford to have a costly paint job on your car, there are a few budget-friendly yet quality alternatives available. 
Read on as we look at some of these car paint alternatives! 
The best Car Paint alternatives 
1. Vinyl Wrap 
Until recent years, repainting had been the only option for changing or upgrading the appearance of your car. However, that was before vinyl wrap became a budget-friendly option. While car wraps were invented in the 1950S, they were very costly, limiting their use to high-end vehicles.
Interestingly, their prices have reduced significantly in recent years, making them a cheaper car paint alternative in most cases. Moreover, car wrapping offers a lot of benefits since you can apply it over the car without damaging the paintwork.
Although car wrapping was initially used for advertising purposes only, it's now becoming a popular feature on many vehicles. Thanks to its ability to provide significantly more finish and design options than a custom paint job. 
2. Old Fashion spray paint 
If you know how to apply spray paint, you can use a few cans of spray paint to paint your car instead of taking it for a custom paint job. However, before you try this approach, you should have some basic training on how to properly apply spray and have a backup plan if things don't work out. 
With that in mind, look for the best spray paint for cars that suits your needs. Next, remove any parts of the car that you don't want to spray paint on and put them to the side. Also, detach the hood from the car and spray paint it separately.
This makes the painting process much easier and keeps the car engine clean. Now paint the entire car and let it sit for a few days to cure. Lastly, wet sand the car's exterior and apply a coat of polish. 
The only issue with this method is that it's a risky process since you may end up applying too much paint. Also, you may have to repeat the spray painting process multiple times to get the desired results. Other than that, it's a much more affordable alternative to spending a lot of money at an auto paint center. 
3. Rustoleum spray paints 
Rustoleum provides a wide range of spray paints and other products for DIYers who want to paint their vehicles at home. 
You'll need 4 quarts of gloss Rustoleum, 4 cans of Rustoleum primer spray paint, acetone, painter's tape, sandpaper, an air compressor, and a spray gun. Once you've gathered all the necessary supplies, prepare the car's bodywork and remove all the components you don't want to paint.
If you're planning to paint the car with a darker color, make sure you apply a dark color primer first. Similarly, if you want to use a lighter color for the car, apply a light-colored primer first. After applying the Rustoleum spray paint, let the car sit for a few days to cure.
Like regular paint, Rust-Oleum products will cost you about $100 – $200, depending on your car size. Plus, these products are relatively easy to apply since they're specifically designed for automobiles.
As a result, you can easily apply them yourself but you'll need proper knowledge of how to use them and what to do if you make any mistake.
4. Plasti Dip (Peelable/ Removable paint)

Peelable paints like Plasti dip provide quick, easy, and relatively affordable paint alternatives, especially for car enthusiasts and DIYers. While these peelable paints are applied like spray paint, they lay down a rubberized coating that can easily be peeled off without ruining the paint underneath.
Moreover, you don't need to sand, scuff or do any other paint preparation procedures before putting it on apart from an intensive clean. Best of all, the reversibility of these paints has significantly increased their popularity among car enthusiasts. 
Conclusion:
Generally speaking, car paint alternatives require less surface preparation and take less time than traditional paint jobs. In addition, they're cheaper, more user-friendly, and require fewer components than paint.
However, before you settle on a particular option, compare its benefits and drawbacks with that of typical paint jobs. For instance, you should check whether car wrap is cheaper than paint.