This post may contain affiliate links which means I may receive a commission for purchases made through links.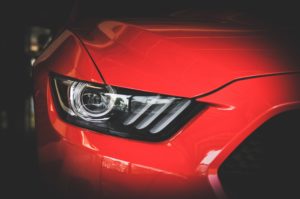 Car paint plays an important role in the vehicle's resale value and in ensuring the overall satisfaction of the car owner when driving it around. For that reason, taking care of the car's paint is an essential part of the maintenance process. 
Unfortunately, like with most things, car paint will age over time, and eventually need to be repainted/ But after how long should cars be painted? How long does car paint last? 
Generally speaking, the paint on classic cars lasts about 5 to 10 years, while the paint on most modern cars can last around 10 to 15 years. However, various factors may influence the longevity of car paint. This includes factors such as UV exposure, how often you park your car outdoors, etc. 
So, while some car paints are designed to last for at least 10 years with proper care, their finish may be damaged before that duration depending on several factors.
In this article, we'll look at some of the factors that may influence the car paint's longevity! 
Let's get into it! 
Factors that influence how many years car paint will last
First of all, car paint has 2 purposes; protecting the bodywork from rust & oxidation, and making it look attractive. As mentioned above, automotive paint can last for about 10 to 15 years with proper care.
However, exposure to harsh elements and long-term exposure to UV rays tend to damage the car paint, making it age more quickly. 
In addition, the longevity of automotive paint will be influenced by several other factors such as; 
Type of car paint 
There are 4 main types of car paints in the automotive industry. However, they can be generally categorized into 2 categories; urethane and acrylic. Acrylic paint was very popular until urethane took over in the 1960s.
The main difference between these car paints is that urethane is solvent-based, while acrylic is oil- or water-based. 
So, how does this affect the longevity of car paint? Let's find out! 
Acrylic 
Acrylic lacquer is the oldest and easiest type of car paint to apply. Unfortunately, it's also the least durable type of auto paint. In essence, it looks better than other kinds of car paint for a short while but starts to fade and chip once it's exposed to sun rays.
This has made it a very popular option for DIYers who own antique and classic cars that don't drive out much.
Another benefit of acrylic lacquer is that it's a great option for people learning how to paint their cars. This is because it's much easier to apply and environment-friendly. All in all, it has been largely avoided for general-use cars since the 1960s. 
Acrylic enamel lasts much longer than acrylic lacquer as it can last for about 5 – 10 years, thanks to its oil-based formulation. More notably, it hardens after it is applied, immediately forming a protective layer that protects the finish. 
Urethane Paint 
Introduced in the market in the 1960s, urethane is the most popular type of car paint in the world. However, it is much harder to apply than its acrylic counterparts, partly because it requires extra skill and special safety equipment due to its toxic nature.
Other than that, it's more durable on the car surface than acrylic paint, thanks to its superior UV resistance. 
Almost every modern car comes with a urethane paint job from the factory, intended to last for at least 10 years. Some urethane paint jobs can even last up to 15 years, making it a great option for those who want durable paintwork.
Moreover, this has made acrylic lacquer irrelevant in terms of performance, even for classic/ antique car owners. 
Level and quality of car paint protection 
The level and quality of paint protection you give your car are other factors that will influence how long the paintwork lasts. Luckily, there are several methods of car paint protection you can use. For instance, you can apply a ceramic coating, wax, or paint sealant. 
Ceramic coating is a lean glass-like film applied over the car paint to protect it from weather elements like smog and UV rays.
At the same time, it provides a scratch-resistant surface and a high gloss finish, while making it easier to keep the car spotless and dirt-free. Best of all, ceramic coating is the most durable and advanced type of car paint protection available. 
Alternatively, you can choose to protect your car paint with wax or polymer sealant. However, while wax and paint sealant are cheap and easy to apply, they don't last for up to a year.
Therefore, you might need to reapply them every 3 – 6 months, depending on where you park, where you stay and how you wash your car. 
UV exposure 
In short, the longer you leave your vehicle outdoors, the longer it will be exposed to UV rays, contaminants, and weather elements. This increases its car paint's chances of fading and developing rough patches, especially if you leave it uncovered.
In addition, UV exposure results in excess heat, breaking the molecular bond between the paint. As a result, the car paint cracks or develops a dull appearance over time. 
So, if you don't have a garage, consider waxing the car surface or covering it with a car cover when parking it outdoors to extend the longevity of its paintwork. 
Maintenance
Lastly, how well you maintain will play a crucial role in determining how long the paint job will last. For instance, if you don't wax or wash the vehicle regularly, the paint will not last that long.
As such, you should consider applying car wax or detailing the car often to ensure that the paintwork lasts. 
Secondly, a wrong car washing technique can introduce swirls and scratches to the paintwork. However, you can avoid these issues by following the right car washing techniques when cleaning your car.
For instance, you should never use materials like towels and brushes to wash the car. Instead, you always use appropriate tools like a soft microfiber towel when cleaning the car. 
Conclusion 
Overall, a car paint job will last about 5 to 15 years. However, that will depend on a lot of things such as the type of paint, how often you drive the vehicle, environmental factors, and so on.
To extend the longevity of your car's paint job , make sure you maintain it regularly and protect it from weather elements. Luckily, there are various ways to accomplish that such as investing in a car cover or applying a protective layer.