This post may contain affiliate links which means I may receive a commission for purchases made through links.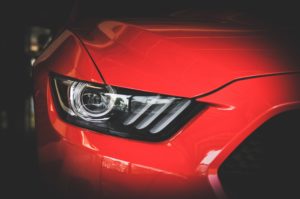 The appearance of your car or truck usually depends on the painting/ coating on its outer surface. There are 2 main ways you can use to paint your car single-stage painting and dual/two-stage painting.
Choosing a suitable method between single-stage Vs two-stage paint is the key to having the desired finish for your car. 
Single-stage painting has been used for years on classic cars, while dual-stage painting became popular in the 1980s and the 90s in Japanese automobiles.
Interestingly, both car painting methods are efficient in giving your ride an attractive appearance. But, which looks better; single-stage or two-stage paints? 
Well, read on to get a better understanding of both techniques to make the right choice for your car! 
Major differences between single-stage  vs two-stage car paint
As the name suggests, single-stage coatings are designed to be sprayed on after applying the primer and you're done. This eliminates the need to apply a clear coat since the base coat contains ingredients that give it a glossy finish. 
In comparison, two-stage paints separate the color coat from the clear coat. This gives the car a glassy finish that is much more visible than single-stage paints. More notable, the base coat has a dull, matte look and is applied after applying the primer, giving the car uniform color coverage.
Lastly, a separate clear coat is applied over the color coat, which provides a translucent layer that can be finished to a higher shine. 
One notable benefit of single-stage paints is that they are less complicated and more difficult to scratch compared to modern cars with more durable clear coats. More notably, single-stage paints usually consisted of non-metallic colors like yellow, white, and black.  
Another notable difference between single-stage vs two-stage car paint is that single-stage paints can be applied within a short time. On the other hand, two-stage painting may take more time as it involves taking a break between the clear coat and base coat application. 
What is Single-Stage Paint 
As mentioned earlier, single-stage paint involves applying only one coat of paint on the car's surface, hence eliminating the need for topcoat application. That's because it contains the ingredients of the clear and base coats combined, unlike two-stage paints, where each coat is applied separately. 
However, you can apply 2 coats of single-stage paint to achieve a denser coat. The paint is then buffed out when it dries fully to get the desired results. 
This type of paint was commonly used in the 1980s before the emergence of clear coats. As a result, it's quite popular among classic car owners as they use it to repaint their cars to get the correct look. 
With advanced technology, 2K single-stage paints undergo a chemical reaction to speed up the hardening process. However, it's recommended that you apply the mixture quickly before it hardens in the mixing container and only mix the required volume to reduce wastage.
Other than that, two-component paints mix to create a highly durable & corrosion-resistant layer, thanks to the polyisocyanates in their formulas. 
Benefits 
Although this type of automotive paint seems easy to apply, it may require some skills to achieve the desired look. And like any other type of automotive paint, you've to put a primer on the car's scratches and dents before you apply a single-stage paint. 
If you know how to apply single-stage paints skillfully, here are some of the benefits you'll get:
Simple application process
Single-stage paint has a faster application process than its two-stage counterparts. If you're skilled personnel, single-stage paints reduce the application time by almost half since you don't have to wait for the thinner to evaporate. 
Less costly 
Another benefit of single-stage painting is that you'll use less paint because of the reduced number of sprays compared to two-stage painting. At the same time, applying one layer of primary will significantly reduce the average cost of painting a car. 
Saves on labor 
Applying the base coat together with the clear coat saves the task force needed to apply the 2 coats individually. 
Ideal for small car painting projects 
Lastly, single-stage painting is ideal for small automotive painting projects like repairs and panel beating. If you're dealing with a scratched surface, consider using single-stage paint with a clear coat finish. 
Drawbacks 
Despite the benefits of single-stage paints, there are a few drawbacks you need to be aware of while choosing them. These include: 
Less durable 
The major drawback of single-stage paints is that they're less durable than 2-stage paints for various reasons. First, they don't hold up well under direct sunlight. In addition, they're highly susceptible to weathering agents, causing the coat to peel off over time.
For these reasons, single-stage pain should be mainly used for shows and classic cars that are kept indoors. 
Provides a dull appearance 
Another issue with single-stage paints is that they're not as reflective and shiny as their dual-stage counterparts. This is because they don't have a clear finishing coat that gives the car surface a shiny appearance. 
Messy application 
Spraying single-stage paints without messing up can be a bit challenging, especially if you don't have the necessary skills. As mentioned earlier, single-stage painting requires high-level skill to achieve the desired appearance. Otherwise, the chances of over-spraying and applying uneven layers are quite high. 
What is 2-stage Paint? 
Also known as base-clear or bi-stage car paint, a 2-stage paint job involves applying a base coat for the color over a primer, and covering it with a clear coat. The first layer or the base coat contains the color layer, while the clear coat gives the car surface a shiny and more durable coat. 
Car manufacturers in the United States ditched single-stage automotive paints in 1987 and transitioned to 2-stage/ base coat-clear coats. Thanks to their ability to protect the car against damage from UV rays, bird poop, acid rain, and other environmental hazards. 
Applying the base coat gives the car surface a dull matte finish. Give this coat about 15 to 20 minutes to dry, while allowing the thinner to evaporate. If necessary, you can apply up to 3 layers of the base coat, giving each coat enough time to dry for more durable paintwork.
Once the surface is completely dry, you can now apply the clear coat to cover the matte finish and give the car a shiny, glossy finish. 
Benefits 
Although two-stage paints can seem tedious and repetitive to apply, they offer various benefits every car paint should be aware of. Some of these benefits include; 
Single-stage paints are more durable 
Two-stage paints are tougher and more durable than single-stage paints. As a result, they offer better protection against UV rays and other environmental elements.
This allows them to resist fading and chipping when exposed to direct sunlight. Moreover, this eliminates the need to repaint your car regularly as they can last longer.  
Saves on maintenance costs 
Since 2-stage paints form a durable coating, they can last longer without needing to repaint your car regularly, saving on maintenance costs. Moreover, the paint dries quickly and adheres firms due to the time breaks to allow the thinner to evaporate. 
Provides an attractive shiny finish 
2-stage painting delivers a glossy, shiny finish that is more attractive than the matte finish formed by single-stage paints. Better yet, these types of automotive paints provide more vibrant colors and metallic finishes. 
So, for those wondering which looks better between single-stage and two-stage paints, the latter generally looks better and offers a uniform color appearance
Creates a smoother finish 
Apart from providing a shiny finish, the clear coat smoothens the car surface to prevent water spots and other contaminants from accumulating on the paintwork. Moreover, this makes it easy to remove scratches and swirls that do not penetrate down to the base coat/ color layer. 
Drawbacks 
So far, two-stage paints may seem like the better choice compared to single-stage paints. However, they also have their share of drawbacks you may want to consider before you choose any two-stage paint. For instance; 
2-stage paints are more expensive than single-stage paints
Due to the high standards and quality of two-stage paints, they're usually more expensive than their single-stage counterparts. Besides, you have to buy the paint and a clear coat separately, increasing the cost even further. 
They may crack over time if they're not properly maintained 
Despite their ability to withstand harsh environmental elements, the clear coat may crack over time, especially if it's not properly cared for. This may require the application of an extra protective layer like a ceramic coating, car wax, or synthetic sealant. 
In addition, dual-stage automotive paints are:
Labor-intensive
Applying a 2-stage paint may require an entire day to paint just one vehicle. Not to forget that 2-stage painting requires high-skilled personnel, especially if you want to achieve a perfect glossy appearance. For that, it may not be the best type of paint for unqualified persons and beginners.
Time-consuming 
Spraying two-stage paints consumes a lot of time, even if you have the best car paint sprayers on the market. This is because it involves applying multiple layers while taking time breaks in between each coat application. 
Which is better: Single-stage vs Two-stage car paint? 
Both single-stage and dual-stage paints are ideal for giving your car the desired appearance. In most cases, single-stage paints are commonly used for classic cars, while 2-stage paints are quite popular in modern vehicles.
Moreover, 2-stage paints are more durable than their single-stage counterparts as they've the exceptional ability to withstand UV rays and other environmental elements.
 However, if you intend to use the paint on a classic car that is stored in the garage most of the time, single-stage paint is a good option. This is because they're easier to apply and more affordable than 2-stage paints since they involve applying just one coat of paint.